In the Book of Mormon, a prophet named Nephi advised his readers to "liken the scriptures" to their own lives. This means to take what is taught and ask yourself, "What does this mean for me? How can I work on applying the gospel of Jesus Christ to my own life?"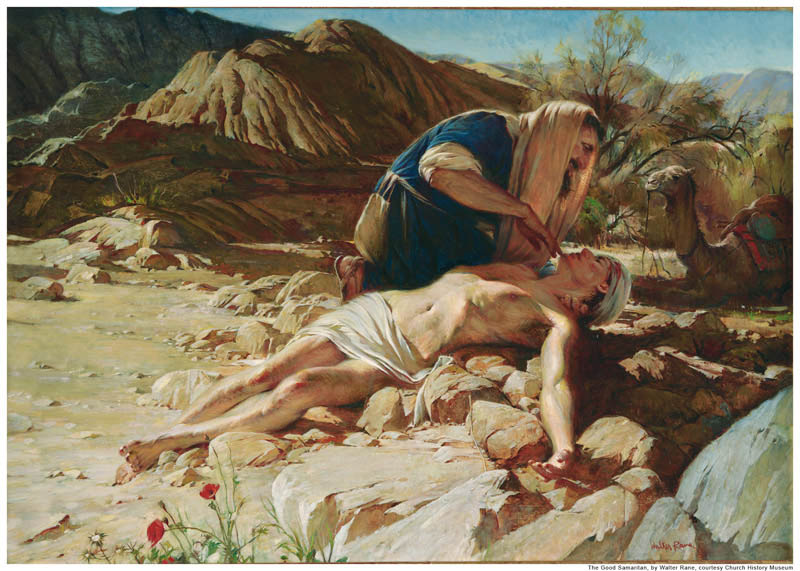 Members of The Church of Jesus Christ of Latter-day Saints, whose members are sometimes nicknamed Mormons, use both the Bible and the Book of Mormon as scripture. The Book of Mormon serves as a second testimony of the divinity of Jesus Christ, who was known to the Book of Mormon prophets, even though they lived on the American continent. Jesus Christ visited them briefly after his resurrection, leaving no doubt to the world that He must be divine and that He is the Savior of all mankind, not just of those who lived in his community.
God inspired the authors of the scriptures to put stories and sermons into the books for our benefit. They are not just offered for entertainment or to make nice samplers to hang on the wall. This means we have a responsibility to understand what God wants us to learn from the stories and teachings we reading and then to apply what we learn.
Let's take a look at a well-known teaching offered by the Savior Jesus Christ. "Love one another," he taught. He also taught to love our neighbors as ourselves and to treat others as we want to be treated. When we look at the complete set of messages, rather than pulling them out of context, we begin to have a better understanding of the scope and meaning of the message.
The first step to applying the gospel of Jesus Christ, then, is to actually read the scriptures—not a few assigned verses from Sunday School, but all of them, in order. This gives us a wide view of what Jesus Christ taught and how things progressed over time. As we read what Jesus taught, we're better able to understand the meaning and impact if we know the Old Testament, which set the stage for the events in His life.
As you read, watch for themes. It can be instructive to read the Bible with a particular theme in mind. If you wanted to study the Bible's teachings on how to treat others, you would take special note of anything related to that topic, marking scriptures, making a list of those that apply, and keeping a journal about what you learn on the subject as you study.
Once you've completed your reading, gather all your scripture references and journal thoughts and put them together. What do they tell you about applying the gospel of Jesus Christ to your own life? You'll want to pay attention not just to specific instructions, but also to the example Jesus gave through his own actions.
Now take what you've learned and look at specific situations in your own life. Applying the gospel of Jesus Christ in your life means looking at every situation in your life and making it fit into Jesus' teachings.
For this specific example, make a list of all the people with whom you regularly associate. How are you treating them? Are you treating them the way you want to be treated? Are you meeting their needs—do you even know what their service needs are?
Now think about the wider definition of neighbor that Jesus offered. He said everyone is our neighbor. While we can't serve everyone, we can think and speak respectfully of others, both those we know and those we don't know. We can look for people to serve who might be outside our normal circle. And perhaps, in order to make love easier, we might decide to make an effort to get to know some people outside our comfort zone. It is harder to attack a group when you know real people in that group and know their stories. This makes it easier to love everyone, even those not of your faith, nationality, race, or educational level.
Of course, study is only the first part, and the easiest part, of applying the gospel of Jesus Christ. The harder part is to actually put it into practice. Learning to live the gospel is an ongoing process that can require many restarts. It also requires constant refining. While you might start working on this specific counsel with just one aspect—perhaps treating your family better—over time you'll expand the circle of people you are treating with love and respect. As doing so becomes more natural, you'll find yourself fulfilling the commandment at a higher level—what Mormons call obeying the spirit of the law as well as the letter of the law.
Applying the gospel of Jesus Christ is a life-long process that helps us to become more like the Savior, as we find ourselves living the gospel and not just borrowing the Savior's name.
About Terrie Lynn Bittner
The late Terrie Lynn Bittner—beloved wife, mother, grandmother, and friend—was the author of two homeschooling books and numerous articles, including several that appeared in Latter-day Saint magazines. She became a member of the Church at the age of 17 and began sharing her faith online in 1992.