For many new converts, the promise of an eternal family is one of the greatest blessings the gospel has to offer. In the year or so a new member has to wait for that privilege, he should not just wait, but prepare. There are many things you can do to prepare to go to the temple, but there are also things you can do to bring your marriage to a level compatible with eternity. The temple ceremony is only one step in the process of eternal marriage, and in some ways, the easiest. The hardest part is treating your spouse as someone you love so much you can't bear the thought of eternity without him, and doing it even on the days you want to throw something at him.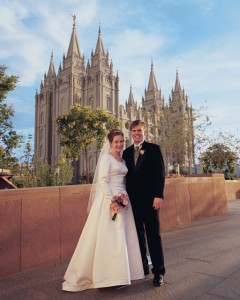 Valentine's Day is a once-a-year opportunity to tell your spouse you love him. Flowers, chocolates, mushy cards…,but when the day ends, how do you show it all the other days? Do your actions the other 364 days of the year match those of Valentine's Day? No, you don't have to send flowers every day, but every day there should be little ways of building for eternity.
James E. Faust, a former member of the First Presidency, said,
We build our marriages with endless friendship, confidence, and integrity and also by ministering to and sustaining each other in our difficulties….

First, am I able to think of the interest of my marriage and spouse first before I think of my own desires?
Second, how deep is my commitment to my companion, aside from any other interests?
Third, is he or she my best friend?
Fourth, do I have respect for the dignity of my spouse as a person of worth and value?
Fifth, do we quarrel over money? Money itself seems neither to make a couple happy, nor the lack of it, necessarily, to make them unhappy. A quarrel over money is often a symbol of selfishness.
Sixth, is there a spiritually sanctifying bond between us?
James E. Faust, "Enriching Your Marriage," Ensign, Apr 2007, 4–8
The gospel has every tool we need to improve our marriages so we will want them to last forever. By living the gospel, and becoming the kind of person Heavenly Father has asked us to become, we can also become the kind of person our family will want with us forever. The teachings of the gospel show us how to become compassionate and unselfish. They teach us how to structure our family to minimize contention by assigning complimentary, but defined roles. They teach us to see the value in others.
You will find this waiting time the best of your life so far as you work to turn a temporal marriage into an eternal one.
About Terrie Lynn Bittner
The late Terrie Lynn Bittner—beloved wife, mother, grandmother, and friend—was the author of two homeschooling books and numerous articles, including several that appeared in Latter-day Saint magazines. She became a member of the Church at the age of 17 and began sharing her faith online in 1992.