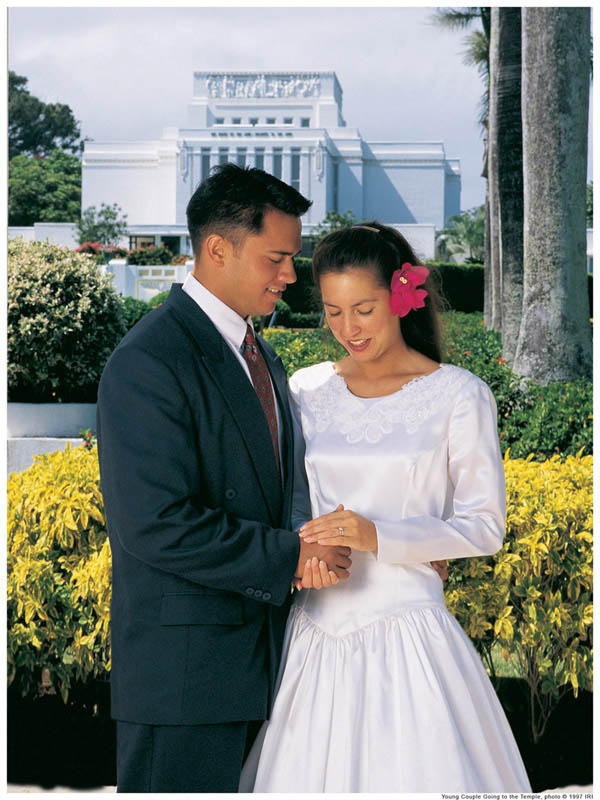 A new Pew Forum study surveyed more than 1100 Mormons to find out what they believe about their faith, society, and their place in it. One section of the survey focused on Mormon beliefs about families and marriage. Mormon is a nickname sometimes applied to members of The Church of Jesus Christ of Latter-day Saints.
The survey showed Mormons attach a very high priority to family life. 81 percent say that good parenting is one of the most important parts of life. This is far above the national average of 50 percent. 67 percent of all Mormons in the survey were married. Only about 52 percent of the general public is married. Six out of ten Mormons prefer a traditional structure in which the man is employed and the woman cares for the home and children. 73 percent of Mormons consider having a good marriage to be one of the most important things in life, compared to 34 percent in the general public.
Mormonism has always placed a high value on family life. The study shows that 95 percent of Mormons accept the Mormon teaching that families can be eternal. Mormons do not believe God intended His children to divorce at death, but that they could choose to live in such a way as to be worthy of an eternal families. Mormons who marry in the Mormon temples are joined not for this life only, but for "time and all eternity." This is called being sealed. Children born to these parents will also be theirs for eternity, a special comfort to parents whose children die young. When a child is adopted, the adoptive parents can be sealed to this child when the adoption is final. Mormons who join the Church after they are married can be sealed in the temple after one year if they are worthy. To be worthy, they must be honoring their responsibilities to their families and living the teachings of Jesus Christ. The blessing of eternal families is contingent on personal worthiness and obedience to the commandments.
Because a Mormon marriage can last forever. Mormons are highly motivated to build strong, lasting families. In the eternal scheme of things, the ordinary stresses that cause many marriages to break up seem insignificant. A serious illness in one spouse is a very small part of the entire marriage, and so the families weather it together.
In order to create a very strong family, Mormons make family life a priority. The survey showed few Mormons considered successful careers and high incomes to be a priority. Nor did they worry a great deal about personal free time. They are happiest in the family setting.
One evening a week, Mormons are taught to stay home with just their own families and to spend that time in a family-only meeting called Family Home Evening. Most Family Home Evenings run in a manner similar to other meetings. Each family member has an assignment and rotate their responsibilities, allowing children to learn how to plan and carry out various parts of a meeting. They usually start with a song and prayer, followed by family business. A short lesson on some aspect of religion or family life is given and then the family plays games or does a service project. Most meetings end with another song and prayer and a special dessert. This allows parents to share their beliefs with their children and to increase the bonds between them. In a time when most families are very busy, this sets aside a few hours just to be a family.
Mormons also teach the gospel in the home. Although they attend church, the programs for children and teens are meant to assist the parents, not to replace them. Parents are considered to have the primary responsibility for teaching their children the gospel. To this end, Mormons hold daily family prayer and scripture study. In addition, most couples pray together without their children and, of course, family members also pray and study scriptures individually.
While Mormons live in ordinary communities, not in isolated groups, and have busy careers and community service, they know these things are only for this life. Family and God are forever, so Mormons focus their priorities in this area of their lives.
In an article in the Deseret News on this aspect of Mormonism, several real-life Mormons are interviewed, including Jane Clayton Johnson:
"'Family is at the core of our faith," says Jane Clayson Johnson, a Latter-day Saint and former anchor of CBS's "The Early Show" who prefers the title of mom to two young children and stepmom to three older ones. "There are so many distractions today that all force us outward, away from core relationships. What our faith does is turn us back toward deep, rich, meaningful relationships in families."

"'It teaches us that families are where we find meaning," continued Clayson from her home in Boston. "The work I do in my family is the most important work that I'll ever do." See "Mormon focus on marriage, family highlighted by Pew survey," by Sara Israelsen-Hartley; published: Thursday, Jan. 12, 2012 7:24 p.m. MST in Deseret News
About Terrie Lynn Bittner
The late Terrie Lynn Bittner—beloved wife, mother, grandmother, and friend—was the author of two homeschooling books and numerous articles, including several that appeared in Latter-day Saint magazines. She became a member of the Church at the age of 17 and began sharing her faith online in 1992.