Lately, the press has been fascinated by how the Mormons manage to produce so many leaders. There are Mormons leading in politics, government, business, and entertainment, and the media has explored what their religion might contribute to the process.
Mormon is a nickname for members of The Church of Jesus Christ of Latter-day Saints. They are Christians who accept both the Bible and the Book of Mormon as scripture. Mormons believe we are all children of God and that we came to Earth to gain experiences, find truth, and to grow and become more. Because we are children of God, we often say we have a royal heritage and have a responsibility to become everything God wants us to become and everything He knows we are.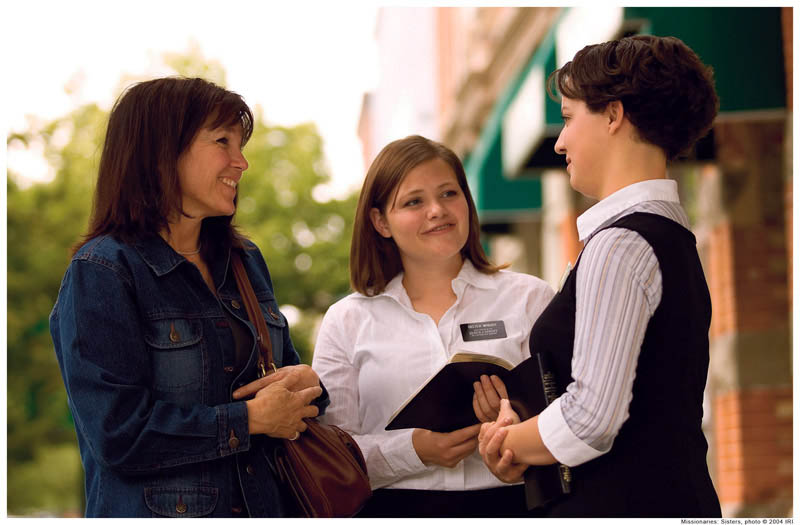 This believe is the real reason the religion produces so many leaders. It is not, as many suggest, because we believe God organized the world from chaos instead of creating it from nothing. (It's an interesting idea, but I've never heard a Mormon say he has to succeed for that reason.) Because we believe we have a God-given responsibility to become all God means us to be, the church offers us the opportunity to grow and progress.
Jesus called His apostles from perfectly ordinary people—fishermen, for instance. He took ordinary fishermen and turned them into prophets, apostles, and leaders. Mormons, therefore, don't worry a lot about how much money a member has or what his educational level is. They call into leadership whomever God chooses, just as the Savior did.
They start at childhood giving their members the skills they need to succeed in life and in church. Many church-learned skills translate well into business skills. Children begin attending regular Primary classes at age three. The Primary is the children's auxiliary and actually begins with a nursery class for toddlers, but at three, they enter the regular program. There are opening exercises in which the children give mini-sermons, called talks for two-and-a-half minutes, offer the prayers, and lead a scripture recitation. Think for a moment of the impact of having a child begin public speaking at the age of three. He or she will grow up without the stage fright that plagues many adults. He will be comfortable in front of an audience, and this translates into leadership.
A study of Mormon teens done by a non-Mormon organization found that Mormon teens were among the few who could speak comfortably and knowledgeably about their religion. They are expected to read the scriptures in-depth and to know them well. They give talks, teach lessons, and learn how to share their religion with others. This builds poise in speaking about difficult and controversial subjects. They are encouraged to think about their religion and to figure out for themselves if it is true—which teaches decision-making skills.
Mormon teens are given many leadership opportunities. They run their own organizations under the guidance of adult leaders who provide shadow leadership. This means the leaders don't take over. They teach the teens leadership skills and then guide them through the leadership process.
"What problems do you see in the Young Women's group right now? What are some ways we could resolve them? If we chose that method, how would it help? What could go wrong? How can we do this better next time?"
As the youth leaders become more experienced, the adults do less guiding. By the time a twelve-year-old leader becomes a seventeen-year-old leader, she has gained many important skills. She has learned how to watch for other teens who feel left out, to solve problems, to plan meetings, to conduct a meeting, and to speak in public.
Mormons have many auxiliaries and programs in the church and they all have volunteer leadership. Since the Mormons have a lay church, everything is done by unpaid volunteers, even the roles of bishop (lay pastor) and the international leaders. Positions in most callings change often. Many people have new callings every year or two. Bishops change every five years on average. No one works his or her way up the ranks. Members move up and down, from leaders to followers, regularly. The bishop might have been teaching three –year-olds last week and he might be the assistant Cub Scout leader the week after he ends his time as bishop.
Because of this, Mormons learn to both lead and follow. They are not arrogant about leadership, seeing it as just another role, but not more important than the work done by the ground floor people. Mormons learn the teacher of an organization is not more important than the president of the organization. They learn that by working at all levels they can better understand each organization. This attitude shows up in the often-reported behavior of David Neeleman, who is known for working as a flight crew member when traveling on his airline, or helping the baggage handlers. He has moved many of his employees into executive positions.
Sherri L. Dew honed her leadership skills in church callings at many levels. In time, she became the president of the Relief Society at the international level. This gave her responsibility for all adult women in the church world-wide. It is a full-time, although unpaid, position. In a church with millions of members, this was a huge responsibility. Today, she utilizes the skills learned there as she runs Deseret Book, a large and successful LDS publishing company—this is a paid position. She is the first female CEO of the company and has presided over the expansion and has lead some of its books to international success in the non-LDS world. She has also served as a delegate to the United Nations for the Commission on the Status of Women under George Bush.
Mormons organizations are run by a president and two counselors, plus a secretary, who often functions as a third counselor. Some organizations may be headed only by men and others only by women. Some are open to either. Women serve all the way into the international level, heading organizations larger than those led by any women in business today.
In the presidency meetings, Mormons learn they should express their opinions without fear while decisions are made. The president needs the varied opinions on her counselors in order to make informed decision, and so they learn not to just agree with their leaders. However, once the president makes a final choice—done after weighing the opinions offered and then praying—the counselors are expected to accept and support that decision. This is a balanced approach that promotes unity but that keeps a president from becoming tunnel-visioned.
Young adult Mormons, both male and female, may serve full-time missions for the church. During their missionary experience, they live by very strict guidelines with a highly structured life. This helps them learn self-discipline and to put others before themselves, since they spend much of their time serving others. Because many travel to other countries, they also learn respect for other cultures and they often learn a new language. The difficulties of convincing others to learn about their religions teaches them to stand up to criticism and to perservere.
Mormons in business often take their church-learned skills into the business world with them. This gives them a reputation for being confident, fair, and moral leaders. It also gives them the leadership skills they need in order to be successful in business. However, the primary purpose of the training is to help God's children reach their full potential. This means people often find themselves in positions they never imagined themselves holding. Shy people become presidents and disorganized people become secretaries. Women who are unmarried and don't have children find themselves serving mothers and wives and people who are uncomfortable with children find themselves running a children's organization. As they pray and work to "magnify their callings" they discover talents they never knew they had, but more importantly, perhaps, they learn they can do whatever they have to do if they pray, study, and work. This is the reason so many Mormons, both male and female, are recognized leaders in today's world.
About Terrie Lynn Bittner
The late Terrie Lynn Bittner—beloved wife, mother, grandmother, and friend—was the author of two homeschooling books and numerous articles, including several that appeared in Latter-day Saint magazines. She became a member of the Church at the age of 17 and began sharing her faith online in 1992.