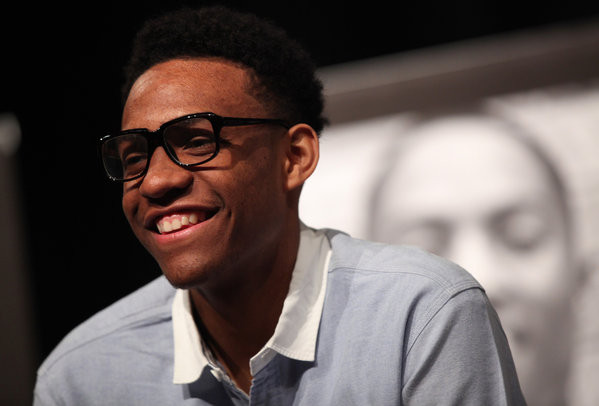 Jabari Parker, who is considered the best high school basketball player in the United States, appeared on Good Morning, America recently. Katie Couric was impressed by the young man's dedication not just to basketball, but to his faith. She followed him into an early morning religion class he attends three days a a week at his church and learned that he considers himself defined not just by basketball, but by his faith. He is a member of The Church of Jesus Christ of Latter-day Saints. (Couric listed the church's name incorrectly in the story.) Members of this church are sometimes called Mormons, and Jabari said people are often surprised to learn he is Mormon because they presume all Mormons are white. He said he often answers questions about his faith and works to clear up misconceptions.
Jabari's mother is Mormon–his father, a former NBA player, is not. However, Jabari and his brothers were raised in the church and both his mother and his older brother served full-time missions. It is not yet known if Jabari will follow in their footsteps, although Couric thought he seemed open to the idea, even though it would come at about the same time he would become eligible for the NBA draft. His older brother has encouraged him to go and Jabari's commitment to his faith is unquestioned.
Jabari prays before each game, but not to win. He prays for safety and good sportsmanship. His parents made it clear to the coaches he was an scholar and a Mormon first, an attitude that surprised coaches used to parents who want sports to come first. This means he goes to church on Sunday–even on the road–and he focuses on his school work. He is an honor student and has told teens when he speaks that sports only lasts a little while and then you need an education to get through the rest of your life. He encourages his peers to get a good education, no matter how good they are at sports.
It is never easy to be a teenager in the spotlight, but Jabari has convinced everyone he will not be getting caught up in the trappings of worldly fame. In a time when teens tend to get publicity only for doing wrong, it is refreshing to have the media covering a teen because he is a good role model and a sincerely faithful person.  Watch the video and see for yourself:
http://youtu.be/A-lSYlDQ4IA
About Terrie Lynn Bittner
The late Terrie Lynn Bittner—beloved wife, mother, grandmother, and friend—was the author of two homeschooling books and numerous articles, including several that appeared in Latter-day Saint magazines. She became a member of the Church at the age of 17 and began sharing her faith online in 1992.