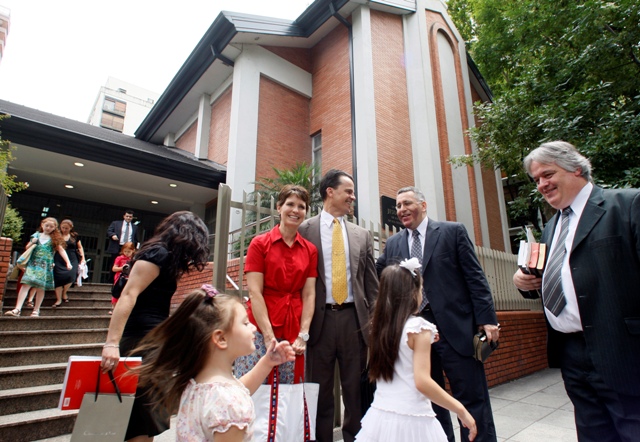 Most people who think of Mormon pioneers think of Utah. However, there is another story of Mormon settlers that highlights the Mormon talent for celebrating diversity. Mormons settled San Bernardino, California. One reporter noted that the city had gone downhill ever since the Mormons left and perhaps they should bribe the Mormons to come back. Of course, there already are plenty of Mormons there, but since they don't all live together, they might not be as noticeable. Mormon history includes stories from around the world, and this is one of the most fascinating of them.
The unique Mormon community that developed there was one in which people of many races and religions lived in harmony. Journals of non-Mormons in the area at the time noted the peaceful co-existence.
The community began in 1851 with 400 Mormons.  Only 200 were supposed to go there, with the intention of setting up a way station for missionaries and converts coming into the country and to grow certain crops. However, when Brigham Young arrived to give a speech to those who were leaving, he was upset to find more than 400 there, looking for a nicer climate. He was so disappointed in the lack of faith that he returned home without giving his speech. However, the Mormons set out for the new colony. They came from the east by ship, across the plains on foot, and from the South. The Southerners brought African-American servants and slaves with them. The slaves were freed, a common event in Mormon history.
San Bernardino had not been the original choice for the settlement. They had intended to purchase the Chino Rancho, which had been offered to the Church. The pioneers arrived exhausted and sick from the difficult journey and lack of water only to learn the owner had changed his mind.
They set up camp for three months, running a school under a tree, growing food, and raising chickens. Then they found the San Bernardino Rancho, which was abandoned, and were able to purchase it. They were the first new settlers in the area since statehood had been achieved. Within two months, they had built one hundred buildings, completed just in time before they learned of an impending attack by native Americans. They quickly dragged the homes into a row, using oxen, creating a tight wall of a stockade. When this was completed, they were visited by Juan Antonio, chief of the Cahuilla Indian tribe, who said he would protect them. He and his people captured the leader of the attackers and turned him over to state authorities.
The Mormons stayed in a very small portion of the ranch in order to quickly pay off the debt. They were a people who put community first and they were determined to work together to get out of debt.
What makes this community special in US history as well as in Mormon history is that it was a diverse community, unusual for its time. Within its walls lived people who were white, black, and Native American, working and living in harmony. Polynesian and Australian converts soon joined the colony. Mexican families who were not Mormon were invited to and attended celebrations in the colony. There were a number of Jewish merchants who set up shops in the colony. In fact, the first Torah in the San Bernardino valley arrived in a Mormon wagon train, accompanied by Jewish pioneer Jacob Rich. That Torah is now at Temple Emanu El in San Bernardino.
In 1852, the Mormons held a harvest feast of thanksgiving. They invited all those around them and so many came they had to eat in shifts. The colony clerk wrote that people of all races were there, mingling without any attention being paid to the differences in skin color. In 1852, such an event was unheard of.
The colony came to an end when the federal government threatened to invade the Utah Mormons. Most of the Californians returned to Utah to help protect their fellow church members.
Read more about the founding of San Bernardino by Mormons
About Terrie Lynn Bittner
The late Terrie Lynn Bittner—beloved wife, mother, grandmother, and friend—was the author of two homeschooling books and numerous articles, including several that appeared in Latter-day Saint magazines. She became a member of the Church at the age of 17 and began sharing her faith online in 1992.