Deseret News, a newspaper owned by The Church of Jesus Christ of Latter-day Saints, whose members are often nicknamed Mormons, reports that Mormons in the eastern United States were prepared for Hurricane Sandy.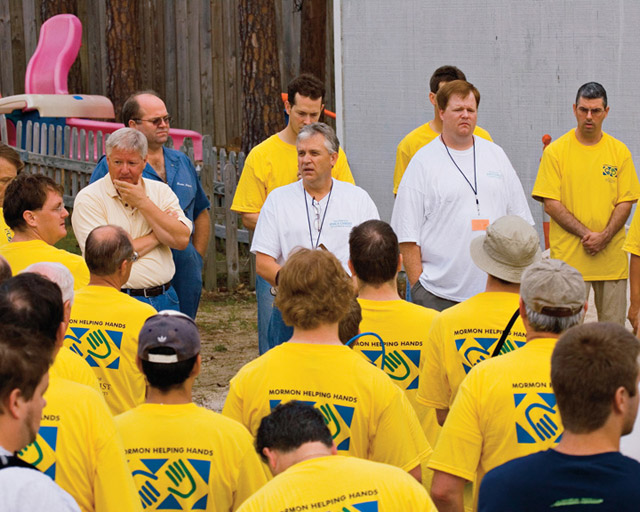 They made preparations, but preparation is a part of the Mormon culture. Mormons are taught to be ready for emergencies like this, making it easier to face those that come unexpectedly and allows them not to drain the limited resources available when a known emergency, like Hurricane Sandy, approaches. Some even had a sense of humor about it, including a congregation of young single adults who sang a hymn based on the storm in which Jesus calmed the waters.
Mormons receive training from their leaders about how to prepare for emergencies and are taught to store food and supplies and to learn how to live without power. The Church's website has information available to anyone on the subject and many congregations hold classes. Some have specialists whose entire volunteer assignment is to make sure the congregation is prepared to handle emergencies like Hurricane Sandy. Communication programs are set up so leaders can make sure everyone is checked on regularly during the crisis and needs are met.
Because Mormons are noted for their preparedness and because they have international resources available, other organizations often call on them. After Hurricane Sandy, Mormons staffed a Red Cross shelter in Allentown, PA. Bucks County Emergency Management Coordinator Harry Crohe asked for church assistance in Nockamixon Township, which was hard-hit by the storm. 60 Mormon missionaries and church members arrived within twelve hours from surrounding areas with their chain saws to begin clearing away fallen trees.
Catholic Charities also sought help from the Mormons. They helped clean the flooded Catholic Church in Red Hook, which is a critical center for food distribution and other resources for those in need. Mormons also cleared another flooded Catholic Church on Coney Island.
Naturally, the Mormons, while providing a wide range of services to those who are not Mormon, are also working to take care of their own people as needed. Local congregations take care of one another informally with offers of places to stay, water, food, and generators. Formal church resources are available to those with greater needs. Bishop's storehouses, used to feed those who are hungry in the Church, are stocked with the necessary supplies before the storm begins, so supplies are in place even before outside trucks could get into the area.
While assignments are made to ensure the necessities are met, Mormons don't wait for an assignment. They see a need and go to work. They have learned through a culture of volunteerism to notice needs and to fill them.
While no one particularly enjoys the challenges of a storm, Mormons go into them knowing they are as prepared as they can be and that they won't be alone when the storm hits. Preparation is simply a matter of living their faith.
Read more about how Mormons prepared for Hurricane Sandy.
About Terrie Lynn Bittner
The late Terrie Lynn Bittner—beloved wife, mother, grandmother, and friend—was the author of two homeschooling books and numerous articles, including several that appeared in Latter-day Saint magazines. She became a member of the Church at the age of 17 and began sharing her faith online in 1992.