We've discussed why we should keep the Sabbath Day holy. For those of us who aren't the quickest to think of ways to keep it holy, I'm here to help.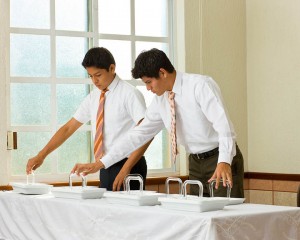 When you go to church I challenge you to take a look at the members, especially those in your peer group. Is someone missing? This is especially easier to see once you break up into smaller classes. If you find a friend or classmate didn't make it to church that day, do something about it. Fewer things can make a person feel more loved than to have someone notice when they aren't around. Give this classmate a call to see if everything's okay. It could be he or she is sick, or perhaps they were out of town. Either way that simple act will do much good.
Go visiting. Whether it's someone who's ailing in your neighborhood or heading out to check up on family members, visiting those who you normally don't get to see during the week is always a good idea. Just remember to do it with the right attitude.
Spend some time with the scriptures. What better way to bring in the Spirit and put you in the correct mindset than by sitting down and reading out of the Bible, Book of Mormon, Doctrine and Covenants, or Pearl of Great Price? Pick out a few of your favorite stories and see if you can pick up anything new from them. Do you have a particular subject you're interested in? Look it up in the index, Bible dictionary or topical guide and study it one scripture at a time.
Read from other good books. The LDS genre is growing, and there are more and more books out there created with the values we hold dear. This is a great time to read from LDS Church magazines as well. For youth it's the "New Era".
If you prefer the Internet try going to www.MormonWiki.com or www.lds.org. Of course, we'd love for you to keep www.LDSBlogs.com near the top of your list as well.
Think about the music you listen to. Instead of turning up the latest and greatest of whichever type you prefer, put together a selection of sacred music instead. Some of my favorites include the likes of: Michael McLean, who's been around for many years and has quite a large range to select from; Jericho Road has a hipper feel to it, and is quite popular with the youth. For those of you who love the Mormon Tabernacle Choir (and I'll admit I'm not their biggest fan, but they do have particular songs I love to hear them sing) they have numerous cd's out full of sacred songs. If you like the piano look for Jon Schmidt's cd 'Hymns'. I'd also recommend a newer artist for those who love to listen to the cello. His name is Steve Nelson, and his cd is called Sacred Cello. The point is to find something appropriate to bringing in the Spirit of the Sabbath.
One thing I've started doing the last few weeks is praying for inspiration when it comes to writing a note to someone. Whether I want to say "thanks" or "I'm thinking of you", a card or note sent through the mail is a wonderful surprise for anyone to receive and a great way to keep yourself in the spirit of the day.
I'll be the first to admit I'm a T.V. and movie junkie. Not that I spend hours upon hours of time watching it, but I do have certain shows that I prefer. When it comes to watching television on Sunday, I get rather strict. Our family will watch Church oriented movies: either those put out by the Mormon Church, some of the growing number of movies put out by members of the Church, or those put out by Feature Films for Families. Just keep the notion of the day in mind. If it doesn't leave you feeling uplifted, it probably wasn't a good idea.