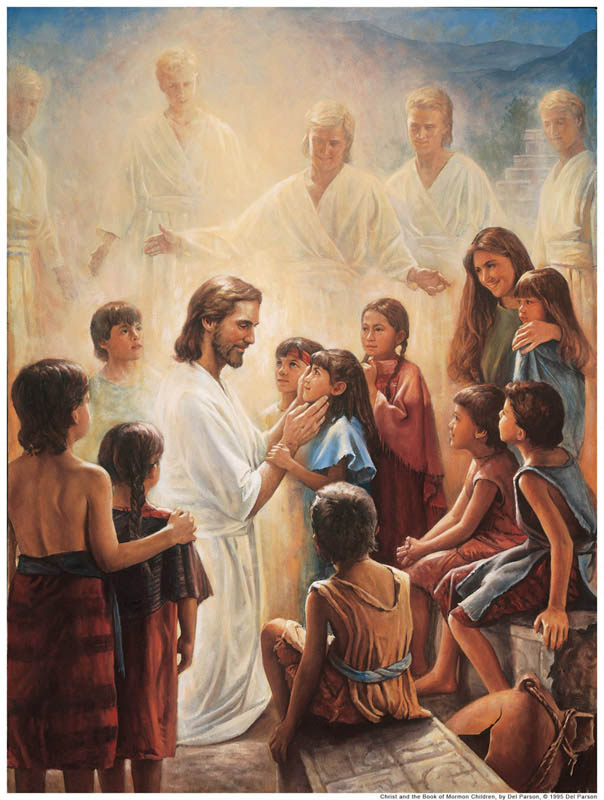 In this series, we are exploring some of the references to the Lord Jesus Christ in the Book of Mormon. It would be impossible to discuss all of them, since the Savior is mentioned an average of every 1.7 verses. 1 Nephi, the book we are discussing first, has 474 references alone. The Book of Mormon, like the Bible, is a collection of smaller books, with 1 Nephi being the first one we currently have.
In a previous article from this series, we discussed a vision Lehi, a prophet, had about various reactions people have upon learning about Jesus Christ. In this article, we will discuss another portion of this vision, concerning the birth and ministry of the Savior. His son, Nephi, also received a vision on this after asking in prayer about the meaning of his father's vision.
In 1 Nephi 10 we learn that Lehi knew not just that the Savior would be born, but even when it would happen and why He would come:
Yea, even six hundred years from the time that my father left Jerusalem, a prophet would the Lord God raise up among the Jews—even a Messiah, or, in other words, a Savior of the world.

And he also spake concerning the prophets, how great a number had testified of these things, concerning this Messiah, of whom he had spoken, or this Redeemer of the world.

Wherefore, all mankind were in a lost and in a fallen state, and ever would be save they should rely on this Redeemer. (1 Nephi 10:4-6)
These verses emphasize the Mormon view of Jesus Christ: He is the Savior of the world. He is the same Savior the prophets have testified throughout Biblical history. He is the Redeemer of the World. The world would remain in a lost and fallen state unless they relied on Him. This demonstrates that Mormons do indeed believe in the atonement of Jesus Christ and that no one can be saved without this atonement. As we'll see in this series, the Book of Mormon is adamant that salvation comes only through Jesus Christ.
He then prophesied that John the Baptist would come first to prophesy of the Savior and to baptize. He would even baptize Jesus Christ and would then testify that he had "had baptized the Lamb of God, who should take away the sins of the world (verse 10). Note that this verse includes another reference to the atonement.
The following verses tell of Jewish lack of acceptance of Jesus Christ and their eventual role in the crucifixion. Of course, nearly everyone, including Jesus, was Jewish, so this refers only to those who did reject him. In later Book of Mormon scriptures, there are strong warnings to those who try to persecute the Jews for the death of Jesus Christ. The people of the Book of Mormon were themselves Jews, but the Book of Mormon, while written by them, was written for our day.
O ye Gentiles, have ye remembered the Jews, mine ancient covenant people? Nay; but ye have cursed them, and have hated them, and have not sought to recover them. But behold, I will return all these things upon your own heads; for I the Lord have not forgotten my people" (2 Nephi 29:4-5).

Yea, and ye need not any longer hiss, nor spurn, nor make game of the Jews, nor of any remnant of the house of Israel; for behold, the Lord remembereth his covenant unto them, and he will do unto them according to that which he hath sworn" (3 Nephi 29:8).
After Nephi heard the teachings of his father, he wanted to understand them and to have a testimony of them. Mormons teach that it isn't enough to believe the words of another human being, although this is the starting point of a testimony. We also need to gain our own testimonies of Jesus Christ and the gospel by taking our questions to God in prayer. This is what Nephi would do and we'll learn the results of this prayer in the next article in this series. It will contain a powerful prophecy of the life and mission of Jesus Christ.
About Terrie Lynn Bittner
The late Terrie Lynn Bittner—beloved wife, mother, grandmother, and friend—was the author of two homeschooling books and numerous articles, including several that appeared in Latter-day Saint magazines. She became a member of the Church at the age of 17 and began sharing her faith online in 1992.