1 Now behold, a marvelous work is about to come forth among the children of men.
2 Therefore, O ye that embark in the service of God, see that ye serve him with all your heart, might, mind and strength, that ye may stand blameless before God at the last day. (D&C 4:1-2)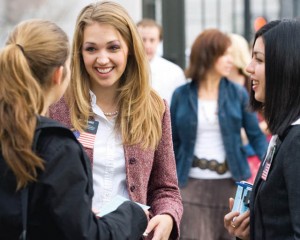 The second verse of Doctrine and Covenants, section 4, makes it clear that these words are addressed to all of us who would serve God. They aren't just intended to reach a few people but are spoken to all of us who embark on the great adventure of serving the Lord in His way.
The words that follow tell us how we need to serve the Lord: with all our hearts, mights, minds, and strength. Let's look at each of these words individually. Today we'll look at the word "heart" and what "serving the Lord with all our hearts" might entail.
Our hearts are considered the seat of our true emotion and devotion. It symbolizes where our true characters lie. 1 Samuel 16:7 says, "The Lord seeth not as man seeth; for man looketh on the outward appearance, but the Lord looketh on the heart." In other words, the Lord looks at who we really are.
Elder Marvin J. Ashton, a former member of the Quorum of the Twelve Apostles, said:
Why the heart? Because the heart is a synonym for one's entire makeup. We often use phrases about the heart to describe the total person. Thus, we describe people as being "big-hearted" or "goodhearted" or having a "heart of gold." Or we speak of people with faint hearts, wise hearts, pure hearts, willing hearts, deceitful hearts, conniving hearts, courageous hearts, cold hearts, hearts of stone, or selfish hearts.

The measure of our hearts is the measure of our total performance. As used by the Lord, the "heart" of a person describes his effort to better self, or others, or the conditions he confronts.

A question I pose to you is this: How do you measure up? Ultimately you and I will be judged not only for our actions, but also for the desires of our hearts. ("The Measure of Our Hearts," Ensign, Nov 1988, 15)
Sometimes we serve, but our hearts aren't really there. We don't truly desire to serve; we're only serving because we were asked to, or because we feel like we have to. Serving with our hearts involves bending our true desires toward serving God.
It isn't always easy. Sometimes we may truly wish to serve with our whole hearts, only to feel bogged down by life's challenges. Henry B. Eyring, now the second counselor in the First Presidency of the Church, promises us this:
For those who are discouraged by their circumstances and are therefore tempted to feel they cannot serve the Lord this day, I make you two promises. Hard as things seem today, they will be better in the next day if you choose to serve the Lord this day with your whole heart. Your circumstances may not be improved in all the ways which you desire. But you will have been given new strength to carry your burdens and new confidence that when your burdens become too heavy, the Lord, whom you have served, will carry what you cannot. He knows how. He prepared long ago. He suffered your infirmities and your sorrows when He was in the flesh so that He would know how to succor you. ("This Day," Ensign, May 2007, 89-91)
What a marvelous promise. As we turn our hearts .