Approximately 125 Osmonds flew from Utah to Chicago to appear on the Oprah Winfrey Show that aired on November 9, 2007.
Despite the recent passing of their father, the family chose to do the show anyway, feeling that he would have wanted them to do it. He had originally been planning to appear on the show himself. Donny and Marie agreed that this was a wonderful opportunity for them to all get together; for all of them to be in the same place at the same time is pretty rare.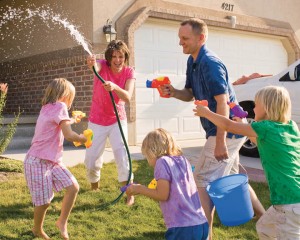 Olive Osmond passed away on Mother's Day in 2004. Donny was his attempt not to be outdone by their mother. "He wanted to be talked about on Oprah," Marie said.
George and Olive Osmond, the parents of the clan, have a total of nine children. The oldest two, Virl and Tom, are deaf. As Oprah reported, the younger four – at that time, Alan, Merrill, Wayne, and Jay – performed at state fairs to raise money for their brothers' hearing aids. These young boys sang four-part barbershop arrangements, and caught the eye of Walt Disney himself on a 1961 trip to Disneyland when they gave an impromptu performance. Subsequently they became regular performers on the Andy Williams Show. When the younger children became old enough to perform, they joined the act as well.
There were spotlights on both Donny and Marie, who are perhaps the most famous members of the family.
Marie delighted Oprah with a personalized (very adorable) doll that looks just like her, and praised her for all the good she does in the world. Marie talked about sharing a birthday with her father, having been born "legitimately, not induced" on his birthday. "I was Daddy's little girl," she said. She is George and Olive's only daughter.
Donny, who turns 50 this year, talked a little about his years as a teen idol. He said he loved the adulation, but it still left him lonely. But, "being the Mormon that I am," he said, premarital sex and drug abuse were out of the question for escape. "So what do you do?" he joked. His wife of 29 years, Debbie, and their children were also there on the show.
Donny and Marie both testified of the eternal nature of families. "We believe we are an eternal family," Donny said. "We'll be with our parents again. We don't just believe it, we know." He added that it is amazing that their parents could raise a family in show business, and they're all still together and they still love each other. "That's a testimony to my parents," he said.
"They're here right now," Oprah said, and the Osmonds around her agreed.
The six singing brothers -Alan, Wayne, Merrill, Jay, Donny, and Jimmy — reunited for a medley of some of their popular songs, with videos of the brothers performing in the 1970's playing in the background. Marie watched beaming from the sidelines. She had her turn to perform with her dance partner from "Dancing with the Stars" performed a dance set to WWII songs, in memory of George and Olive, whose relationship began on a dance floor during WWII. Of her participation in the show at age 48, she said she found it preferable to "crawling in a hole."
Another emotional moment came when Marie had the opportunity to introduce their oldest two brothers, Virl and Tom. "Can you imagine being born into this family, and not being able to sing?" she asked. "They are my heroes." The brothers stood to applause and lots of hugs from Oprah.
A fitting ending came to the show when the family reprised the song "May Tomorrow Be a Perfect Day," the sign-off song that Donny and Marie sang each week on their TV show in the 1970's. It was originally written by Alan Osmond, and was intended to be a prayer expressing thanks for their many blessings. Once again Donny and Marie took the lead, with the rest of the family joining in at the end.
I grew up with the Donny and Marie show, and as a young girl I felt like I had a special connection to the Osmonds because we were of the same religion. The Oprah Winfrey Show for me was a great trip down memory lane. It's an inspiration to us all to see this family still together, still performing together, and still loving each other. Olive and George, I'm sure you are both very proud.