In 1 Nephi 17:45, Nephi, a young adult, rebukes his older brothers:
Ye are swift to do iniquity but slow to remember the Lord your God. Ye have seen an angel, and he spake unto you; yea, ye have heard his voice from time to time; and he hath spoken unto you in a still small voice, but ye were past feeling, that ye could not feel his words; wherefore, he has spoken unto you like unto the voice of thunder, which did cause the earth to shake as if it were to divide asunder."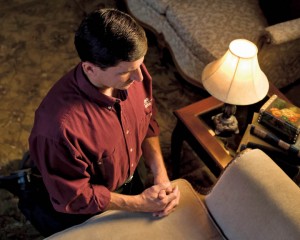 Ordinarily, God does not yell at us to get our attention. Laman and Lemuel were in an unusual situation, in that they traveled with the only prophet who would arrive in their new homeland, and so he, and his successor had to be kept alive in order to allow the gospel to flourish in their new land. For this reason, God made a greater effort to keep the older brothers in line, since they were determined to kill their younger brother, and sometimes their father as well.
This principle is demonstrated in the Bible, when Elijah was to talk with the Lord:
"And he said, Go forth, and stand upon the mount before the Lord. And, behold, the Lord passed by, and a great and strong wind rent the mountains, and brake in pieces the rocks before the Lord; but the Lord was not in the wind: and after the wind an earthquake; but the Lord was not in the earthquake:

"And after the earthquake a fire; but the Lord was not in the fire: and after the fire a still small voice.

"And it was so, when Elijah heard it, that he wrapped his face in his mantle, and went out, and stood in the entering in of the cave. And, behold, there came a voice unto him, and said, What doest thou here, Elijah?" (1 Kgs. 19:11–13.)
Because God is so powerful, many might expect him to speak with a loud and powerful voice, similar to those found in old movies about Moses. However, in ordinary, everyday communication, God is quiet and gentle. He speak through his spirit in what members of the Church of Jesus Christ of Latter-day Saints call the "still, small, voice."
Different people might describe this experience in different ways, since there are no words to explain exactly what happens, and it may not always happen the same way twice. The important detail, however, is that when you receive an answer from God, it is always accompanied by a feeling of peace. Receiving counsel from God through his Spirit is a spiritual, sacred experience, and when it comes, you know it's from God if your heart is sincere and you are living worthily to receive the counsel.
You must know God well enough to recognize His voice. You can't ignore Him and then expect to find Him standing beside you in a moment of crisis, especially if you're just going to send Him away again when you get what you want. We don't bargain with God. We ask for His help, listen, and live what He tells us. Throughout our lives we maintain a close, personal relationship with God and when we're baptized and confirmed, we can receive the gift of the Holy Ghost to be with us all the time—but speaking quietly, not in a voice of thunder.
About Terrie Lynn Bittner
The late Terrie Lynn Bittner—beloved wife, mother, grandmother, and friend—was the author of two homeschooling books and numerous articles, including several that appeared in Latter-day Saint magazines. She became a member of the Church at the age of 17 and began sharing her faith online in 1992.