:
Flowery Branch, Georgia: Ground was broken for a new LDS meetinghouse in the Flowery Branch, Georgia area. It will be the fourth LDS chapel in the county, and is expected to serve a congregation of approximately 300 people when it is completed in January 2009.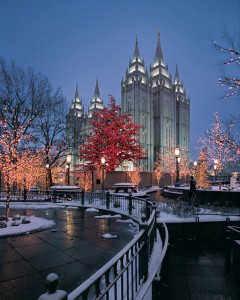 While the construction of new meetinghouses is usually exciting for the local congregations, such events don't usually get mentioned in Church-wide news because this happens around the world on a regular basis. However, this particular construction project did get a nice write-up in their local newspaper. That kind of recognition is exciting for everyone who reads it.
For more information on Mormon meetinghouses and their functions, read my blog post entitled "Differences Between Mormon Temples and Chapels."
Tri-City Herald: LDS teen Will Casper of Basin City, Washington, performed admirably on the most recent "Teen Tournament" on the popular TV game show Jeopardy! He finished in the semifinal round with $10,000. He plans to use the money to study electrical engineering at Brigham Young University and to serve a mission for the Church. (The fact that many youth his age would choose to spend the money frivolously makes Will's story that much more inspiring.)
Salt Lake City, Utah: The Utah State House of Representatives passed a resolution on February 26, giving special honor and recognition to President Gordon B. Hinckley. President Hinckley was the fifteenth prophet of the Church and passed away just this past January.
"President Hinckley had a tremendous influence, not only on the church, but in Salt Lake City, Utah, the United States and the world," Representative Mike Morley of Spanish Fork said, as reported by the Deseret Morning News. "President Hinckley certainly was the consummate builder, always building those around him and making them better – building the world to be a better place."
Several members of President Hinckley's family were present, and received a standing ovation as they left.
That the state of Utah would want to honor a prophet of the Church may not be too surprising, given the large LDS population there and the presence of Church headquarters in Salt Lake City. But there are also many residents who are not Latter-day Saints. That he could be seen as a friend to all, and not just those of his church, is truly a great tribute to this man.