I think there are, perhaps, many of us who would have loved to live at the time of Christ. The thought of walking with Him, talking with Him, and even watching as He blessed little children brings joy to my heart.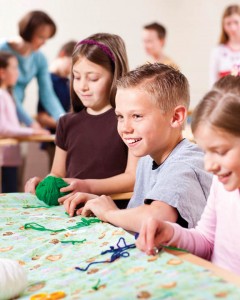 One of my favorite songs as a child in the Church of Jesus Christ of Latter-day Saints, or Mormon Church, is still around even today. In the Children's Songbook, a collection of songs put together specifically for children, there is one titled, "I Think When I Read That Sweet Story."
I think when I read that sweet story of old,
When Jesus was here among men,
How he called little children like lambs to his fold;
I should like to have been with him then.
I wish that his hands had been placed on my head,
That his arms had been thrown around me,
That I might have seen his kind look when he said,
"Let the little ones come unto me."
This beautiful, simple song is connected to two scriptures. The first can be found in the New Testament of the Bible.
"But Jesus called them unto him, and said, Suffer little children to come unto me, and forbid them not: for of such is the kingdom of God" (Luke 18:16).
I would imagine you couldn't get much closer to the mysteries of heaven than through the tender, innocent, all-encompassing love of a child.
At the time of His resurrection, Christ spoke of another people He needed to visit.
"And other sheep I have, which are not of this fold: them also I must bring, and they shall hear my voice; and there shall be one fold, and one shepherd" (John 10:16).
These "other sheep" he mentions were in the Americas. The other scripture mentioned for the song is found in the Book of Mormon, another testament of Jesus Christ, which details this visit. During His visit to the people, he called specifically for the children to be brought to Him.
"And it came to pass that he commanded that their little children should be brought. So they brought their little children and set them down upon the ground round about him, and Jesus stood in the midst; and the multitude gave way till they had all been brought unto him…

"And when he had said these words, he wept, and the multitude bare record of it, and he took their little children, one by one, and blessed them, and prayed unto the Father for them. And when he had done this he wept again; And he spake unto the multitude, and said unto them: Behold your little ones. And as they looked to behold they cast their eyes towards heaven, and they saw the heavens open, and they saw angels descending out of heaven as it were in the midst of fire; and they came down and encircled those little ones about, and they were encircled about with fire; and the angels did minister unto them" (3 Nephi 17:11-12, 21-25).
Yes, I would have liked to have lived at the time of Christ. Yet I am grateful to be born in this day and age as well. For even though I may not get to walk and talk with Christ as He lived then, I can certainly continue to live in a way that I can keep His spirit with me now. I know, without a doubt, that I will be blessed for doing so, just as the children were blessed hundreds of years ago.