So you're eighteen, you've graduated from high school, and now you're an adult. Right?
Not exactly.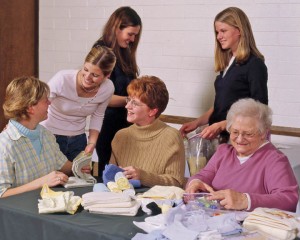 Throwing off our teenage self doesn't automatically happen the day after we've left school or turned twenty. Becoming an adult is a process, sometimes painful. Yet there are ways to help make the transition a bit easier.
Choice and Accountability. One of the first things to consider is taking responsibility for our actions. One of the principle things taught to the young women (girls 12-17) of the Mormon Church (or the Church of Jesus Christ of Latter-day Saints) is the value of 'Choice and Accountability.'
In most facets of our lives we have a choice, even if it's simply a matter of how we will deal with a situation forced upon us. With each and every choice we make there are consequences: some good, some bad. It is vital that we face the outcome of our decisions and accept the results. Once we do, the ability to guage the end result of our choices will become second nature.
Listen to our Conscience. The Doctrine and Covenants, a record of revelations given to the modern-day prophet Joseph Smith, tells us why it is important to listen to our conscience.
D&C 84:45-46. "For the word of the Lord is truth, and whatsoever is truth is light, and whatsoever is light is Spirit, even the Spirit of Jesus Christ. And the Spirit giveth light to every man that cometh into the world; and the Spirit enlighteneth every man through the world, that hearkeneth to the voice of the Spirit."
The light of Christ, His spirit, is given to all mankind upon birth. As we grow up that voice of reason is often quelled by the demands and influences of the world. When we increasingly ignore our conscience, or that light of Christ within us, bad choices will be made.
Take time out to really listen to what your conscience is saying. It will always guide you in the correct path, and you will continually be blessed for it.
Feed Your Spirit. Finding time to fit anything and everything into our lives is impossible. It just is. So now is the time to decide going to church every week is a vital part of your existence. Make sure those around you know missing church is not an option. Enlist roommates or friends to help you make it, just as you'd want to be encouraged to get your homework done or make it to class on time. It is so important to maintain your spiritual side.
Read from good and uplifting books, including scripture. If you continue to feed your spirit, everything else in your life will fall into place.
If you start with these three things, your capacity to deal with whatever life throws your way will increase, making the process of growing up just a little less painful.