It's not the easiest thing being single during the Christmas Season. As one friend pointed out, "If I don't have any family to visit on Christmas, or no plans with friends that day, I get these looks from people that show just how sad they are for me."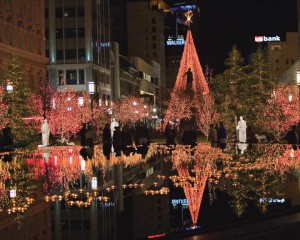 This friend has spent several years on her own during the holiday season and quite loves it. "It helps to keep the true meaning of Christmas. I can celebrate in my own way. This way includes more of the spiritual side, rather than the material."
I became quite excited at her words, thinking, "Hooray – a subject for the Singles section of the Blog!"
My first December away from home I discovered something missing. In our dorm room we'd put up some lights, decorated our door, and started thinking of cheap presents to give to one another. For me something was just not right. I couldn't figure out what that something was until I went home over Winter Break: the Osmonds.
Are you thinking, "Huh?" Let me explain. Every Christmas my mother would pull out her Christmas CD's, and the first one she'd play without fail was the "Osmond Family Christmas." I found it disturbing, as I'd hated listening to it as a teen. Resigned, I went ahead and bought the CD just so I could listen to the first strains of "I'll Be Home for Christmas." That's it. I didn't need to go any further. Once I did that no start to the Christmas season has ever felt incomplete.
Another tradition I carried over from my youth was "The Forgotten Carols" by Michael McLean. It's both a book and CD put together, though each can be enjoyed on their own. When I'd left home I specifically asked to have both for my birthday so that I could enjoy the beautiful and unusual way it brought the Spirit into my life. It depicts several accounts of secondary characters from the Nativity Story. I still listen to it every December. Though it is written by an LDS* songwriter it can truly be enjoyed by anyone wishing to bring in the Spirit of Christmas.
Once you've found a few treasured traditions from your youth, look to those around you for new discoveries. What do your friends, roommates, and neighbors enjoy doing that you'd like to begin as well. One of my friends told of how her parents would wrap up a few of their presents and leave others unwrapped. I loved that idea and wanted to carry it on into my own family (when I eventually got one).
Just keep in mind you don't have to think of every single tradition you plan on celebrating right now. Making the Christmas Season work for you is a process. Think of things that help you feel the true spirit and bring them into your life. Being alone for the holidays can be a great blessing.
* LDS is short for Latter-day Saint, a nickname for the Church of Jesus Christ of Latter-day Saints. Another common nickname is the Mormon Church.