Mega-stars of today (I choose not to mention any names) have declared marriage to be old-fashioned and outdated. In one or two instances I can understand why they carry this perception. During their growing up years every experience with marriage they were exposed to had myriads of horrendous problems, and ultimately ended in divorce.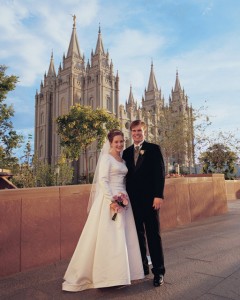 I am here to declare to you today that this is not the norm. Look at grandmothers and grandfathers who have stayed married for over fifty years. What happened to that sort of commitment in the relationships of today? How is it that in such a short time, only two generations, what was once considered precious is now held up as a hindrance?
You can see it splashed all over television and movies, in the lives of the so-called rich and famous, in music and magazines. In the world today messages against the institution of marriage abound. Perhaps you've heard, "If marriage doesn't work out, get a divorce" or, "Marriage is nice, but not necessary."
Yet this is not God's plan for us. He wants us to seek and find that special someone with whom we can marry and build a wonderful life together. Satan, the adversary to all that God has taught us to hold dear, has taken his most powerful tool and instilled it within the hearts of even the most valiant of people.
Fear.
President Gordon B. Hinckley, leader of the Mormon Church (or the Church of Jesus Christ of Latter-day Saints), said: "Let us recognize that fear comes not of God, but rather that this gnawing, destructive element comes from the adversary of truth and righteousness. Fear is the antithesis of faith." ("God Hath Not Given Us the Spirit of Fear," Ensign, Oct. 1984.)
He knows how to take our fears and insecurities, and pepper us with them until we let that fear control us. When this happens we are far more likely to choose the wrong path.
God would treat us differently. He would have us look within ourselves, to see the most wonderful things about ourselves. He would then ask for us share these things with someone who can fully appreciate what we have to offer. He would dispel constant fears such as worry of divorce, of financial struggles, or whatever may persist in keeping you from taking that remarkable step. God knows what you need more than you, and He can guide you along the right path.
I'm not saying go ahead and marry the first person that comes along. As in all aspects of your lives this is something that should be prayed about. As you pray how do you feel? Is there a sick feeling, or a moment where all thoughts of marriage to one particular person are taken from your mind? If so then it's probably not right. On the other hand if you feel good about your decision I would imagine you can go ahead and say yes.
In the Doctrine and Covenants, a collection of revelations given to the Mormon prophet Joseph Smith, we are given fantastic direction as to how to interpret the answer to our prayers.
"But, behold, I say unto you, that you must study it out in your mind; then you must ask me if it be right, and if it is right I will cause that your bosom shall burn within you; therefore, you shall feel that it is right. But if it be not right you shall have no such feelings, but you shall have a stupor of thought that shall cause you to forget the thing which is wrong; therefore, you cannot write that which is sacred save it be given you from me." (D&C 9:8-9)
If we come at the idea of marriage with the right mindset and include God in the process, the fear will disappear. No matter what you've witnessed in the past, marriage can be a wonderful experience, lasting for many, many years.