Have you ever felt the difference between the feel of burlap and that new Minky fabric that's all the rage?  The Minky stuff is super soft!  They make baby blankets out of it all the time.  And, of course, the burlap feels like a potato sack.  It's rough and fills the air with dusty bits when you rub it. There have been many times it even made me cough.
This comparison recently came to mind as I was recovering from a media experience.  We had gone to see a movie that was entirely too much.  There was too much noise, too many flashing images, explosions, violence,.. you know, your typical Friday night movie at the cinema.  Then my mom invited us to go see a production of Savior of The World  (a musical production about the Savior.) What a huge difference in those two experiences!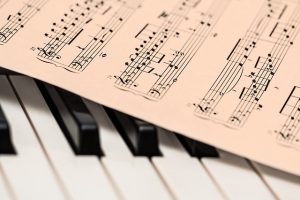 Listening to sacred music fills my heart with light.  It makes me happy, and sometimes I even get choked up.  I feel tenderhearted and emotional.  I feel grateful and humble and completely at peace.  I feel the love the Lord has for me and it expands in my heart and I feel greater love for my fellow men. It is the exact opposite of what our movie experience gave me. And I realized how much the world and the Lord are opposites.
We got a friend's Christmas letter in the mail recently and she mentioned that her family was very blessed with a great array of opportunities, but that in all those good choices she was working hard to seek the best ones.  And I knew that I had that awful media experience because I wasn't choosing the best.  I was settling for just the 'ok for the moment' kind of choices.
Making Choices
In November of 2007 Dallin H Oaks, a Mormon General Authority, talked about choices.  In his talk he said:
"A childhood experience introduced me to the idea that some choices are good but others are better. I lived for two years on a farm. We rarely went to town. Our Christmas shopping was done in the Sears, Roebuck catalog. I spent hours poring over its pages. For the rural families of that day, catalog pages were like the shopping mall or the Internet of our time.

Something about some displays of merchandise in the catalog fixed itself in my mind. There were three degrees of quality: good, better, and best. For example, some men's shoes were labeled good ($1.84), some better ($2.98), and some best ($3.45).

As we consider various choices, we should remember that it is not enough that something is good. Other choices are better, and still others are best. Even though a particular choice is more costly, its far greater value may make it the best choice of all.

Consider how we use our time in the choices we make in viewing television, playing video games, surfing the Internet, or reading books or magazines. Of course it is good to view wholesome entertainment or to obtain interesting information. But not everything of that sort is worth the portion of our life we give to obtain it. Some things are better, and others are best. When the Lord told us to seek learning, He said, "Seek ye out of the best books words of wisdom" (D&C 88:118; emphasis added)."

If you'd like to read his whole talk here is a link: http://www.lds.org/ensign/2007/11/good-better-best
Elder Oaks is so inspiring.  And he's right!  This world of ours has so much to choose from. And I have to admit that it's a daunting task to seek for the best choices.  But I can't imagine a more worthy goal.  So join me. Together we will seek for the best, forgoing those things that are just cheap thrills.
And we will seek for things of a better world, reach so we can live closer to God, and choose the life the Lord wishes for us; A life of joy, peace, and softness like that Minky baby blanket.  For the Enemy disguises burlap to seem like silk.  And if we are reaching for the best we can't be distracted by the overwhelming whirl of the world.  I'm excited for the possibilities!
About Patty Sampson
Patty thrives on all things creative. You'll often find her in the garden pretending she is a suburban farmer. She loves meeting new people, and is devoted to her friends and family. In her heart she is a Midwesterner even though life has moved her all over the country. She believes in "blooming where you're planted" and has found purpose in every place she has been. She has a deep and abiding love for the Savior and the Gospel of Jesus Christ. And she loves editing LDS Blogs because it is a constant spiritual uplift. Not many people can say their job builds their witness of the Savior.
Twitter •