Sometimes odd—and usually untrue—rumors about Mormons circulate, and they can cause people to wonder what it's like to be a Mormon. One way to answer that question is to look at what Mormons do all day. One challenge to that method, though, is that we don't all live the same kind of day. Although you might have heard that Mormons have lots of rules that control everything about their lives, that isn't actually true. There are a few things most Mormons do, but for the most part, we're all living lives that aren't too much different from yours—and with a great deal of variety.
For instance, I am married with three grown children, all of whom have left home. My day now looks much different than it did when I was raising a young family. The Mormons in my congregation live lives that are different from my own. Let's look at some of the ways Mormons live out their days and figure out what that tells us about being Mormon.
Religion at Home
Most Mormons start their days with prayer. Mormons are encouraged to have a private prayer, a one-on-one conversation with God. If they are married, they are also encouraged to have another prayer with their spouse. Either spouse might be the voice for the prayer. Then, if they have children or other people living in their home, they also have family prayer, with anyone, even a small child, saying the prayer for the family. A day can easily start with three prayers. Mormons are a praying people.
Mormons are also taught to study the scriptures, both privately and with their families. Many Mormons do this in the morning, but others do it at bedtime or whenever they find it works best for their families. Even little children study the scriptures with their families and anyone old enough to read is encouraged to begin reading alone as well. Their scriptures include both the Bible and the Book of Mormon, as well as two other books of scripture. Mormons are a scripture-reading people.
Breakfast is one place you might find that Mormon homes are different from the homes of their neighbors. You won't find a coffee pot brewing in the kitchen. Mormons follow a sensible health code that prohibits coffee, tea, tobacco, alcohol, and illegal substances. You're more likely to find herbal tea, which isn't actually tea, or hot cocoa  or fruit juice at the breakfast table. (The code also lists things we are supposed to have, such as whole grains, fruits, vegetables, and enough sleep.) Most of the health code, except for maybe the sleep, is really pretty easy to follow once you get used to it. Mormons are busy, so they try to stay healthy.
Mormons in the World
After that, the days get m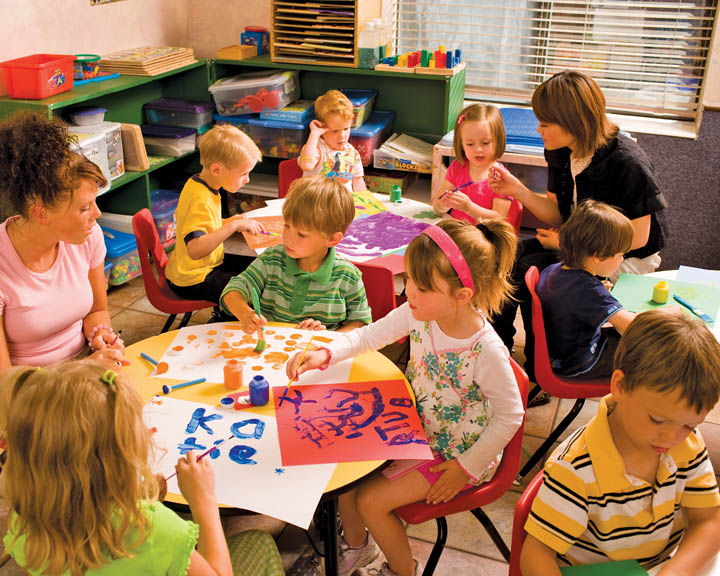 ore varied. Some Mormons, both men and women, head out of their homes to their employment. Most Mormons don't work for the church, so you'll find them in ordinary companies all over the world. Some Mormons, like me, are self-employed, so we're off to our own businesses or working in a home office after the usual morning routines. Some parents spend their days caring for their children. Some moms have outside employment or their own businesses. Some parents homeschool and some send their children to public or private schools. In other words, most of the work day will be spent pretty much the same way any other family spends its days. Mormons are a hard-working people.
One way a Mormon day might be different is that Mormons do a lot of service. A University of Pennsylvania study showed that Mormons do more service than any other group in the United States. That means you're likely to find a Mormon spending a portion of the day volunteering somewhere. Nearly every Mormon has a volunteer position within the Church, since we're a lay church. In addition, though, they also volunteer in their communities, helping out with whatever causes they personally value. Sometimes their church service involves community service—teaching a literacy class open to the public, spending a day cleaning up a park, or helping at a community food bank. Mormons are a volunteering people.
Family Night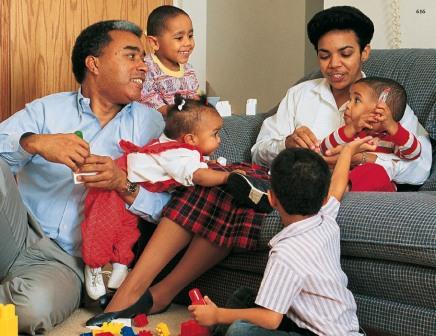 On Monday evening, you'll find most Mormons involved in something that is unusual. It's called Family Home Evening. Mormons spend that evening—or another one if Mondays don't work for the family—together without friends. They usually conduct it like a regular meeting. Someone conducts the meeting and there is an opening song, prayer, and announcements. Then they have a short lesson on a gospel or family principle of their own choice. They might use that time to learn more about the atonement of Jesus Christ, for instance, or they may decide to work on helping the children learn how to avoid fighting with their siblings. After the lesson, they play games and have treats. In most families, responsibilities are rotated, with younger children being helped by someone older. This way, they learn how to lead music, conduct meetings, and teach classes, all skills that will be valuable to them in church and in employment later on. The goal is to strengthen the family bonds. This intentional spending of time together is one reason Mormons have a lower than average divorce rate and a higher rate of children who stay in their parents' faith and who avoid risky behaviors. Mormons are a family-oriented people.
On Sundays, they spend three hours at church. Even the smallest children attend the main worship service with their parents before heading over to their own classes. Sunday School isn't just for children in a Mormon Sunday service. Adults and teenagers have two classes following the service. Children have one that lasts as long as the adult meetings. Since they are taught to keep the entire Sabbath Day holy, as commanded by God in the Ten Commandments, this is not really a hardship for them. The whole day is meant to be treated as a Christ-centered day, and Mormons enjoy having those three hours to learn and to be with others who share their faith. Mormons are a church-going people.
There are other aspects to a Mormon day, but these are the more interesting ways they spend their time. Most of their day is spent doing whatever worthy thing they choose—school, work, and play—but they also find time for God and Jesus Christ every day. Mormons are a Christian people.
About Terrie Lynn Bittner
The late Terrie Lynn Bittner—beloved wife, mother, grandmother, and friend—was the author of two homeschooling books and numerous articles, including several that appeared in Latter-day Saint magazines. She became a member of the Church at the age of 17 and began sharing her faith online in 1992.