Mormonism is in the news quite a lot lately, and often people have questions. Although it's likely you know a Mormon, you may be unsure of how to start a conversation, or may be worried about starting a conversation that leads to debate or pressure. Mormons love to talk about Mormonism, and most welcome sincere questions. With a few simple tips in mind, you can have an enlightening conversation with your Mormon friends.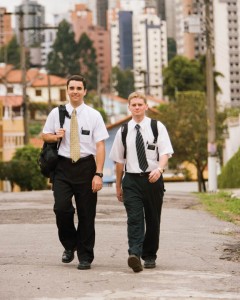 The first thing you should know is that Mormons are taught not to "scripture chase." This is a Mormon term that refers to each party pulling out scriptures to prove their point. Anyone who has tried it knows it's a useless activity. I once had someone "prove" Martians were secretly living on the earth using the Bible. You can prove almost anything with scriptures if you try hard enough. If you start a scripture chase, your friend will most likely back away from the discussion. It is, however, a reasonable request to ask to be shown a Bible scripture or two the church might use to back up a point. (Mormons believe in and use the Bible.) Seeing the scriptures the way your friend sees them will help you to understand his faith better. Just don't turn it into a contest. Mormonism is proven through faith, not scripture chasing.
In the Book of Mormon, we read, "And it came to pass that there was no contention in the land, because of the love of God which did dwell in the hearts of the people." (4 Nephi 1:15). Mormons are taught not to contend about Mormonism, but to simply answer questions factually and share their testimony of the topic, but not with an argument. Arguments don't convert, they don't make friends, and they chase away the Spirit of God. While, of course, Mormons aren't perfect in this, it is the goal, and arguments really won't solve anything. Mormons get their testimonies by praying to God, not by intellectual games. When talking to a Mormon about Mormonism, seek information in a non-contentious way.
The second point to remember is that Mormons take sacredness very seriously-both the sacred in their own religions, and the sacred in others. Mormons consider certain parts of Mormonism sacred-not secret, but not to be talked about lightly or to people who don't have the background or testimony to understand. (Think of it as being put into an advanced physics class before you've even had a beginner's course.) When people attack their sacred things, they pull away. It's important to respect the sacredness with which they hold certain aspects of their religion. If they prefer not to talk about certain things, it is because they are taught to "trifle not with sacred things." (Doctrine and Covenants 6:12). Often they will be willing to answer your questions in general ways, but not in the detail you might seek. Most people of all faiths have certain things in their lives that are too sacred to speak to speak of lightly, and just as you would not want your sacred things brought out into the world, neither do your Mormon friends. Show them the respect you want shown for those things you consider sacred. No one is obligated to share every detail of their personal lives, and while there is nothing shocking in what they consider sacred, it's not meant to be held up to outside conversation or analysis.
Language sometimes becomes a challenge when speaking to Mormons. They have a unique vocabulary, as does any culture. You may find they use words you've never heard, or they use them in different ways. Often, when someone thinks Mormons believe something different than they themselves believe, it turns out that they simply use a different term or use it a little differently. For instance, some people call themselves born-again Christians, meaning that at a single moment in their lives, they took Jesus as their Savior. Mormons don't often use that term, even though they've also accepted Jesus Christ as their Savior. When Mormons talk about being born again, they aren't referring to a moment in time, but a lifetime of love, commitment, and service to their Savior. So, while they might well be called born again, they don't use the term. For them, this is a way of life, not a once in a lifetime event. Don't be afraid to ask your friend for a definition of terms. Often, Mormons forget others don't "speak the language" or even fail to realize others use the words differently. Figure out what role semantics plays in your misconceptions.
Another important point to keep in mind is that what you read on certain websites, known as anti-Mormon sites, may not be true, or may not be doctrine. One point many outsiders fail to realize is that not everything a Mormon-even a Mormon leader-has ever said is doctrine. Our leaders don't choose religion as a profession. They come from the private sector and eventually end up serving God full-time. They therefore arrive at their stations with opinions and sometimes they state those opinions publicly. This was especially true in the earlier days of the church, when conferences were less structured and more conversational. If a question was asked, and God had not revealed an answer, sometimes the prophet would express his personal opinion, which was never canonized, but which many have either come to believe is true, or claim is true. It would take a great deal of study for you to understand what is doctrine and what is not. When you tell your friends they believe something, and they say they don't, take their word for it.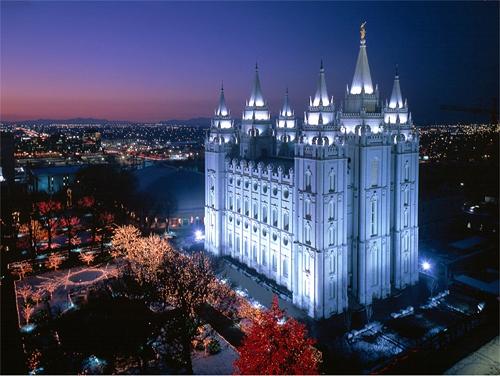 In addition, many things these sites hold up as critical doctrine are really outside the core. Mormons believe that only those things which affect your salvation are important. The rest is just interesting. It doesn't matter, in terms of our eternal salvation, whether the earth was created in seven twenty-four hour days, seven one-thousand year periods, or some other time frame. It has nothing to do with our eternal lives. What does matter about the creation is who created the earth. That is a core doctrine. When you read what Mormons are supposed to believe, ask yourself if that information would affect the salvation of a Mormon. If not, it's okay to ask, but don't make a fuss over it. Mormons don't.
Essentially, all of this boils down to two very easy to remember words: Be respectful. If you're respectful and friendly in your conversation, your Mormon friends will be happy to answer your questions and clear up any misconceptions you might have about their interesting but less well-known faith.
About Terrie Lynn Bittner
The late Terrie Lynn Bittner—beloved wife, mother, grandmother, and friend—was the author of two homeschooling books and numerous articles, including several that appeared in Latter-day Saint magazines. She became a member of the Church at the age of 17 and began sharing her faith online in 1992.