Every married couple has differences of opinion, and every married couple argues from time to time.  Each time I hear someone say, "My spouse and I never fight," the first word that comes to mind is, "Liar."  Okay, so maybe I'm a little cynical, but maybe I'm just a realist.  If a marriage is going to work, those differences need to be resolved.  My parents had what I believe to be an ideal storybook marriage, but they had occasional arguments too.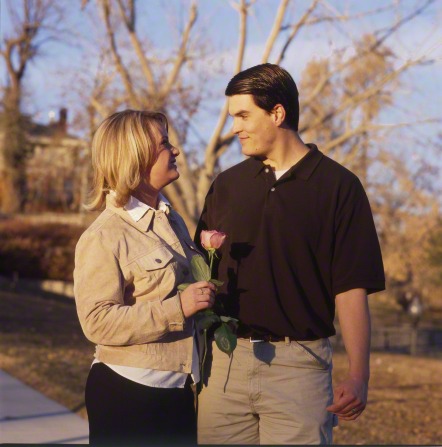 Mom was a door slammer.  Win, lose, or draw, each argument with Dad was ended and well punctuated with a slamming door.  After a number of years, Dad had enough.  He went through the entire house slamming every single door and cupboard.  I don't know what Mom was doing during all this, but I have a mental picture of her in a corner somewhere after the 9th or 10th door slam laughing silently.  The point was well taken, and she never slammed another door.
 My sister reminded me recently that Dad used to say that he and Mom each thought they had 51% control of the marriage, and it was the 1% that caused the arguments.  That is such a profound thought!  Marriage is an equal partnership.  Equal partnerships do not have a controlling partner—not even 1%!  Each partner is going to win some, and lose some.
Compromise in Marriage
 Compromise is absolutely essential.  Compromise can mean compromising on a single issue, but often it is just plain losing an argument.  It's okay to lose once in a while.  As a matter of fact, it is essential.  The equality comes in each partner losing 50% of the time.  Do not keep score!  Losing today's argument doesn't mean you win tomorrow's by default.  Sometimes you lose several (or win several) in a row.  I'm always thrilled to win an argument, but if I get on a real winning streak, I start to question if my husband is really happy.  It is human nature to need a win once in a while.
 The everyday stuff really doesn't matter. In the whole big scheme of things, it doesn't really matter who wins or loses the little daily battles, as long as it is somewhat equal.  Concentrate on the important issues.  Those are the things that need to be worked out, not just argued about.
 I was a legal secretary for many years.  Two of those years (the worst two) were spent working in a family law office.  (I'd have to be starving to ever do that again.)  We had one very sad case where a divorced couple was arguing over whether or not to teach their son sign language.  The child had severe hearing loss, which was going to get worse over time until he would be completely deaf.  Both parents were deaf.  The father's hearing loss had been gradual like the son, so he had learned to speak.  The mother had been deaf since birth, so she only knew sign language.  Dad wanted to hold back sign language until the child learned to speak so that after he went completely deaf he could better function in a speaking world.  Mom wanted the child to learn sign language so she wouldn't be cut out of a big portion of the child's life.  This couple happened to be divorced, but even if they had still been married, this was obviously an issue that required more than a win, lose, or draw.  This was an issue for medical professionals and professional counseling.  Unfortunately, because they were divorced, it was a judge who ultimately decided between two conflicting "expert" reports.
 The 13th President of The Church of Jesus Christ of Latter-day Saints (Mormon), Ezra Taft Benson taught:
Spiritual growth comes by solving problems together—not by running from them.  Today's inordinate emphasis on individualism brings egotism and separation.  Two individuals becoming 'one flesh' is still the Lord's standard. [See Gen. 2:24.) (See Problem Solving in Marriage, Eternal Marriage Student Manual, (2003), 283–89.]
I totally agree that running away from a problem doesn't solve anything.  If a couple communicates well, prays together, and learns the art of compromise, most problems can be resolved.  At times, there are things that require ecclesiastical help, or professional marriage (or family) counseling.  Run towards help; not away from the problem.
About Tudie Rose
Tudie Rose is a mother of four and grandmother of ten in Sacramento, California. You can find her on Twitter as @TudieRose. She blogs as Tudie Rose at http://potrackrose.wordpress.com. She has written articles for Familius. You will find a Tudie Rose essay in Lessons from My Parents, Michele Robbins, Familius 2013, at http://www.familius.com/lessons-from-my-parents.
Twitter •