The story of Daniel in the Lions' Den is one of my favorites. King Darius is tricked by his servants to pass a law making it illegal to pray to Heavenly Father. They did this out of jealousy and hatred for Daniel, a Hebrew servant to the king who had special talents for interpreting dreams.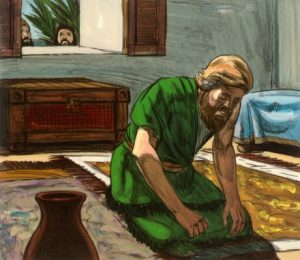 Their plan was to catch Daniel in prayer and turn him in to the king. His fate would be final—he would land in the lions' den to be eaten by the ferocious beasts. But Daniel was not afraid. He knew Heavenly Father would protect him with a miracle. And He did! He sent an angel who shut the lions' mouths. The next morning, the king was so grateful to find Daniel still alive, he too began to worship Heavenly Father.
Normally it is a story that teaches children to have faith and to pray, and that their prayers will be answered. But as an adult I can revisit the lions' den, exploring crevices I may have missed as a child, and find deeper meaning for my life today.
Daniel Was Not Afraid
Anyone else would be afraid of being thrown in a den of hungry lions. Daniel was not. He had a relationship with his Father in Heaven. He knew he was a child of God. He knew his life had meaning and purpose. He knew that no matter what happened to him, he would live with his Father in Heaven again because he was faithful in keeping all of God's commandments, including repentance. Daniel had a testimony of God's love for him. He kept that testimony at the forefront of his existence, which made him a target for the evil servants.
Our understanding of who we are in relation to God's plan puts us in the same position as Daniel. We have a peace about ourselves because of this knowledge. Evil people will try their best to take this away from us, to condemn us because of it, and to keep us from telling anyone the good news. We don't need to be afraid when we are surrounded by spiritual lions ready to destroy our testimony.
When the Lions Growled, Daniel Prayed
Daniel did not growl back. He did not try to fight the lions with his bare hands. He did not try to run nor outsmart them. He prayed. He turned his heart to God. This may have made him feel vulnerable at first, but he kept his mind and heart single to the glory of God. When we are surrounded by the growling of spiritual lions who mock us for our testimony, who tempt us to let down or standards or who try to snuff us out of existence, we can turn to our Heavenly Father. Sometimes this means a silent prayer. Other times it may mean keeping Him at the forefront of our mind and remembering who we are in relation to Him, thus walking in silent confidence away from the gaping jaws surrounding us.
The Lions Shut Their Mouths
I have often faced spiritual lions trying to tear down my testimony. I have said silent prayers for protection. I have kept my standards, bore testimony when necessary, and stood as a daughter at the side of my Heavenly Father. I have witnessed the miracle many times of God's hand in silencing the people who have tried to tear me down. But there have also been times when the growling seemed to be endless, despite the prayers. Could it be that Heavenly Father had left me? He didn't leave Daniel, so why me?
When I fear the roaring is mounting faster than the miracles seem to come, I look to the Atonement. Jesus, by taking on the sins and afflictions of the entire world, made it possible for me to be clean and worthy to live in heaven again. His Atonement acts almost as a spiritual shield between me and the ravenous lions of life. While their growls may seem deafening and endless, Christ's Atonement tells me there is an end to them—and that it ends well. The persecution that surrounds me now will be silenced forever.
While the scriptures teach us the stories, they do not follow the same timeline as our own lives. In the story, Daniel had great faith and though it doesn't completely detail Daniel's time in the lion's den, I think that he likely prayed all night. The next morning, he climbed out of the lions' den and met his king with loving arms. Our walk through life may have spiritual lions hiding in the shadows, and people attempting to silence our testimony may try for the rest of our lives. But in the next life we will ascend from this cruel den and into the arms of a loving king—our Heavenly King. The promise of this blessing makes our devotion sweeter, our prayers more meaningful, and the connection to our Heavenly Father more sacred and real.
This post was originally published in February 2014. Minor changes have been made.
About Nanette ONeal
Nanette O'Neal loves the gospel and is very happy to share her testimony on LDS Blogs. She is a convert to the church and still feels the spirit burn strong within her heart. She graduated from Mason Gross School of the Arts with a degree in music education and has taught children and adults in the private and public sphere for over twenty years. Nanette continues to study the gospel and the art of writing. She writes weekly inspirational articles on her blog and is currently working on an LDS fantasy novel series, A Doorway Back to Forever. You can find her at NanetteONeal.blogspot.com. Nanette has a wonderful husband, talented son, and three beautiful dogs.