When Christ came to the earth, He blessed others to heal from sickness and all infirmities. He even brought people back from death.  This power He had is called the Melchizedek Priesthood.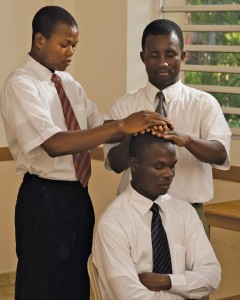 For The Church of Jesus Christ of Latter-day Saints, the Melchizedek Priesthood was brought back to the earth through Joseph Smith and Oliver Cowdery from the apostles of old: Peter, James and John. This priesthood power is now conferred upon all worthy male members who act in the name of God to give blessings of comfort and health. Through righteous living fathers, grandfathers, uncles, brothers, and nephews can bless the lives of all who are sick or afflicted in some way.
Joseph Smith taught an important principle of the priesthood when he wrote: (recorded in Doctrine and Covenants 121:36) "The rights of the priesthood are inseparably connected with the powers of heaven, and that the powers of heaven cannot be controlled nor handled only upon the principles of righteousness."
Over the years I have been the recipient of many priesthood blessings for comfort in stressful times, in great sickness or afflicted in some way and these blessings have always helped me.  They are a Godsend to those who are blessed by these priesthood holders.
A righteous priesthood holder in the home is such a blessing to all who live there and to those who associate with them. It brings a peace which helps strengthen the family. Along with blessing families for comfort or illness, men with this priesthood have the power to give baby blessings, baptize their own children and others, ordain their sons to the priesthood when they turn twelve and give special father's blessings. It also means they can take their families to the temple to be sealed for time and all eternity.  This is one of the greatest blessings we can have as it binds the family together.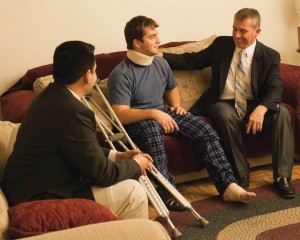 Men honor their priesthood by fulfilling callings at church when needed and visit assigned families each month called home teaching.  Home teachers bring a good spirit into the home. They are a lifeline in an emergency to get help when needed.
From the written scripture of the Church comes the Oath and Covenant of the Priesthood. (Doctrine and Covenants 84: 33-44) Basically, it says if man will keep his faith in God and follow His commandments by righteous living and blessing others with his priesthood then God will number him as one of God's elect.
For families, priesthood members are admonished to provide, preside and protect which reminds men to provide for their families not only in temporal necessities but also spiritual guidance. Preside by setting a good example of righteous living in the home in honoring wives and children and protect those they love from the evils of the world. (LDS Living Magazine. June 9,
2008)
 Being a priesthood leader in the home doesn't mean life will be perfect. There are still the stresses of the world and every day trials to contend with as employment difficulties, temptation for sin, abuse, unkindness and adultery. But if men take their priesthood responsibility seriously, reminding themselves of the righteous promises God gives them, then there can be a marked difference in the way family afflictions are handled and how children are loved. Men become unselfish and more service oriented. They tend to reach out to others more and are a blessing to those around them. The priesthood is a blessing to all men who use it, though it is a great responsibility which rests upon the shoulders of men who can magnify their calling as priesthood leaders in their homes.
So, this priesthood power which Christ used will help all men to become better human beings and take care of their families. They will become more Christ-like and treat others more kindly in communities, work place and beyond. Indisputably, this is a great blessing for all who know them.
About Valerie Steimle
Valerie Steimle has been writing as a family advocate for over 25 years. As a convert to The Church of Jesus Christ of Latter-day Saints, she promotes Christian living in her writings and is the mother of nine children and grandmother to twelve. Mrs. Steimle authored six books and is a contributing writer to several online websites. To her, time is the most precious commodity we have and knows we should spend it wisely. To read more of Valerie's work, visit her at her website, The Blessings of Family Life.