I used to love when the mail would come. I'd race to the mailbox to see if any letters were in it for me. I had a pen-pal when I was young and we used to exchange stories back and forth for years on end.
Around my birthday there would always be a special card from my aunt and another one from my grandmother, each with handwritten words of love inside—words that always meant more than the printed ones from the card company.  Later, I would look forward to letters from my husband when he was away on business, or letters from my missionary son who was serving in the Philippines.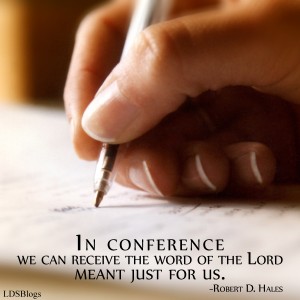 There is something special about a letter addressed specifically to you. Not the advertisements or the junk mail with your name on it, the letters—handwritten envelopes, carefully chosen words of love, connecting you to another person  in ways unique to the both of you.  Some might call my sentiments a foolish walk down Memory Lane, since letters don't come as often as they used to.
Others may smile in agreement, having experienced the same romantic connection with postal deliveries in the past.  And still, others may hope they will one day get their own letter in the mail, specifically written to them, addressed to them, and filled with a love that is undeniably for them.
General Conference is Like a Personal Letter to You
That time is coming. Our Heavenly Father has a personal message for you. Twice a year the leaders of the Church of Jesus Christ of Latter-day Saints hold General Conference—a series of meetings where inspired messages from God are given by men and women who have been chosen to deliver his words—to you.  One of the members of the Quorum of the Twelve Apostles, Elder Robert D. Hales said,
"In conference we can receive the word of the Lord meant just for us. One member testified: 'as I listened to your address, I was astounded…Your talk was personal revelation directly from the Lord to my family.

I have never experienced such a strong manifestation of the Spirit in my life as those minutes when the Holy Ghost spoke directly to me.' Another said, 'I have never before felt so profoundly that a talk was being given to me.' …What is said is not as important as what you hear and what you feel. (General Conference: Strengthening Faith and Testimony, Ensign, Nov. 2013).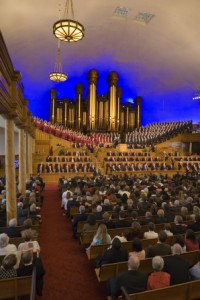 I remember specifically sitting through a session of conference, feeling happiness as I listened to the speakers. But in the back of my mind I had a problem looming. My current employment situation was bearing down on me in more ways than I could handle.
Even attending conference was cutting into work time and I was secretly dreading the Monday after conference when I would have to face my workload. But I sat and listened, because I wanted to let go of my troubles and feel some goodness in my heart.
The words of conference were wonderful, even though none of the talks had to do with my job situation. But Heavenly Father knew what I needed and he gave it to me through a still small prompting from the Holy Ghost. I will never forget it. It told me to lighten my load at work, and it told me exactly how to do it. The impression was as clear as a bell. My mind focused directly on the plan I was given, and I felt the courage to make it happen. I sat back and enjoyed the rest of the session without a care.
"The greatest blessing of General Conference comes after the conference is over" (Elder Robert D. Hales, General Conference: Strengthening Faith and Testimony, Ensign, Nov. 2013)
During the closing hymn of that particular conference, I began to have doubts about my new revelation from God. It would take a lot of guts for me to make the changes the way God had prompted me to in my work situation. I began to wonder if I had really felt a prompting from God, and if I did, would I have the moral courage to follow it.
When the closing prayer was given, I again received an answer from heaven. The person giving the prayer asked Heavenly Father to bless us that we would "have the courage of our conviction to follow the promptings we heard this day".
A smile stretched across my face, and a tear streamed down my cheek. Heavenly Father was mindful again of my concerns. This prompting led to more promptings that eventually opened a new career path for me.
I'm so grateful I was open to the message my Heavenly Father had saved for me. It was as if my mailbox was flooded with letters addressed to me, but with one in particular that had a return address from heaven.  And I'm ever thankful I recognized the handwriting, took the words to heart, and followed His direction.
Your Letter from God is Waiting
Your Father in Heaven loves you. He has a 'letter' waiting for you. It is your unique personal revelation—revelation you are entitled to receive because you are his son or daughter. Your personal revelation can be heard in the addresses of General Conference. In three weeks you can receive it. Conference is scheduled for the weekend of April 5th and 6th.
I invite you to hear what Heavenly Father has to tell you by making time for conference. And if not, your letter can still come to you via the Ensign in the mail. But however you receive it, remember who it is from, remember who it is for, and remember you deserve all the love that comes with it.
About Nanette ONeal
Nanette O'Neal loves the gospel and is very happy to share her testimony on LDS Blogs. She is a convert to the church and still feels the spirit burn strong within her heart. She graduated from Mason Gross School of the Arts with a degree in music education and has taught children and adults in the private and public sphere for over twenty years. Nanette continues to study the gospel and the art of writing. She writes weekly inspirational articles on her blog and is currently working on an LDS fantasy novel series, A Doorway Back to Forever. You can find her at NanetteONeal.blogspot.com. Nanette has a wonderful husband, talented son, and three beautiful dogs.