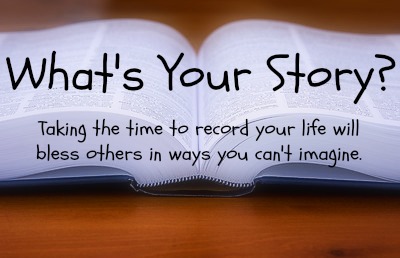 Sheila, six months pregnant, looked forward to getting to bed herself by the time she got 3 year-old Heather and 5 year-old Josh to bed each evening. Days were a bit easier when Bill, her husband, wasn't traveling for work but this wasn't one of those days. Tired as she was, Sheila took her great-grandmother's journal off the shelf and read for a while before going to bed. Sheila enjoyed reading about her great-grandmother's life because, despite the hundred years that separated them, their lives were remarkably similar. Madeline, her great-grandmother, wrote about missing her husband, Jonathan, when he was away from her and their two young children. Jonathan wasn't traveling for work; he was away fighting what Madeline referred to as the Great War. We call it World War I and Jonathan was fighting in the trenches of Europe. Despite desperately missing Bill at times, Sheila was grateful that she didn't need to fear for his safety. She also was grateful for emails and Face Time calls that kept them connected and felt great empathy for Madeline who had to wait weeks for a letter from Jonathan.
Perhaps you are fortunate to know Sheila's joy in reading an ancestor's journal. If not, perhaps you will yet come to possess such a journal. Whether or not you do, is pretty much out of your control. You might be able to increase your chances by helping an older relative write their story but that is not completely within your control either. What is completely within your control is writing your own story. While your descendants will be grateful for having your life story recorded, you may benefit more than they will. Putting your story on paper provides you with the opportunity to look back and relive the good times, the challenging times as well as the in-between times that make up most of our lives. Being able to look back can help with the present as we are reminded of how we behaved in the past.   Recording a life story can take one of two forms, a journal or a personal history. A journal is usually a day to day, or week to week record while a personal history is generally the summary of one's life. This article will focus on journal writing and The Story of You! Part Two will cover writing a personal history.
Those who are new to journal writing often wonder what about their life is worth writing down. As much as perhaps we hope others will benefit from reading our journal, you, yourself, are the most important audience. So the question to ask is, what will you want to remember? I have friends who write primarily for themselves as a method of coping with life. One friend has even arranged for someone close to her to make sure her journal is destroyed upon her death because she wants no one else to read it. Hopefully most of us, however, are writing to benefit others as well as ourselves. If you would benefit from having journal entries that no one else will ever read and others you would like to leave for future generations, you might consider keeping two journals. Emma Watson, of Harry Potter fame, has shared she keeps up to ten journals at a time! I, personally, struggle to keep one up to date. Journaling is a very personal expression and you will need to find your comfort zone.
One of my favorite thoughts is: the depth of your gratitude is the depth of your understanding. This statement isn't original with me but I don't know the author. We can gain so much from counting our blessings. Gratitude is a powerful tool for finding the strength to get through difficult times. Remembering all that we have to be grateful for can help lighten a depressed mood. Keeping a gratitude journal is a great way to remember our blessings. David A. Bednar, a modern day apostle speaks of blessings as tender mercies of the Lord.
As much as we may think we will always keep in remembrance those times when we have been blessed, paper has a much better memory than our minds do. If journaling is new to you, perhaps the place to start is with a gratitude journal. Make a goal to write down on a regular basis ten things for which you are grateful. One gratitude journalist I know says they must be ten new things, no fair repeating! Someone I recently met makes a habit of asking what tender mercies of the Lord have I experienced lately? It is so important to remember our spiritual experiences! Perhaps you will want to get in the habit of recording your thoughts, feeling and what you learned when you return home from a worship service. Recording what you learn from reading the scriptures or other uplifting, inspiring writings would also be good things to record in your journal. What about the everyday things that happen in our lives? Yes, those belong in our journals along with the seemingly more memorable times. You will benefit from being able to look back at the everyday occurrences too.
Finding time to write can be even more challenging than deciding what to write.   How often you write will depend upon your situation and opportunity. The more often you write the more details you are likely to include. Dedicated journalists don't go to bed without recording what went on during that day. I am not that dedicated and tend to journal daily for a while and then find it has been weeks since I wrote my last entry. Back when my children were young and still had living grandparents, I would write "Grandparent Letters" to keep them up-to-date with what my children were doing. Copies of those letters can be found in my journal. I also insert journal pages written for college level psychology classes since they include what I was thinking and feeling at the time. (I finally completed a bachelor's degree when I was fifty-three years old.) Inserting the less traditional journal pages has helped me fill in some of the gaps.
You will need to find a physical medium for journal keeping that works for you as well. You can buy very nice bound journals or you can use a spiral notebook. You can also use a word processing program and put the printed pages in a three-ring binder. Using a word processing program provides the ability to insert digital copies of photos that go along with what you are writing. Print copies of photos could also be added to a bound journal pages. I have journals written in all three of the previously mentioned options and find the three-ring binder the most workable for me. The binder allows me to add cards my grandchildren and others have made for me by putting them in page protectors and inserting them between my written entries. The binder makes it easy to add the less traditional journal pages I have mentioned. Keep in mind while you are choosing a physical journal type, you want archival paper if possible. Archival paper is made without acid that cheaper paper contains and so will last much longer. The spiral notebook that my very first journal is recorded on is definitely not archival paper and some day will need to be digitally copied onto better paper.
Take whichever of my suggestions are appealing to you and start recording your life. Sometime in the future you will be glad you did!
About Christine Bell
Christine Bell has been seeking her ancestor for almost forty years and continues to find joy in each one she finds. She volunteers in a Family Search Family History Center where she helps others find their ancestors. As a convert to The Church of Jesus Christ of Latter-Saints, she is grateful to be a member of the Church. She is a wife, mother of six grown children, grandmother of five going on six, and currently living in the western United States. Christine enjoys spending time with family and creating quilts for family, friends and Humanitarian Services of The Church of Jesus Christ of Latter-day Saints.