I realize the theme of this article is not unique. Do a simple Google search and you will find stadiums full of pundits offering advice about lessons we can learn from this year's World Cup Tournament. They are interesting and insightful and soccer lovers around the globe are eating it up. But what makes this piece different is it includes a gospel perspective you won't get anywhere else. You be the judge.
Life is full of lessons to the observant. That goes for seemingly unrelated experiences that really can teach truths to us all. With that in mind, what can you learn from watching the World Cup?
We cannot possibly see all the games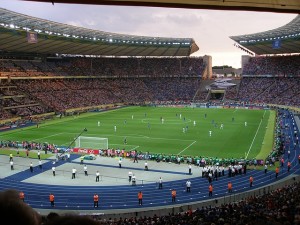 We cannot conceivably watch all the games. With technology however, we can see a lot more of them. Regardless of how you take in the matches, enjoy them with family and make the event a good part of life. We can see the glass half empty or we can see it half full. Our perspective and attitude in the midst of our families and children will be more influential than the games will ever be. But they can segue into discussing current events appropriately and teaching principles of truth to our families.
With all there is to do, we must use our time wisely to make sure the most important gets done.
Inspirational when opposing players lift one another
Those watching the World Cup know it can be dramatic in every sense of the word: players are injured, roughed up, and passionate competing for victory. It does a body good to see them helping each other up after a collision, however. Humanity and decency are always champions.
Optimism is a virtue. Chivalry is admirable. Kindness makes winners.
World crises seem to stop for a time during the World Cup
The World Cup is all about numbers. Pew Research reports 32 teams, 64 matches, 736 players, and an $11.5 billion price tag for the sporting event. But perhaps most rewarding is enjoying it with one of your own family members or someone you love. Relish it with your son, daughter, parent or spouse, and it may be the most memorable World Cup ever. That number is certain to be the most important of all.
Spending quality time with your family is never wasted.
Here are five facts about World Cup viewership in the United States and around the world:

1 About 3.2 billion people around the world (roughly 46% of the global population) watched at least a minute of the 2010 World Cup in South Africa on TV in their homes.

2 In the United States, 94.5 million people (about 31% of the population) watched at least 20 consecutive minutes of the last World Cup in Germany.

3 A similar share of Americans (28%) said they plan to watch World Cup games this summer, according to a recent Washington Post-ABC News survey.

4 Americans as a whole are not as interested in the World Cup as the rest of the world.

5 The world will be watching Brazil – both for this year's World Cup and the 2016 Summer Olympics.
About Walter Penning
In 1989, Walter Penning formed a consultancy based in Salt Lake City and empowered his clients by streamlining processes and building a loyal, lifetime customer base with great customer service. His true passion is found in his family. He says the best decision he ever made was to marry his sweetheart and have children. The wonderful family she has given him and her constant love, support, and patience amid life's challenges is his panacea.
Twitter •