A wise friend recently stated, "Pain creates canyons and crevasses in our lives that will later be filled with joy!" Thinking of this quote, I was led to some of my favorite parts in the scriptures, when the Lord blesses His people and helps them to carry their burdens. In M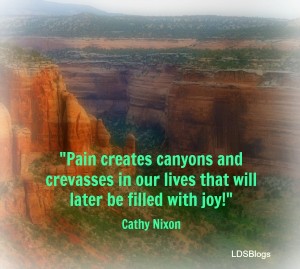 osiah 24, we learn of the time Amulon is persecuting Alma and His people. After reading all that they went through, the scripture cites this hopeful and powerful verse: "And now it came to pass that the burdens which were laid upon Alma and his brethren were made light; yea, the Lord did strengthen them that they could bear up their burdens with ease, and they did submit cheerfully and with patience to all the will of the Lord" (Mosiah 24:15).
As single adults we are blessed with large doses of pain sometimes that create deep canyons and large crevasses in our lives. Today I write as a simple witness that these really can be filled with joy. I can't say that I have had one profound experience that has changed my whole life, but over the past few weeks I have been blessed to see my burdens lightened so that I could bear them.
For many days I have been praying and seeking for full-time employment. It seemed very near my grasp so I quit one of my part time jobs trying to take a leap of faith that something great was about to happen. The opportunity I had been counting on didn't quite work out yet. So I was left with only 20 hours of work per week and I was starting to become a
little bit stressed. Somehow in His infinite mercy the Lord placed in my path yet another part-time job. To be honest at first I wasn't as thankful as I should have been. I didn't see this as the answer, because it wasn't the answer that I was seeking. However, after becoming humble I realized this was the Lord's will for me. Since I had chosen to move forward, the Lord hadn't taken away my burden of looking for full-time work, but he had given me a job in a good environment that causes me to stretch and develop new parts of myself. The hours were more stable than the previous job, and I even received a pay increase! My work burden was made lighter!
For the last two and a half years I hadn't been on a date. Nope, not one. Suddenly on Saturday I was at a friend's wedding reception when out of the blue I met a fun young man who later asked for my phone number. (Yes the good ole-fashioned way!) He set up a date for the next day and we went out. It was a small and simple reminder to me that God knew what had been on my mind and my heart. My dating burden was made lighter and easier to bear!
Over the course of the last few years I have found within myself a desire to become a temple worker. Since my work schedule has been crazy, and other things have come up I simply did not have the time to fully serve the Lord in this capacity. The other day I was blessed with the opportunity to meet with my Bishop about the opportunity. The temple
called yesterday and I have an interview to continue the process. My temple desire became possible! Once again my burden was made lighter.
The canyons and crevasses in my life probably seem mundane and unimportant to anyone else, but to me, areas that were once quite painful are becoming filled with joy one drop at a time. Some call it tender mercies, blessings, or perhaps even just patience coming to fruition. In my mind, it is not just those things, but a loving God showing me that His hands are, and have been actively engaged in my life. My life hasn't become fully what I would like it to be, but I am now beginning to see that perhaps it is shaping up into what the master would have it become.
About Ashley Dewey
Ashley Dewey is extremely talented at being single. Hobbies include awkward conversations with members of the opposite sex, repelling third dates, talking to boys about their girl problems and to girls about their boy problems. In her spare time she also has a very fulfilling school life, work life, and social life. Besides being a professional single, Ashley is also a BYU graduate with a degree in linguistics (Aka word nerd). She enjoys studying other languages, particularly American Sign Language, and finds most all of them fascinating. She is currently pursuing a masters degree in Teaching English as a Second Language. Ashley works most of the time and has often been accused of being a workaholic. Currently she works full time as a merchandiser and supervisor in a retail store, and part time doing social media work. On her day off she works (really it doesn't feel like work) in the Provo LDS temple. The only kind of work she finds difficulty focusing on is house work. Her favorite activities in her free time are reading, writing, creating social experiments, and spending time with great friends and family. Specific activities with those family and friends include: going to concerts, plays, dance recitals, BYU basketball and football games, and watching sports on television.
Twitter •