This post was originally published in 2014. Minor changes have been made.
Right around this time of the year, members of The Church of Jesus Christ of Latter day Saints start to talk about their pioneer heritage. Why, you ask, do we hear all about the pioneer stories at this particular time?
July 24th is the anniversary of the Mormon pioneers entering the Salt Lake Valley back in 1847. Every year since then, LDS church members celebrate the devotion, heroism, and endurance of those people making the trek across the country. Some even came from across the world to be together with the other "Saints." There is much we can learn from them.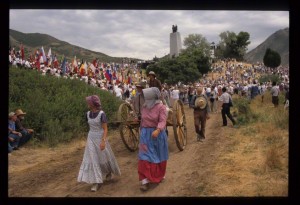 So what can we learn from this migration of people leaving their homes and traveling to a strange land which was considered outside the country's boundaries at the time? We can learn a lot. In many congregations of the Church, leaders sponsor an opportunity to make a "trek" over miles in local areas.  My children, and I have had the opportunity to participate in one of those treks in southern Alabama and one daughter did it again in Arizona.  These experiences are well worth the time as lessons are learned which were learned long ago.
Normally handcarts are built after the fashion of those built in 1847 and everyone has a single five-gallon bucket to keep personal items for the entire three or four day experience. Food is served at certain points and tents are set up and taken down each night as the group goes on its way to the end point. Everyone wears period clothes as well to make the experience as authentic as possible.
This is what we learned:
Eliot Steimle: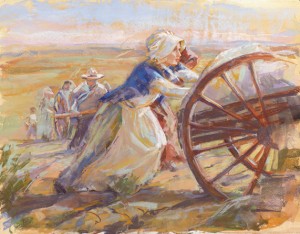 "I'll never forget the experience I had doing the Pioneer Trek with my stake. It was a great time to learn and grow while spending time in the outdoors with my friends and peers. We only had young men in my ward at the time to help pull the cart so it was a great opportunity to serve and we were able to pull the cart 95% of the time on the trail.
Before the trek, I never really understood how the pioneers could have enough energy after a long day to be able to dance and have social events, but after being able to experience it for myself, it makes total sense. Even though they were tired and sore before pulling handcarts all day, they still wanted to be able to enjoy the time that they had together and lift their spirits before another long hard day of pulling. It means not just waiting for trials to be over but to endure them well and even enjoy them at times."
Naomi Steimle Holifield:
"When I was about 24, I was asked to participate in a Pioneer trek with the youth.  Because I was not in the youth program anymore, I was able to assist as a Pioneer "mom" but I felt as if I experienced our trek as a youth because of my age.  I consider myself an outdoorsy girl and I'm generally not bothered by the lack of modern comforts.  That being said, it was still extremely difficult and more than anything, a binding experience.  I will always remember those who traveled with me and how we worked together to make it through the few days and short miles where we pushed our carts.  I am sure now that if I had to be part of the original Pioneer trek, I would only have survived with the Lord's help."
Sister Lydia Steimle:
"By participating in my first pioneer trek at 14 years old, I have learned that sometimes you're stuck in families that make life hard but you can still make the choice to be happy and enjoy life.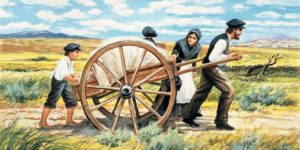 For the second trek, two years later, I learned something new. Now to understand how I felt in this trek you must first understand the circumstances. I went out of state for this pioneer trek, so I had never met anyone previous to the activity. It was a clean slate for me as I had to start fresh. I had to talk to and get to know people I wasn't familiar with and it forced me to get out of my comfort zone. But one of the best things I felt I decided from this trek is the persuasion to search for God, in my own time and on my own playing field. I was persuaded to search the scriptures and to search for the character of Christ.
It was extremely mind boggling and spiritually awakening. I learned more of how to rely on the Lord and during my trials I can to turn to Him in my time of need. This built a resilience and trust in God."
Each person who takes this trek experiences something different. As for me and my experience it was almost life changing.  During the three day trek, members were asked to reenact some of the stories of what happened to these heroes along the way. One particular reenactment was of the enlisting of the men for the Mormon Battalion.
As the story went, during the travels west, the Mexican-American War needed volunteers to help the U.S. Army fight this war, so many of the men left the women to continue on to the Salt Lake Valley.  During our trek, the men came for those who could be enlisted and took them away. We had to carry on pushing the handcarts for a half a mile up a steep hill. Rain clouds were overhead and wouldn't you know it, it started raining hard.
With no raincoats and no umbrellas, we marched on and it just stuck me with a ton of bricks as we were walking in the rain what sacrifices those people made to find a safe place for themselves and worship God.  It was a feeling I will never forget.
So on July 24th, think of those brave people who traveled across the country so long ago and remember their perseverance and resilient spirit.  We can learn much from our forefathers.
About Valerie Steimle
Valerie Steimle has been writing as a family advocate for over 25 years. As a convert to The Church of Jesus Christ of Latter-day Saints, she promotes Christian living in her writings and is the mother of nine children and grandmother to twelve. Mrs. Steimle authored six books and is a contributing writer to several online websites. To her, time is the most precious commodity we have and knows we should spend it wisely. To read more of Valerie's work, visit her at her website, The Blessings of Family Life.