A few weeks ago my family and I got to speak in our main congregational meeting at church. Our topic was love, a seemingly easy topic, but one with so many facets. My little boy gave a beautiful message about what matters to him. His fascination right now surrounds all things electronic- especially in pieces. And his five-year-old heart is so attached to smoke detectors that he is driving me insane.
How do we show Love?
As he talked about how much he loves smoke detectors, my eyes were opened to what they mean to him. He shared that he shows his affection for smoke detectors by learning about them, and playing with them. Then he talked about how he shows he cares for for his friends in the same way. When you are friends with someone you learn about them and spend time with them. His message was especially meaningful for me since it was literally out of the mouth of a babe.
So, then I had to ask myself, how am I showing my devotion to the Lord? Do I spend enough time learning about Him and His life and teachings? Do I remember to spend time with Him in regular prayer, and in serving His children? It still amazes me how the simple messages from children are often the ones that sink the deepest into my soul.
It's a commandment
The first commandment God gave us was to love the Lord with all our hearts. And then He commanded us to love one another, emphasizing that it was of similar importance. I find it significant that the great God of the universe, when He could have given His children any piece of His wisdom, chose to focus first on the importance of love.
President Thomas S. Monson, the president of the LDS Church, said:
"We cannot truly love God if we do not love our fellow travelers on this mortal journey. Likewise, we cannot fully love our fellowmen if we do not love God, the Father of us all. The Apostle John tells us, "This commandment have we from him, That he who loveth God love his brother also." We are all spirit children of our Heavenly Father and, as such, are brothers and sisters. As we keep this truth in mind, loving all of God's children will become easier.

Actually, love is the very essence of the gospel, and Jesus Christ is our Exemplar. His life was a legacy of love. The sick He healed; the downtrodden He lifted; the sinner He saved. At the end, the angry mob took His life. And yet there rings from Golgotha's hill the words: "Father, forgive them; for they know not what they do"—a crowning expression in mortality of compassion and love.

There are many attributes which are manifestations of love, such as kindness, patience, selflessness, understanding, and forgiveness. In all our associations, these and other such attributes will help make evident the love in our hearts."
It strengthens us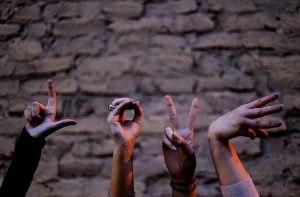 May we all try a little harder to care for each other, and to serve God. Let us reach out and support and uplift and encourage. We are all living through struggles; it's how we learn and grow. But enduring together makes every challenge easier. I think that's one of the reasons God commanded us to love each other- so we could be stronger. I recently heard a quote that moved me. "Today's trials are tomorrow's testimony." Sometimes the Lord's admonition to love others is not an easy one to follow. Some people really don't act like they want to be loved. But God has challenged us to step up and accept the challenge to be like Him.
It's a challenge
In Matthew 5: 43-48 it reads:
Ye have heard that it hath been said, Thou shalt love thy neighbor, and hate thine enemy. But I say unto you, Love your enemies, bless them that curse you, do good to them that hate you, and pray for them which despitefully use you, and persecute you; That ye may be the children of your Father which is in heaven: for he maketh his sun to rise on the evil and on the good, and sendeth rain on the just and on the unjust.

For if ye love them which love you, what reward have ye? do not even the publicans the same? And if ye salute your brethren only, what do ye more than others? do not even the publicans so? Be ye therefore perfect, even as your Father which is in heaven is perfect.
We can do it!
I read this scripture and I can almost hear the "I dare you," in the Lord's voice. In verse 46, when He says "If ye love them which love you", I hear 'how hard is that?' And then I remember how much He suffered at the hands of his enemies but still chose to dedicate His life to them.
Because love really is a choice. It's a choice we make every day. And I'm going to try harder to choose to love even when it's hard. The whole smoke detector invasion in my house has really brought to the front of my mind how hard that choice can be. But with God's help; and because of His example, I will endure.
About Patty Sampson
Patty thrives on all things creative. You'll often find her in the garden pretending she is a suburban farmer. She loves meeting new people, and is devoted to her friends and family. In her heart she is a Midwesterner even though life has moved her all over the country. She believes in "blooming where you're planted" and has found purpose in every place she has been. She has a deep and abiding love for the Savior and the Gospel of Jesus Christ. And she loves editing LDS Blogs because it is a constant spiritual uplift. Not many people can say their job builds their witness of the Savior.
Twitter •