We've all had those moments when we've realized for ourselves that the church is true, but the people aren't. Well tonight I had that moment for myself and I learned many valuable lessons, the most important one about myself. We walked into the Bishop's home for Family Home Evening tonight. The first question he asked the group was, "Do you have a calling?" (Props for trying to be on the ball.) Then it all went a little bit differently than I expecting….
Our evening began by talking about Bishop's new business plan for small garden beehives. He was polling the ward about what the name for his new project should be. For the first 20 minutes we bounced names back and forth. After we had settled on the fact that no one really had a great idea we moved forward.
The next words out of his mouth were even more surprising. "Brothers and Sisters, how many of you have been on a date within the last week? Raise your hands. Now, how many of you don't like to date?" A couple of us raised our hands to which he replied "There is a Book of Mormon Scripture that states 'Wo Unto the Liar for he shall be thrust down to hell."
Next he informally taught us a lesson about the importance of a name. It was so natural that one might have missed it if not really paying attention. Essentially he taught us that we all have a need and a desire to be known and remembered. To make this happen he then told us that for the next 5 minutes we needed to set up as many opportunities to get to know other members of our ward as possible. He committed us to find at least one other apartment and set up an activity before we could leave.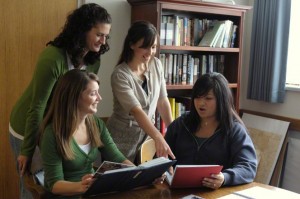 The beekeeper was keeping us busy with our efforts. I did my best to mingle and get to know people, which I did. Admittedly I met many members of the relief society. I even set up a dinner with the girls in the apartment next store. The requirement to go outside for refreshments was to report to the Bishop the activity we had planned. As I reported, he promptly said, "That's not good enough, go back inside". To say that I was a bit perturbed might be an understatement. However, I guess upon reflection I should have known that nothing besides an activity with members of the opposite sex would do. Being in a single's ward for a LONG time I have learned that really, every Bishop has a goal to get us married.
Still, over and over in my self-righteous head kept coming into my mind that talk from Dallin H. Oaks "Dating Versus Hanging Out". I even caught myself uttering aloud the phrase, "An apostle said, and I'd rather listen to his counsel than yours…" Literally I continued to maintain a bad attitude for quite a while. It wasn't until I stopped and realized that while there was no prayer, or hymn, or formal lesson, the only one preventing myself from learning and feeling the spirit tonight was me.
No one in the church is more responsible for bringing me closer to Christ than I am. Here was a Bishop trying to help his ward stay focused on the most important goal at this phase of life, and I was distracted by beekeeping and awkward moments. The great news is, that I can repent. We all can. We can remember that none of us are perfect. We've all had days when things didn't turn out as well as we would like. We've all had moments when we wished things would have gone differently. That doesn't change the fact that when it comes right down to it, the doctrine of the gospel, not the programs, or activities of the church that are the most important. My invitation, probably mostly for myself is for all of us to cut each other, or ourselves a little bit of slack on the things we are doing imperfectly, and today to pray for the ability to focus on the most important thing – what we can learn in any given situation.
About Ashley Dewey
Ashley Dewey is extremely talented at being single. Hobbies include awkward conversations with members of the opposite sex, repelling third dates, talking to boys about their girl problems and to girls about their boy problems. In her spare time she also has a very fulfilling school life, work life, and social life. Besides being a professional single, Ashley is also a BYU graduate with a degree in linguistics (Aka word nerd). She enjoys studying other languages, particularly American Sign Language, and finds most all of them fascinating. She is currently pursuing a masters degree in Teaching English as a Second Language. Ashley works most of the time and has often been accused of being a workaholic. Currently she works full time as a merchandiser and supervisor in a retail store, and part time doing social media work. On her day off she works (really it doesn't feel like work) in the Provo LDS temple. The only kind of work she finds difficulty focusing on is house work. Her favorite activities in her free time are reading, writing, creating social experiments, and spending time with great friends and family. Specific activities with those family and friends include: going to concerts, plays, dance recitals, BYU basketball and football games, and watching sports on television.
Twitter •