Hello? Oh, it's for you; childhood is calling. With eight colors and soggy paper, I bring you watercolor painting. You could conceivably paint anything with watercolors, but it's a good idea to at least start with a picture. Keeps you grounded, and gives you something to strive for. At this point in the process, I spent a lot of time on Google images, and looking at birds and red pandas. (Red pandas are cute.) Ultimately, I couldn't find anything I wanted to paint, and so I dug up an old picture I took on vacation. On the plus side, it isn't copyright protected, so I can put it here: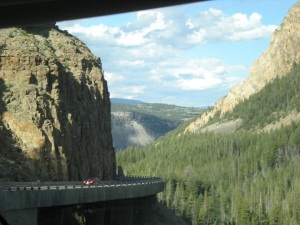 Look at that beautiful vista, those rolling hills, that blurry car, and the doorframe of the car clipping the upper left corner. Inspiring. At any rate, the first thing to do is make a rough sketch of what you want to paint. You don't have to draw a lot of details, just zones of color.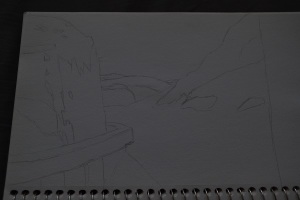 Notice, you can transcend the limitations of photography, like car door frames, but it requires some skill at drawing. There's always a tradeoff. Once you get a drawing you can live with, it's time to gather supplies. The paints themselves are pretty easy to come by; I got a set from a local dollar store. You will also want some sort of covering for the table; a few layers of newspaper is probably fine. Also, get a container of water and something to mix the paint on. I used the left over lid and bowl from one of those microwavable noodle lunches. Finally, get a piece of paper to paint test streaks on.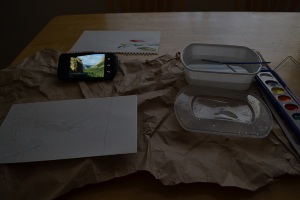 Try to start with the lightest colors; they should dry before you start painting with darker colors. This prevents the dark colors from seeping into the lighter areas. As you can see, I started with a diluted yellow: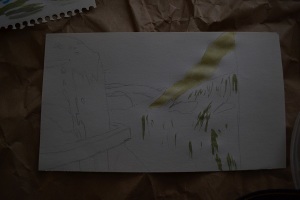 See those dark greenish brown marks? I was trying to get to brown, but the paints got out of hand. Rather than waste an odd color, I decided to add some texture that would be partially covered up later. After washing the paint off the lid, I tried again. It came out fairly close to another part of the landscape, so I started filling in that cliff face.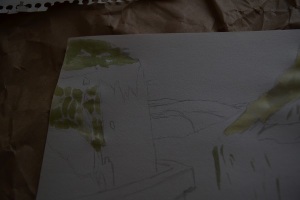 Note the white space between the blobs? That makes that part of the painting "pop." It's a bit like the reflective highlights shiny things have. Where do we go from here? Trees. Lots of trees. A tree is a beautiful, poor life choice. Any attempt to depict a tree is doomed to be wrong. At any rate, lots of narrow green smudges is the order of the day.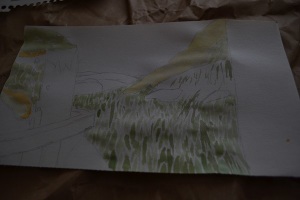 Look at all that white space. Also, try to keep perspective, with closer things larger than far away things. I did okay, but brushes are not precision instruments. Now, a word of warning about watercolors. You paint something? You are stuck with it. Oil, acrylics, those are more forgiving, you can paint over mistakes. Watercolors are like accusatory elephants that never forget.
Exhibit A: that cliffside shadow. I'm not sure what I was thinking, but what I got was a deep lovely green that had little to do with the actual color I was going for. On the positive side, I was able to add some texture to the yellow mountain bit with diluted paints. In fact, that is a major technique to master: dilution. Adding water to your little paint mixture can make it much lighter and allow you to paint it as under layer, as well as an accent to what is already going on.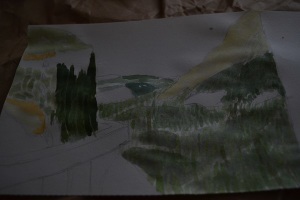 It may look like I went overboard with the "under layer" of green, and I did, but not too much. The thing to remember about watercolor paint is that it dries lighter than when you paint it. It's had some time to think things over, and it forgives you. Notice as well the white space I leave in the under layer, giving shape to the carpet of forest.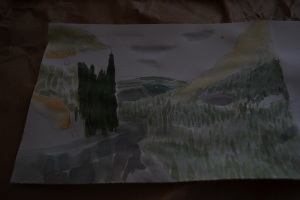 When you think of concrete, you think gray. That's because your mind is a dirty liar. Concrete is often gray, but what matters is the color you see, which is often influenced by shadows and reflections. If you scroll back up to the original picture, you will see that the concrete roadway is closer to a slate-blueish-green. Note the other areas getting filled in. Those are actually gray, and it shows.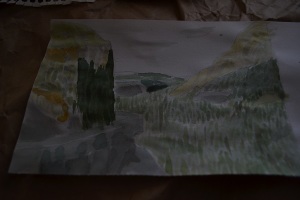 Once the first layer of paint dries, you can come back to that same area and put on some more paint. It adds texture, and it's a nice, slow, and steady way to approach a certain darkness without going over.
That cliffside still haunts me.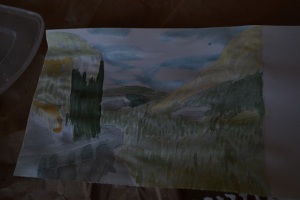 Oh hey, the sky. You may have been wondering when looking at the original sketch, "Where are all the clouds?" They were where they always are, in your heart. Which is to say, too troublesome to draw out, so I just sorta winged it. The thing to remember about clouds is that they are mixtures of white and gradations of blue. Thus, when painting clouds, leave space for the white bits, and go from sky blue to nearly gray with white.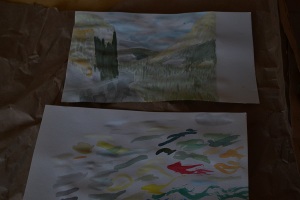 The finished painting with the sample paper. It's pretty wrinkly. There is paper specifically for watercolor painting, and presumably it won't wrinkle. My solution is to wait for the paint to dry, then while the paper is still damp, to leave it under a box of books. It flattened out pretty well.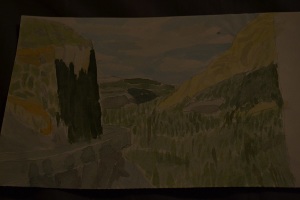 The camera puts on twenty pounds of shadow. In truth, watercolor paintings tend to be pretty light and airy. (That cliffside is still glaring at me) All that is left to do now, is to check out the Beatles Yellow Submarine movie and gain a new appreciation for that animation department.
About Brandon Quist
Brandon is originally from Olmsted Falls, Ohio. He has studied both at Baldwin Wallace college and Brigham Young University, and is currently pursuing Chemical Engineering, among other things. He considers himself a jack of all trades, and a master of none. In his spare time, Brandon enjoys knitting, guitar, reading, origami, writing, and photography.