To be honest, after the whirlwind of the past couple of weeks I thought I would take a break from dating. However, I have a Father in Heaven who loves me too much to let me quit. It all started with a simple phone call from someone I thought I'd never hear from.
"Hi, this is Mr. Teacher's Choice, Your roommate gave me your number. She said you were a fun person. I'd like to get to know you. Would you like to go out Friday? Dinner sound good?" Somewhere in the mix of his nervous call I uttered "sure, sounds good", and we made arrangements. The best part was being able to tell he was at least somewhat nervous. It was refreshing to hear a guy call up a girl he didn't even know and ask her on a date.
The date itself was really fun. You can't beat a BYU basketball game, especially when they win! Afterwards we went to get frozen yogurt, but the place was randomly closed down. (If you've been reading you may wonder if I'm bad luck in this regard) So, instead we went to the grocery store and bought some good ole Yoplait. Not exactly frozen, but it's yogurt all the same. All in all it was a fun date.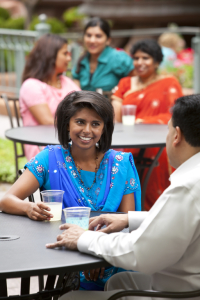 A couple of days later the Lord surprised me with another opportunity to get to know someone better. It was really casual as well. We went and got hot cocoa at this really cute place called "The Chocolate." We just chatted and caught up. We've been friends for a long time. It was fun to reminisce.
As you can see, neither of these dates were any big deal, but that's the beauty of it. It's nice to just go have fun with someone of the opposite sex. After 20+ years of being scared to death to date, I'm learning that it doesn't have to be a big deal. You don't have to be nervous, or afraid to be you. Just be you, have a good time, and when it works out eventually, it will work out.
The best part about this whole dating adventure is that while there doesn't seem to be a ton of potential on the horizon, for the first time in a very long time I actually feel hope that it will work out. Hope is a big deal in any aspect of our lives. It adds perspective and makes moving forward not only possible, but joyful. Feeling hope in something that was dreadful for so long is a true gift! I invite all of you to pick a place in your life that you need more hope and to ask God to help you find it.
About Ashley Dewey
Ashley Dewey is extremely talented at being single. Hobbies include awkward conversations with members of the opposite sex, repelling third dates, talking to boys about their girl problems and to girls about their boy problems. In her spare time she also has a very fulfilling school life, work life, and social life. Besides being a professional single, Ashley is also a BYU graduate with a degree in linguistics (Aka word nerd). She enjoys studying other languages, particularly American Sign Language, and finds most all of them fascinating. She is currently pursuing a masters degree in Teaching English as a Second Language. Ashley works most of the time and has often been accused of being a workaholic. Currently she works full time as a merchandiser and supervisor in a retail store, and part time doing social media work. On her day off she works (really it doesn't feel like work) in the Provo LDS temple. The only kind of work she finds difficulty focusing on is house work. Her favorite activities in her free time are reading, writing, creating social experiments, and spending time with great friends and family. Specific activities with those family and friends include: going to concerts, plays, dance recitals, BYU basketball and football games, and watching sports on television.
Twitter •