"To every thing there is a season, and a time to every purpose under the heaven" Ecclesiastes 3:1 My belief in this scripture has only been increased over the past week. As you may or may not recall, we last left my life with every ounce of confusion. My friend was suddenly dumped by a boy she planned to marry, and I was between two jobs waiting to see where it would lead. It's amazing how the past week has truly changed both of our lives.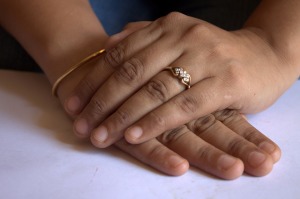 It turns out that the boy just needed a little bit of time. He freaked himself out over the prospect of settling down and getting hitched. However, about 24 hours after he broke up with my friend he realized that it was a mistake. It took about a week before all of the hairy details were worked out. Happily I can report that the couple is now engaged and getting married April 25th! All of those previous wedding plans are being put back into action. The ring purchased for that special sparkly finger now is being showcased on the hand for which it was purchased. The lesson was clear: there was a time and a purpose for the waiting and grieving.
As for my life, there has been some settling down as well. During the past week it felt like I was on a roller coaster of emotions. One moment I desired my life to take one turn and the next another. Heavenly Father probably got to the point that He didn't know which prayers to answer…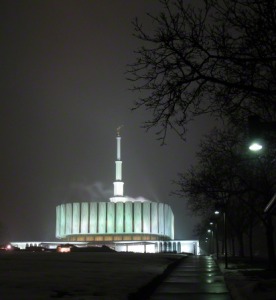 Monday night as I was pondering my impending job interview I began to panic. I was reviewing everything that was written about the position and suddenly realized that the work week would be Tuesday through Saturday which would cause me to have to give up my temple shift. I was devastated. At first I thought surely this was a sign from God that I shouldn't take the job even if it was offered to me. That started a downward spiral of all the reasons I wouldn't want it to work out. Missing family time during the holidays, having to find only night classes to finish my degree, etc… I was so worked up that I almost didn't even take the interview.
Thankfully life's experience has proven the value of turning towards God and His will rather than away from it. After a priesthood blessing, many prayers, talking with family members and friends, and a visit to the temple I finally felt like I could face the interview. Before I went in I had made the decision that I was unwilling to give up my temple shift. At this time in my life the power and peace I receive there was not something I was willing to let go of. I told the Lord that I would rather give up the job opportunity than give up the temple. I had planned how to graciously thank them for their time and get out.
Imagine my surprise as I sat down in the interview and the very beginning sentence was, "As you may have wondered, the job will be Monday through Friday from 9am to 6pm." That's right folks, the Lord took care of that quickly. Every other major concern I had was also addressed. It was as though the Lord were telling me not to worry because He knew where I needed to be.
I left the interview feeling totally relieved that it was over, and while I knew I could have answered most of the questions better, I felt that I had done all that was required and that the Lord would work it out. They promised me that a decision would be made by the next day. It didn't come. I waited… and waited. Finally a decision had been made and the job was offered. The pay was even a bit higher than I anticipated.
For both my friend and I, we learned a valuable lesson. When we seek to do the Lord's will and accept His timing, we will see the purpose of our lives unfold before us. Where tears of sadness and confusion once were, tears of joy abound. Allowing our season of sadness to pass means that our season of joy is even more impactful. My challenge to all of us is to discover what season we are in now, and to learn as much from it as we can. Just as the seasons of nature pass, so do the seasons of life. If we blink we might miss something.
About Ashley Dewey
Ashley Dewey is extremely talented at being single. Hobbies include awkward conversations with members of the opposite sex, repelling third dates, talking to boys about their girl problems and to girls about their boy problems. In her spare time she also has a very fulfilling school life, work life, and social life. Besides being a professional single, Ashley is also a BYU graduate with a degree in linguistics (Aka word nerd). She enjoys studying other languages, particularly American Sign Language, and finds most all of them fascinating. She is currently pursuing a masters degree in Teaching English as a Second Language. Ashley works most of the time and has often been accused of being a workaholic. Currently she works full time as a merchandiser and supervisor in a retail store, and part time doing social media work. On her day off she works (really it doesn't feel like work) in the Provo LDS temple. The only kind of work she finds difficulty focusing on is house work. Her favorite activities in her free time are reading, writing, creating social experiments, and spending time with great friends and family. Specific activities with those family and friends include: going to concerts, plays, dance recitals, BYU basketball and football games, and watching sports on television.
Twitter •