The clock read 6:00 AM and the excitement of the season had caused brothers and sister to wake each other up early to see what gifts they could find underneath the tree. Now, a few hours later, wrapping paper was strewn about and little presents were being played with by small children. The kids jabbered excitedly and with amazement at the thought that Santa really had come last night. Their father sat on the couch with a tired but content smile on his face.
It was a scene that I had once been a part of myself in my family growing up, but right then it was a front-porch-looking-in moment.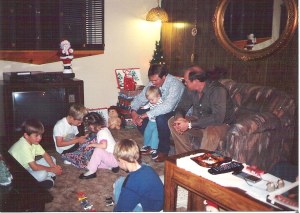 Have you ever felt homesick for your future family? Well, I hadn't felt that too often before, but it hit me the other day. I realized how totally normal it is to be away from members of your immediate family for the holidays. Often you bounce back and forth or rotate between families of your spouse, or even have Christmas with your own little family. The only reason being away from my family was so weird for me is because I don't have my new family yet. The other night, though, the Lord blessed me with a glimpse of what it could be like one day.
The more I thought about it, the more I realized how determined I am to make this a reality. I may not have that gift in this life, but I will die trying for it. Said Ella Wheeler Wilcox, "There is no chance, no fate, no destiny that can circumvent or hinder or control the firm resolve of a determined soul." When I envision my future family at Christmas, I feel the resolve of a determined soul. I am filled with a desire to work with all my might to make my own dreams come true in this regard.
So what do I do with all of this determined desire? Dallin H. Oaks reminds us that "desires dictate our priorities, priorities shape our choices, and choices determine our actions." So I need to allow my desires to determine my actions every day. Continuing forward, my actions need to be in favor of a future family. When it is time to make a choice, I will think of those little children around the Christmas tree.
I don't imagine this will be something others will be able to see, but it is an agreement between my Heavenly Father and me. We will work together, both doing our part allowing this desire to work in me, just as we learn in the Book of Mormon. "Desires dictate our priorities, priorities shape our choices, and choices determine our action." I am thankful that God gave me a glimpse of what life could be so that I would fight harder to experience it! My challenge for you is that you will stop for a moment and imagine your future, and then create a plan to make it your reality. After all, this season is about embracing the gift of life our Savior gave us, so why not make it into the best gift we've ever received?
About Ashley Dewey
Ashley Dewey is extremely talented at being single. Hobbies include awkward conversations with members of the opposite sex, repelling third dates, talking to boys about their girl problems and to girls about their boy problems. In her spare time she also has a very fulfilling school life, work life, and social life. Besides being a professional single, Ashley is also a BYU graduate with a degree in linguistics (Aka word nerd). She enjoys studying other languages, particularly American Sign Language, and finds most all of them fascinating. She is currently pursuing a masters degree in Teaching English as a Second Language. Ashley works most of the time and has often been accused of being a workaholic. Currently she works full time as a merchandiser and supervisor in a retail store, and part time doing social media work. On her day off she works (really it doesn't feel like work) in the Provo LDS temple. The only kind of work she finds difficulty focusing on is house work. Her favorite activities in her free time are reading, writing, creating social experiments, and spending time with great friends and family. Specific activities with those family and friends include: going to concerts, plays, dance recitals, BYU basketball and football games, and watching sports on television.
Twitter •