"I am crucified with Christ: nevertheless I live;
yet not I, but Christ liveth in me: . . . the Son of God,
who loved me, and gave himself for me" (Gal. 2:20).
We share in Christ's identity by keeping the commandments. C.S. Lewis explained in general terms how "Christ liveth in [us]": "The more we let God take us over, the more truly ourselves we become . . . . It is when I turn to Christ, when I give up myself to His personality, that I first begin to have a real personality of my own."
As Christ totally gave up himself for the Father and for us, so we should totally give up ourselves for him: "For whosoever will save his life shall lose it: and whosoever will lose his life for my sake shall find it" (Matt. 16:25). As we lose our life for Christ's sake, we share in his identity as the covenant, adopted "children of Christ"—we "are born of him and have become his sons and his daughters" (Mosiah 5:7). (See my December 18 blog, "Five Christmas Stories of Our Birth.")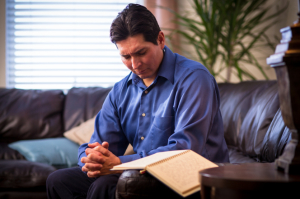 The fundamental way in which we "let God take us over" and share in Christ's personality or identity is, of course, by "keeping the commandments": receiving the ordinances (most of which symbolize his atonement) and receiving his name, Spirit, power, and love; reading the scriptures; being honest; paying tithing; being clean; serving others; repenting; etc.
"It is not meet that I should command in all things." But the Lord also specifically states that a checklist of his commandments is NOT the whole story or the whole script: "It is not meet that I should command in all things; for he that is compelled in all things, the same is a slothful and not a wise servant; wherefore he receiveth no reward. Verily I say, men should be anxiously engaged in a good cause, and do many things of their own free will, and bring to pass much righteousness" (D&C 58: 26–27).
He requires that we seek out our innate talents and develop them AND also that we seek out additional talents (see Matt. 25:14–30), "and all this for the benefit of the church of the living God" (D&C 82:18). These talents, these good gifts from God—whether "spiritual" (healing, other miracles, discernment, etc.) or "secular" (music, athletics, languages, etc.)—are all part of the personality or identity of Christ, because he is the source of all good gifts. Seeking out and developing these talents typically involves a cost of time and resources and perhaps also some perceived risks, such as "failure," disappointment, and embarrassment. We may be afraid.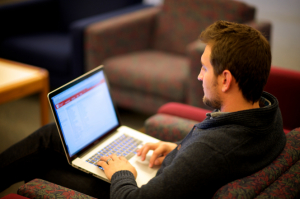 We pay a heavy price for neglecting our talents. We may think that our talents don't compare favorably with someone else's, or may feel that our talent is trivial or is unglamorous in comparison to others' talents, so we lay low and hide our talents: "I was afraid, and went and hid thy talent [which his lord had given him] in the earth . . . His lord answered and said unto him, Thou wicked and slothful servant . . . Take therefore the talent from him, and give it unto him which hath ten talents" (Matt. 25:25–26, 28).
New beginnings. Each new day, week, month, and year offers us the opportunity to develop the talents God is eager to share with us, at whatever stage of life we are in. Jonathan Ellerby wrote: "Make a promise to stop getting in the way of the blessing that you are. Take a deep breath, remember to have fun, and begin."
The following people, and others like them, overcame significant obstacles—not the least of which was their own fear—as they tried something new or something old in a new way, sometimes later in life:
—Soichiro Honda interviewed unsuccessfully with Toyota for a job as an engineer, so he started making scooters at home and finally started his own business.
—Harland Sanders was a fireman, railroad laborer, and insurance salesman, among other things, before launching Kentucky Fried Chicken and becoming "Colonel Sanders" in his 60s.
—Laura Ingalls Wilder, who began writing as a columnist in her 40s, wrote the popular Little House on the Prairie books in her 60s.
—Theodor Seuss Giesel ("Dr. Seuss") submitted his first book, To Think That I Saw It on Mulberry Street, to 27 publishers who rejected it, before finding one who would publish it.
—Jack London, author of popular novels like White Fang and The Call of the Wild, received 600 rejection slips for his first story before it was finally accepted.
What would you like to do? Music, sports, language? Volunteer to be an usher at a concert hall or sports arena, join a team, take guitar or singing lessons, find a DVD course in Italian. Art, crafts? Start sketching or painting today, buy that jigsaw, join a club. "Do not wait until the conditions are perfect to begin. Beginning makes the conditions perfect," wrote Alan Cohen. As Walt Disney said: "The way to get started is to quit talking and begin doing."
"For the power is in [people], wherein they are agents unto themselves. And inasmuch as men do good they shall in nowise lose their reward" (D&C 58:28).
About richarddolsen

Twitter •