Some folks say they don't see miracles anymore in our day. I say we see them all around us.
If we just recognize them for what they are, we can see the arm of the Lord revealed daily in our lives.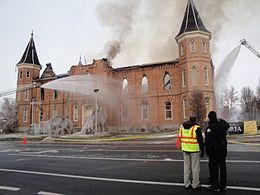 Remember when the Provo tabernacle burned down? That was tragic by every account. I attended many meetings in that remarkable, beloved building. It was part of our heritage. One couldn't help but notice the inspiring architecture, pioneer craftsmanship, and the innumerable details abundant in that edifice. The solid wood benches and intricate carvings around the organ and pipes were immaculate. Following the four-alarm fire, the newspapers reported "tragedy, shock, devastation, and loss" when describing the damage that left "that iconic building a blackened ruin." Many mourned the immense loss. Some wept. Others just looked on in disbelief. And then President Monson made an announcement at conference that this building would become a temple, and everything changed.
I remember the occasion well. We had actually gone to Salt Lake to attend that particular meeting in the Conference Center. As the announcement was made there was an audible gasp in the audience when the saints realized the Lord would take this apparent tragedy and turn it into something beautiful and magnificent. Have you seen what was done?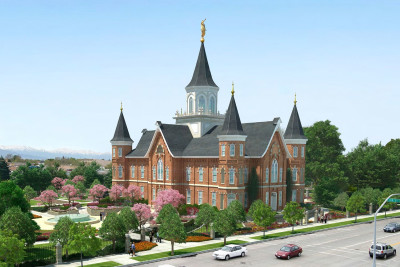 The charred ruins of that local treasure have turned into a monument that will equal in quality and majesty any of the temples on earth. I have felt the same emotion when I learned about His handiwork bringing two lonely people together, helping a family solve a serious problem, or witnessing his work to encourage a friend, lift the hopeless, and comfort the downtrodden. Some of the finest people I know have been strengthened amid life's struggles, and when this happens to people we hold dear, we see God's tender mercies in the miracle. Hardships face us every day. Challenges overwhelm us. And fear immobilizes us. But despite these obstacles, faith in the Lord Jesus Christ—especially amid difficult times—enables us to endure to the end and witness the miracle of the Lord turning difficult situations into beautiful resolutions.
Temples play a significant role in the lives and worship of Mormons. Andy Kirby, the LDS Church's project manager for the new temple said the project was especially significant considering the fire that almost entirely destroyed the tabernacle — a building that had stood for almost 125 years.
"This is a beautiful rebirth," he said. "From extreme adversity, the old tabernacle is being reborn to a higher purpose. There is symbolism there for all of us. You go through difficult times, even tragedy, and you can come back better and stronger than ever."
Church members and residents alike are anxious for the completion of this temple. In many ways, Provo residents have seen this effort in particular along with other additions transform its city center. That's a remarkable accomplishment by any stretch of the imagination, especially for those of us that saw the fire and felt the devastation and loss at the time.
Understanding this principle, our Father in Heaven enables us to face hardship and fears with confidence and faith, enabling us to confront overwhelming challenges and see the Hand of God turn seemingly tragic circumstances into triumphant resolutions.
A favorite poem of mine seems fitting here The Touch of the Masters Hand:
'Twas battered and scarred, and the auctioneer
Thought it scarcely worth his while
To waste much time on the old violin,
But held it up with a smile:
"What am I bidden, good folks," he cried,
"Who'll start the bidding for me?"
"A dollar, a dollar"; then, "Two!" "Only two?
Two dollars, and who'll make it three?
Three dollars, once; three dollars, twice;
Going for three—" But no,
From the room, far back, a gray-haired man
Came forward and picked up the bow;
Then, wiping the dust from the old violin,
And tightening the loose strings,
He played a melody pure and sweet
As a caroling angel sings.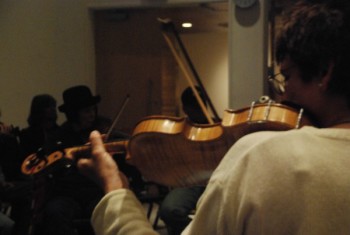 The music ceased, and the auctioneer,
With a voice that was quiet and low,
Said, "What am I bid for the old violin?"
And he held it up with the bow.
"A thousand dollars, and who'll make it two?
Two thousand! And who'll make it three?
Three thousand, once, three thousand, twice,
And going, and gone!" said he.
The people cheered, but some of them cried,
"We do not quite understand
What changed its worth." Swift came the reply:
"The touch of a master's hand."
And many a man with life out of tune,
And battered and scarred with sin,
Is auctioned cheap to the thoughtless crowd,
Much like the old violin.
A "mess of pottage," a glass of wine,
A game—and he travels on.
He's "going" once, and "going" twice,
He's "going" and almost "gone."
But the Master comes, and the foolish crowd
Never can quite understand
The worth of a soul and the change that's wrought
By the touch of the Master's hand.
Materials and energy are used as prudently and efficiently as possible to achieve a construction standard called sustainable design. All building costs are paid for upfront with funds earmarked for that purpose without mortgages or loans. Yet, when it comes to quality of work and building supplies used, the most excellent materials and labor are always employed.
Community and neighborhoods are selected which will stand the test of time and local involvement and native settings are integrated into the unique design of each temple. Architects ensure the highest quality and workmanship, seeking inspiration to complete this important task.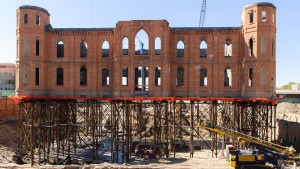 Bringing the beloved tabernacle back from the depths of ruin and despair into the light as a sacred, beautiful, majestic temple of God is a most meaningful accomplishment. Whether structure, circumstance, or soul of man, making all things better and turning tragedy into triumph is the genius of God. I have witnessed this brilliance time-and-again and certainly in the Provo City Center Temple, which is targeted for completion sometime this year.
Turning tragedy into triumph seems to be the prevailing lesson from this beautiful edifice. This lesson is also analogous to life.
I'm afraid most people will gaze at the beauty when they see the finished version without full appreciation of the immense task and transformation from the tragic ruins of the beloved tabernacle. This edifice will continue to bless people on both sides of the veil now and throughout the Millennium. And lives will be changed because of its legacy, purpose, and mission.
My intention was to capture the thoughts, feelings, and sentiments of the workers and community members when I went down to the construction site to collect emotions and weigh feelings, and their stories ended up capturing me. Of the people working there to restore this unique treasure into something even more significant, the obvious adoration was eloquently displayed in their flawless work. I didn't know what I was getting myself into.
The highest quality materials are used, the most skilled workers employed, and meticulous attention to detail is given as an ultimate expression of worship.
"It's been a privilege working to build the Provo City Center Temple," is the general consensus.
He allows his followers to join in this work, which can become the masterpiece of our lives, as well.
Completion of the Provo City Center Temple is anticipated for late 2015–early 2016 (official announcement pending).
About Walter Penning
In 1989, Walter Penning formed a consultancy based in Salt Lake City and empowered his clients by streamlining processes and building a loyal, lifetime customer base with great customer service. His true passion is found in his family. He says the best decision he ever made was to marry his sweetheart and have children. The wonderful family she has given him and her constant love, support, and patience amid life's challenges is his panacea.
Twitter •