Success snowballs. When we do well, good feelings and confidence carryover influencing our attitude, choices and success in other areas.  Similarly, negative contagions like fear, worry, and defeat lead to over thinking, recycling problems or mistakes, and finally self-consciousness, discouragement and despair.  In order to contain these negative influences, sometimes we just decide to not care.  But apathy is a wandering desert of aimlessness.  I don't want that either.  I've often wondered, how can I care and not care?  How can I let go?
When I over think or worry, in a sense, I'm not uncaring.  I'm caring too much and it undermines my happiness and success.  For example, when I first started teaching adult Sunday school, I was so nervous I could hardly stand.  It was so bad that in one demonstration about a firm foundation, the blocks kept falling over, and I had to set them on the table to attempt any possible object lesson on stability.  Luckily my class members were well versed in the Bible and patient with me.  They didn't let us miss out on important meanings, and they cheered for me.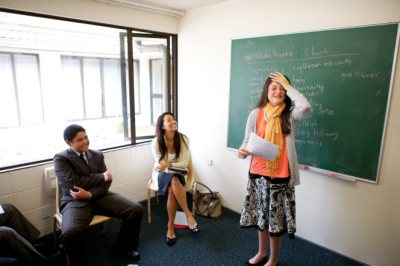 Letting Go
One week I was passing out little strips of paper with verses for the class to read.  I saw their long faces and felt bad that they had to endure yet another anxious lesson.  I was determined to overcome this but wasn't sure how.  I knew one thing for sure.  I was going to have to symbolically risk falling on my face and stop clinging to the crutches.  I would have to let go.
So, the next week I did it.  It had been a particularly hard week with my family, and I was even less prepared than usual, so I discussed that with my Heavenly Father in prayer.  I had confidence because I had used my time as well as I could taking care of my family first.  Then I actively refused to worry, deciding ahead of time that come what may, my best would be good enough and that God would provide.
I was not disappointed.  It was amazing.  I was so blessed.  We had a great discussion.  I felt the love of each person in my heart and the hope of the message.  Now, I try to never go back into panic mode, no matter how unprepared I feel.  I can focus, work hard on the present, and trust.  This releases me from focusing on all that I can't control.
Now I can care with my whole energy and soul, and not feel devastated when results aren't everything I could have dreamed of.  More often, the freedom allows me to create a much better result than I could have intentionally while stressed out.  I care passionately about what I'm doing and why, while realizing, I can't guarantee myself a particular outcome.
Daring to care adds power to action because you aren't holding anything back.  I love the feeling of being all in, present, alive and powerful.  I'm on the same team with myself and that is a momentum that no one else can take away.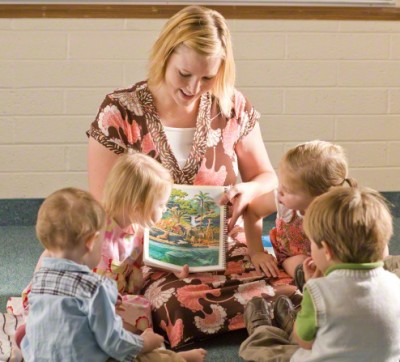 Fighting Gravity
I have noticed that I occasionally sabotage my own success.  I have seen my children regress, too and have worried that this pattern might be something strange and horrible.  But recently I learned that it is entirely normal to want to grow, expand, and learn and also want to be small, cared for, irresponsible, and lazy.  It is human nature.
Like gravity, this pressure to stay small and comfortable is good for our survival but not for reaching our potential.  Understanding that it is normal to experience these urges to relax, to hold back, and to stay small helps me be patient with backsliding.  It isn't the end of the world.
We don't have to cope by pretending to not care, or worse, really becoming apathetic to avoid anxieties and stress.  It is normal, and we can learn to fly with it.
I think it is entirely possible to care and not care.  It just isn't always easy.  I sometimes get carried away, attached to the result or prize I thought my actions would bring me.  I love to win the prize! I will likely still experience moments of devastating disappointments, dissolving into a heap of  self-pity.
But, it can't last long because I know life has a few words in fine print I just can't ignore: "results may vary".  There is no guaranteed outcome.  But, there never will be.  So we must fully care, and in that way prepare, to succeed.
May you give your heart, already knowing that your best is and always will be
good enough.
Namaste,
DarEll S. Hoskisson
About DarEll Hoskisson
DarEll S. Hoskisson loves to do hard things, but not too hard. She shares her own challenges, goals and experiences as she guides you into a realistic path of self-reflection and self-improvement. She shares tips on how to find, know and trust yourself so you can decide if other's suggestions are right for you. DarEll has the world a little upside down—where work is play and play is work. She actually thinks other people's problems are fun to try to solve and lights up with a personal challenge. She loves people, harmony, and excellence. She also loves useful things like tools and ideas that make work faster, easier and more fun. DarEll married in 1993 and graduated from BYU (1995) with a bachelor's degree in English and Secondary Education. Since then she was adopted by 5 children and has worked with many non-profits. She is currently a certified personal trainer and group fitness instructor—leading pilates and yoga at her local YMCA. DarEll lives in Florida where she enjoys her family, nature, her work, and encouraging people to live well. She periodically posts her poems, what she is learning, and service opportunities on her personal blogs: https://personalabridgements.wordpress.com and https://darellhoskisson.wordpress.com
Twitter •