I recently got to chat with Jasen Wade, who plays the handsome county marshal in The Cokeville Miracle by TC Christensen.  It was a fun conversation.  He's a charming and humble man.  I was impressed with what he had to say.
LDSBlogs: Was it fun playing the Marshal?
Jasen: Was it fun playing a marshal? I loved it.  I love looking into other people's lives, and seeing the world through their eyes.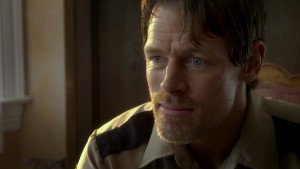 But as for me, I could never be a cop.  I'm not wired for it.  I just don't have the gene.  If you hand me a gun and tell me to pretend to be a cop, I can do it.  But I have friends and family in law enforcement, and I know from watching them that I wouldn't survive.
But I had plenty to draw from for my character, because this movie isn't about the police aspect of that day.  It's all about Ron Hartley's personal spiritual journey.  It's about his struggle with what his son went through, and I can relate very well to that.
LDSBlogs: I heard there were FBI and all kinds of law enforcement there that day. But I really liked how TC Christensen kept them out and gave your character a chance to think about the miracle of his being out of town. Was the real marshal out of town that day?
Jasen: He really was out of town, and not even in contact with the station. The movie takes some creative license, but if you notice, they are talking across a CB Radio.  There is no way he could have had a connection from 200 miles away.  He really did leave town to go help his brother that day.  And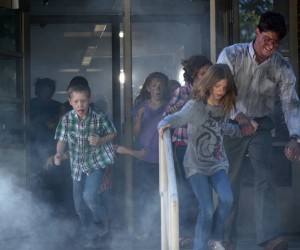 when he returned he was driving with a friend and the radio was completely turned off.  He had no idea anything was wrong.
When he came into town, he saw a low-flying helicopter, and then ambulances outside the school. He didn't know if anyone had lived.  He just saw devastation.  And he realized at that moment his kids would have been there in the middle of it.  It stopped his heart!  He was only told that his kids had been taken to the hospital, not what kind of condition they were in.  He was also told to begin the investigation right away.
He didn't even have a chance to go see them.  He had to go straight to work.  Fortunately he shortly learned his family was OK.  But seriously, can you imagine?
TC did a great job telling the story in the time allowed.  But I want people to know that Ron's story was much longer than just a couple days of agony.  It was more like 6 years.  For 5 years he distanced himself from everything around him as he became obsessed with researching David Young's journals and all the police and FBI reports.  He was distant with his wife, he questioned his faith, and even his kids felt him distance himself from the family.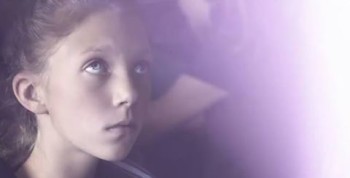 He went through every single detail and dredged up every piece of evidence about what happened that day.  And then it took another year and a half for him to put it all together and conclude that what happened was a miracle.  In the movie it all went very quickly, but in real life it was a long journey.
Some witnesses didn't know what they had seen till many years later.  It wasn't an easy road at all.  I felt torn as we were filming.  Half the town wanted the story told, and the other half wanted to forget. But even though I have a lot of respect for the Cokeville community, I feel this is a movie that needed to be made.  And I hope it heals those who may not have discussed what happened yet.  I hope it heals hearts.
LDSBlogs: Did you have any profound experiences filming this movie?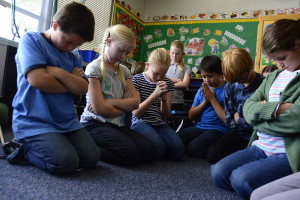 Jasen: Yes!   When we did the scene with the High School students kneeling down and praying for their brothers and sisters, I was overwhelmed with seeing, in my mind's eye, people of different faiths, coming together in prayer.
I started to feel the gravity of that moment.  It was emotionally overwhelming.  The director wanted me to try one take with an angry voice.  But the dialogue was so hard to get through and so emotional that he finally gave up.
LDSBlogs: What got you into making movies?
Jasen: Keith Merrill had a huge part in that.  I was a huge fan of his work.  He has made some seriously inspirational movies.  He did Mr. Kruger's Christmas, The Testaments, Legacy, and many more.  When I was at SUU he came for a three day symposium.  And I skipped all my classes to be there and hear every word.  So I became a familiar face in the crowd.
After the symposium was over, Keith took me aside and asked me what I wanted to do.  I mentioned acting, but that I wasn't that confident about it because I was pretty sure I would be eaten alive.  And he encouraged me to go for it.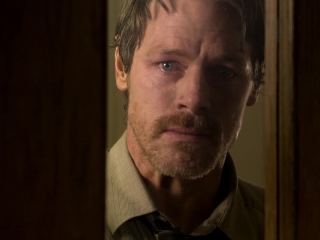 He said that his biggest struggle with making movies was the casting.  He said he couldn't find enough LDS actors.  He looks for LDS actors when casting an LDS themed movie, because they can master emotions that only an LDS member can comprehend.  He said he needed more people like me.  He needed people of substance and depth and purpose with a solid foundation.
He said he struggled when he had to cast a non LDS actor in a significant role because they lacked that intangible deep goodness Keith craved even if they looked the part.
So I started out.  I was ignored in the Utah market, I went to LA and got a resumé people couldn't ignore.  Even though things were going well, I felt it was time to leave.  I didn't know why, but the dreams and the feelings were so intense that they literally drove me out of that town just when I was being name-requested by casting directors and on the cusp of some serious success.
It was the thought of sacrificing many more years being on that cusp that I wasn't willing to do anymore, so I took a break and tried to get financial stability back into my life.  So I went to Philadelphia.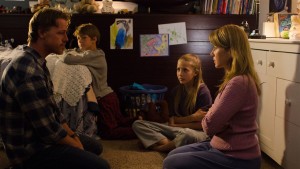 And it was while in Philly I remembered Keith Merrill and our conversation, and I knew I had to get back to Utah. I fought fires to pay the bills, married my wife, and met TC Christensen and everything started falling into place.
These stories I get to be a part of have incredible timing.  They are present just when I need them.  At the time we filmed "The John Tanner Story" I hadn't used my priesthood for years.  And then here I was in this amazing scene where I command a man to rise up and walk.  It was powerful.
The next year I was literally stumbling into a marriage as a 37 year old confirmed bachelor.  I tell you my wife earned her place in the Celestial kingdom as I learned humility.  At that time I got to play Levi in "17 Miracles." The timing couldn't have been more perfect.
Then I got to learn to honor my country; to learn true honor and sacrifice while filming "Saints And Soldiers: Airborne Creed".  Then came "Cokeville Miracle" and that special moment where the whole town prayed.  I learned the power of prayer from this movie.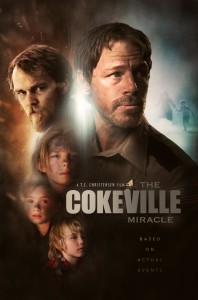 Scripts keep showing up, and I am thrilled.  Right now we are filming a new movie called "Miracle Maker" by John Lyde.  I am eager to see where this next one takes me.
LDSBlogs: What unexpected perk have you found as you've been making movies?
Jasen:  One of the greatest perks is getting to go out and meet people.  My wife and I get invited to travel to Youth Conferences, Girl's Camps, Boy Scout Camps, and firesides.  We get to meet amazing people.  I feel like each visit is a huge blessing.  We leave energized and uplifted.
It has been a huge blessing to connect with the youth.  We get a real feel for who they are, what they do, where they live, and what struggles they have.  Making inspirational films doesn't pay that much. But connecting spiritually with people makes it all worth it.
We get to go beyond the stories we are telling in the movies and make a rare connection.  It's a very special place, where the ground is sanctified and you have to tread carefully.  I know that one day everyone will forget the movies.  But because of these films we are allowed a very unique access to the Youth of the Church and get to feel their spiritual strength.
We love getting a chance to relate to them.  I am overwhelmingly impressed with the depth and strength of the youth coming up today.  They are faithful and ask questions that are thoughtful and meaningful.  I know I never thought that deep when I was their age.  I never cared about that stuff.  And I realize that we are in very good hands for the next generation.
LDSBlogs: Wow, thank you.  I will all be looking forward to seeing "Miracle Maker".
About Patty Sampson
Patty thrives on all things creative. You'll often find her in the garden pretending she is a suburban farmer. She loves meeting new people, and is devoted to her friends and family. In her heart she is a Midwesterner even though life has moved her all over the country. She believes in "blooming where you're planted" and has found purpose in every place she has been. She has a deep and abiding love for the Savior and the Gospel of Jesus Christ. And she loves editing LDS Blogs because it is a constant spiritual uplift. Not many people can say their job builds their witness of the Savior.
Twitter •