"You haven't failed until you quit trying."- Gordon B. Hinckley
As another relationship ended this week, and as I said goodbye, President Hinckley's counsel brings added peace to my mind. It sounds silly, but sometimes as a single adult you really hope that you have found the right one this time. For brief moments it can actually feel like things are finally falling into place and you might actually be able to fall in love for yourself. But then it doesn't go as planned and that can be both frustrating, and painful.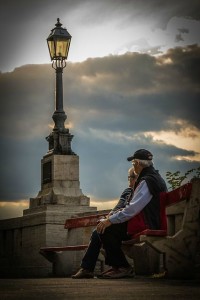 Thankfully, in my experience, every relationship is a learning experience every single time. Each person is unique and brings a new set of eyes to your world. This relationship was no different. Two imperfect people were making an attempt towards eternity. While it didn't end in marriage, I don't believe that either of us has really failed in getting closer to the kind of relationship we are seeking.
It is my belief that we both learned. We learned things that we can do better. We learned things that we won't compromise on. We learned how to communicate just a little bit more.  We learned how to serve with more meaning. We learned how to let down barriers and trust other people more fully. In some ways we learned to function as 'we' instead of 'I'.
Additionally, this was the first time that a relationship was ended by my significant other instead of by me.  It really changed my perspective on things. Where before I would question my judgement on the choice I made, I now sat a little baffled at being on the receiving end of someone else's choice. Initially I was pretty sad and somewhat shocked. I wondered if I had failed the Lord in learning to love His son. I wondered if I had somehow been unable to fulfill the Lord's will for my life. How much truth was in those final stinging words? Most of all, what was I supposed to learn and was I learning it?
Some questions don't have direct answers, and some answers are very personal, but I can tell you this much… I believe that while I couldn't love this man perfectly,  I didn't fail in my attempts to try. I also didn't fail to fulfill the Lord's will for my life (because I am still continuing to try). Yes, there was truth in the final words before we parted, but God understands my heart and where I am coming from. He knows my intent was not to hurt anyone even if I accidentally did.
You see, I am supposed to learn that it isn't my job to love other people perfectly. Christ already took that job. It isn't my responsibility to try and save someone else. It is not possible as long as I am doing my best to choose the right – that I will never ruin God's plan for my life. He is in greater control than I can explain, comprehend, or imagine. I simply need to trust Him not only with my life, but with the life of my friend.
Am I falling to pieces about this break up? No, not really. I feel a great peace in my heart. I feel closer to God in my prayers and in my studies. I feel more determined than ever to press forward and to never ever quit trying. My new objective is to sprint to the Savior. If someone can keep up they are welcome to grab my hand.  But if not, at least I will take control of the thing that I have control over- my own salvation.
Over all I guess the lesson that I learned the most is that we can have joy in the journey wherever we are and for however long we can. If we take a twist or unexpected sharp turn, that doesn't mean we will enjoy our destination any less. It simply means that we are getting a bit of a rerouting towards our ultimate joy. There is no failure in an attempt to do our best.
About Ashley Dewey
Ashley Dewey is extremely talented at being single. Hobbies include awkward conversations with members of the opposite sex, repelling third dates, talking to boys about their girl problems and to girls about their boy problems. In her spare time she also has a very fulfilling school life, work life, and social life. Besides being a professional single, Ashley is also a BYU graduate with a degree in linguistics (Aka word nerd). She enjoys studying other languages, particularly American Sign Language, and finds most all of them fascinating. She is currently pursuing a masters degree in Teaching English as a Second Language. Ashley works most of the time and has often been accused of being a workaholic. Currently she works full time as a merchandiser and supervisor in a retail store, and part time doing social media work. On her day off she works (really it doesn't feel like work) in the Provo LDS temple. The only kind of work she finds difficulty focusing on is house work. Her favorite activities in her free time are reading, writing, creating social experiments, and spending time with great friends and family. Specific activities with those family and friends include: going to concerts, plays, dance recitals, BYU basketball and football games, and watching sports on television.
Twitter •