This article was originally posted on Latterdaysaintwoman.com.
I write about the church nearly every day, both as a contractor, and on my own blogs and sites. Sometimes I'll start researching a topic only to discover doctrine I didn't know. I'd been told something else in the past or I'd confused culture with doctrine. I find many Mormons think the Church believes things it does not. Here are some of the techniques I've developed for finding out what the church really teaches and what to do when there is no official doctrine.
Because I write, I am always needing to study topics in-depth. If you're not in that situation, however, you can set up a study program. Every Sunday, pick one gospel topic and research it. Go to LDS.org and click on Study by topic. Read everything written for your topic, including the scriptures and articles.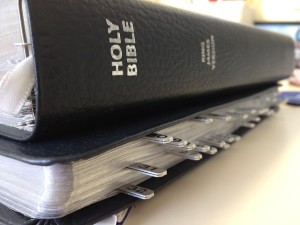 Sometimes it can also be informative to pick a topic and then start going through the church magazines in reverse order (modern to early days) and record what the prophets said on it. It helps us see how God works line upon line to increase our knowledge and understanding or how he ups the standards when we're ready for it. For instance, Jesus' laws were a higher law than the law of Moses. Truth didn't change–God just increased our expectations in the way a parent raises the bar as her children progress. God sees all of eternity, not just a single generation. Periodically, he raises the bar on us.
For a long while, I wrote two articles a week on Thomas S. Monson for ThomasMonson.com. (I did not own the site–I wrote for someone else.) To put it together, I have pretty much read everything he has said or that has been about him that is on the church's websites. This is a really great way to understand the teachings of the living prophets. As you research what he's said, look for common themes. He repeats stories and messages often. The ones he uses most often tell you his priorities.
Now, let's look at what happens when you're trying to figure out the church's stand on something, particularly a political issue, and the church hasn't made a statement or is officially neutral on it. If you truly believe the church is the true church and represents God, you will want your beliefs and actions to line up with those of the Church–because that means you're in line with God.
Okay, let's get out of the way the part that often makes people mad, but that must be said. If you're trying to figure out your stance on a political issue and want to be sure you're in line with God's truths, don't start with your party. There is no political party that speaks for God. In fact, if your political views exactly line up with your party, you are going to be out of step with God in multiple places.
The need for civility is perhaps most relevant in the realm of partisan politics. As the Church operates in countries around the world, it embraces the richness of pluralism. Thus, the political diversity of Latter-day Saints spans the ideological spectrum. Individual members are free to choose their own political philosophy and affiliation. Moreover, the Church itself is not aligned with any particular political ideology or movement. It defies category. Its moral values may be expressed in a number of parties and ideologies. (The Mormon Ethic of Civility)
If you take an honest look at Mormon beliefs, some are more common to the Republican Party, some are more common to the Democratic Party, and some views irritate both sides. (For instance, the church opposes abortion–normally a Republican issue–but allows exceptions, which upsets some Republicans. They oppose gay marriage (a Republican view) but support laws prohibiting housing and employment discrimination against gays (a Democratic view).
Sometimes, though, the church doesn't come right out and say where they stand. In that case, it's time to head to the LDS Newsroom. When I encounter this problem, I look to see what the church is actually doing, even if they aren't saying anything. Actions are important. The blog and commentaries are especially enlightening. I also evaluate all the gospel teachings that relate to the topic.
As an example, for a long time, the church took no stand on immigration reform. Most Mormons were quoting the article of faith on obeying the law as if it were the only commandment in the church. But I know complex issues don't have easy answers, so I looked around for additional information. First, I noted that Christ didn't spend a lot of time on the issue of obeying civil law. It was spiritual law he was interested in. Justice and mercy–balancing those two things–was a major theme of his ministry.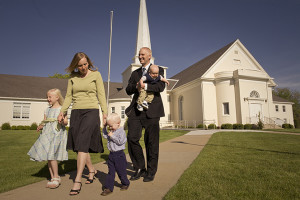 The atonement is entirely about balancing justice and mercy. I noted that He talked about compassion for the poor and the needy. And yes, he talked about obeying the law (rendering unto Caesar). So, that gave me a starting ground and I prioritized the doctrine. It looked to me like loving others was the top priority law, since he listed it as one of the two most important laws. And it looked like balancing justice and mercy were more important than the article of faith. When laws conflict, we have to prioritize them. I also noted that I will be judged the way I judge others…that's a pretty serious thing to keep in mind. I want my justice balanced with mercy, so I knew I'd better show some mercy.
Next I looked at what the church does, even when they aren't saying anything. I knew illegal immigrants could be missionaries and bishops and they could have temple recommends. That spoke volumes to me. It suggested to me that political boundaries are the concerns of mortals, not God. When I first joined the church, I was told by a leader that we aren't in a position to judge what made a person leave or whether or not he was here at God's invitation. This was at a time when we cheered if someone fled Russia and came here illegally.
With all that in mind, I thought if the church was going to support a law, it would be one that balanced justice and mercy. When Arizona's law came out, they only reminded members that we are all God's children and we must think about families and people. When the Utah Compact came out, they supported it, not as a perfect law, but as a good example of balancing justice and mercy. It was essentially the stand I thought the church would take if they ever took one.
It goes without saying–or maybe not–that prayer is to be part of that decision-making process. Even if the church is restrained by law from saying all they want say, God isn't. He has promised us He will tell us what we need to know.
Trust Him and remember…politics is a mortal game. The gospel is eternal. Prioritize.
About Terrie Lynn Bittner
The late Terrie Lynn Bittner—beloved wife, mother, grandmother, and friend—was the author of two homeschooling books and numerous articles, including several that appeared in Latter-day Saint magazines. She became a member of the Church at the age of 17 and began sharing her faith online in 1992.