This article was previously published on Latterdaysaintwoman.com.
One of the first things I did as nursery leader was to lock the walk-in closet and sort out bins of just the toys I wanted.  Those are locked away in our smaller nursery closets, with the other toys left for children playing in the building during the week. This prevents our special toys from getting mixed up or lost, and limits the number of toys available to our nursery children.  (We didn't share our Ward building with any other wards, so I had free reign of the Nursery.  If you share your ward space, it is wise to talk to the other Nursery leaders first.)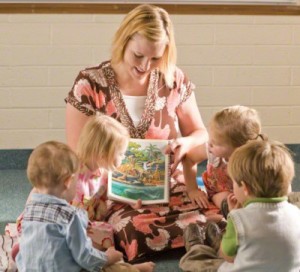 We bring out only one or two types of toys at a time, and ask the ward for donations for very specific items. Each type of toy is in a bin or a small cloth bag. Following is a list of what we currently have and where we play with it:
1. Lego Duplo plastic building toys (floor)
2. Dolls and stuffed animals, all washable. (floor)
3. Cars and trucks, large enough to be safe for toddlers (floor)
4. Wooden puzzles (table)
5. Soft balls and some soft, squishy rubbery creatures (I don't know what they are, but the kids love to throw them.) They're the kind you get in those game machines with the big hooks. Someone purchased and donated a bunch of them. These usually come out at the very end, while we wait for parents. (floor)
6. Little People figures and accessories, but not buildings. (table) -Buildings work for floor play, but we had too many children and not enough buildings.
7. Puppets–hand and finger. Our finger puppets are scripture characters we can use in lessons. (table)
8. Books (floor)
9. Plastic boxes with openings cut into the top to allow children to drop in items kept inside. These are individual toys for table play. For some reason, our littlest students love to drop things into containers, which is nice when it's time to clean up the toys. (table) (Don't use these if you have really young children who might put them in their mouths unless you have very large items to put inside.)
10. File folder games (table) The link here goes to an off-site article on how to make these. My friend made them for us. Sugar Doodle File Folder Games
11. Barrel of Monkeys. The kids aren't turned loose with these. We hand them out and they take turns hooking their monkey onto the chain, which a teacher holds. (They hook them by hand, not the way the game says to do it.) It's supposed to teach them to take turns…that's the plan, anyway.
12. Flannel board pictures. They don't need a flannel board. They just play with them on the table or stick them to a wall we have that will hold them. (Table or wall)
13. Flannel dolls, similar to paper dolls. (We are in the process of making these.) Off-site instructions at The Prudent Homemaker
14. A variety of educational toys made by the Young Women and some Relief Society sisters that teach matching skills. (table)
About Terrie Lynn Bittner
The late Terrie Lynn Bittner—beloved wife, mother, grandmother, and friend—was the author of two homeschooling books and numerous articles, including several that appeared in Latter-day Saint magazines. She became a member of the Church at the age of 17 and began sharing her faith online in 1992.