I have always felt a little uncomfortable reading about the Apostle Peter. I think it is because there are parts of his life that remind me of myself. As we look at the account of Peter's life we should look at the pattern he set for us. In a way, Peter's life is a pattern of our own conversion, and an example for all of us to follow.
The Peter of Promise
When we are first introduced to Peter in the New Testament he had just been called to be a fisher of men. He was still learning who Jesus was. In Mark 8:29 Jesus asked his disciples who people said He was. Peter answered, "Thou art the Christ." He wasn't afraid to speak up and admit what had been revealed to him by the Holy Ghost.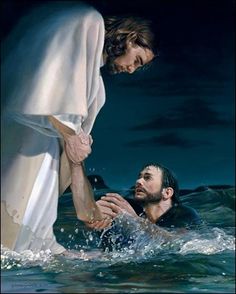 In Matthew 14 Jesus feeds the five thousand then sends the apostles by boat to the other side of the Sea of Galilee while he prayed in a mountain. When he finished his prayers he walked on the sea out to the boat. The men thought it was a spirit and cried out in fear. He assured them it was only Him. What follows in verses 28-31 demonstrates Peter's innocent faith and his inexperience with faith.
28 And Peter answered him and said, Lord, if it be thou, bid me come unto thee on the water.

29 And he said, Come. And when Peter was come down out of the ship, he walked on the water, to go to Jesus.

30 But when he saw the wind boisterous, he was afraid; and beginning to sink, he cried, saying, Lord, save me.

31 And immediately Jesus stretched forth his hand, and caught him, and said unto him, O thou of little faith, wherefore didst thou doubt?
This lesson of what happens when we take our eyes off the Savior is universal to all people, not just Peter. As long as we place our faith squarely in Christ we can do miraculous things, but when we take our eyes off Him, even for a moment, Satan can distract us and cause us to doubt, and hence can sink us.
This is the Peter we come to know and love in the ministry of Christ. He is impetuous, but devoted. Innocent in the ways of spiritual maturity, but with a great desire to do good. Peter is very much like most of us as we embark on our spiritual journey of discovery. We need to learn our limits and strengths.
Weak Peter
Peter met his match on the night of the Savior's last Passover. During the meal He had announced that someone was going to betray Him. All the Apostles wanted to know who it was. Shortly thereafter this conversation followed in Luke 22:31 – 34.
31 And the Lord said, Simon, Simon, behold, Satan hath desired to have you, that he may sift you as wheat:

32 But I have prayed for thee, that thy faith fail not: and when thou art converted, strengthen thy brethren.

33 And he said unto him, Lord, I am ready to go with thee, both into prison, and to death.

34 And he said, I tell thee, Peter, the cock shall not crow this day, before that thou shalt thrice deny that thou knowest me.
With all confidence Peter insisted that nothing could tear him away from suffering death for his Master. But Christ knew better and warned him gently that he was being overconfident, because he would deny Him three times that very night.
You would think that such an accusation would cut Peter to the core and wound him terribly. Yet Peter forgot all about the prophecy in a matter of hours. It wasn't until he fulfilled the prophecy and Jesus turned and looked at Peter that he remembered the Savior's words.
Imagine the sensation of Peter when he had just denied knowing Jesus for the third time in the same evening with cursing and swearing, only to look up and have Jesus, the Son of God looking into his eyes as a reminder of what He had said earlier. It makes sense that Peter ran away and wept bitterly. He was smitten by his conscience in the presence of his God.
The Sources of our weakness
This story of Peter so far should ring familiar to each of us. How often do we swear our loyalty or faithfulness to a commandment only to have the old setting for our sin lull us right back into committing our old sin? Just as Satan wanted to sift Peter as wheat, so too does he wish to sift us.

President Gordon B. Hinckley, in an April 1979 General Conference talk said this about many of us:
As I have read this account my heart goes out to Peter. So many of us are so much like him. We pledge our loyalty; we affirm our determination to be of good courage; we declare, sometimes even publicly, that come what may we will do the right thing, that we will stand for the right cause, that we will be true to ourselves and to others.

Then the pressures begin to build. Sometimes these are social pressures. Sometimes they are personal appetites. Sometimes they are false ambitions. There is a weakening of the will. There is a softening of discipline. There is capitulation. And then there is remorse, self-accusation, and bitter tears of regret.
It is easy to sit in judgment of Peter for his moment of weakness, but how many of us have those very moments in our own lives?
Strong Peter
Something happened to Peter that night. During the time between his own personal betrayal of the Savior and the Savior's resurrection, a change was taking place in Peter. By the time Peter was asked three times by Jesus on the shores of Galilee whether he Loved Him, and Peter's distressed reply that Jesus knew that he did, Peter's heart had changed. Peter had a new resolve to never find himself in that same position again. He was now truly determined to follow the Savior in deed as he had claimed he would before in words.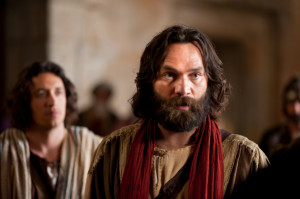 In the same talk about Peter, President Hinckley concludes his talk with these words:
Now, in conclusion, may I go back to Peter who denied and wept. Recognizing his error, repenting of his weakness, he turned about and became a mighty voice in bearing witness of the risen Lord. He, the senior apostle, dedicated the remainder of his life to testifying of the mission, the death, and the resurrection of Jesus Christ, the living Son of the living God. He preached the moving sermon on the day of Pentecost when the multitude were touched in their hearts by the power of the Holy Ghost. In the authority of the priesthood received from his Master, he, with John, healed the lame man, the miracle that brought on persecution. He fearlessly spoke for his brethren when they were arraigned before the Sanhedrin. His was the vision that led to carrying the gospel to the Gentiles. (See Acts 2–4, Acts 10.)

He suffered chains and prison and a terrible martyr's death as a witness of Him who had called him from his nets to become a fisher of men (see Matt. 4:19). He remained faithful and true to the great and compelling trust given when the resurrected Lord in his final instructions to the eleven apostles charged them to go "and teach all nations, baptizing them in the name of the Father, and of the Son, and of the Holy Ghost" (Matt. 28:19). And he it was who, with James and John, came back to earth in this dispensation to restore the holy priesthood, under which divine authority the Church of Jesus Christ was organized in these latter days and under which same authority it now functions. These mighty works and many more unmentioned were done by Peter who once had denied and sorrowed, and then rose above that remorse to carry forward the work of the Savior following his ascension and to participate in the restoration of that work in this dispensation.
Our source of conversion
Peter's conversion changed his life, but how do we achieve such a conversion? Elder Richard G. Scott, in April Conference of 2002 said:
To be converted, you must remember to apply diligently in your life the key words "a love of God, with a fixed and controlling determination to keep his commandments." Your happiness now and forever is conditioned on your degree of conversion and the transformation that it brings to your life. How then can you become truly converted? President Romney describes the steps you must follow:

"Membership in the Church and conversion are not necessarily synonymous. Being converted and having a testimony are not necessarily the same thing either. A testimony comes when the Holy Ghost gives the earnest seeker a witness of the truth. A moving testimony vitalizes faith. That is, it induces repentance and obedience to the commandments. Conversion is the fruit or the reward for repentance and obedience."

Stated simply, true conversion is the fruit of faith, repentance, and consistent obedience. Faith comes by hearing the word of God and responding to it. You will receive from the Holy Ghost a confirming witness of things you accept on faith by willingly doing them. You will be led to repent of errors resulting from wrong things done or right things not done. As a consequence, your capacity to consistently obey will be strengthened. This cycle of faith, repentance, and consistent obedience will lead you to greater conversion with its attendant blessings. True conversion will strengthen your capacity to do what you know you should do, when you should do it, regardless of the circumstances.
Peter determined to be more faithful to the testimony he already had. He became fiercely determined to do what he knew was right at all times and in all places. In other words, he exercised his faith, repented of his sins, and worked hard to consistently obey the will of the Lord in all things. The lesson we all learn from becoming converted is that the peace and joy that can come only from God comes as the result, the fruit of our change of behaviors and attitudes. The more consistently obedient we are the more happiness we will experience. It is the nature of God's commandments to create joy and happiness. This, in turn, further acts to strengthen our determination to keep on the right path to serve the Lord in all things.
Final Thoughts
I have included the links to both Conference talks referenced in this article. They are well worth your time and energy to study and ponder.  
Peter is like the universal person. His example of human frailty is so common as to be almost completely universal in his comparison to us. Likewise, the changes we see in his life, his determination to serve and obey, his love for God, his fierce devotion to his calling, all can be reflected in our lives as we choose to become more deeply converted to the gospel of Christ. Remember, conversion comes in three steps: demonstrate your faith, repent of weaknesses and sins of any kind, and practice a determination to be faithful to keeping all the commandments.
About Kelly P. Merrill
Kelly Merrill is semi retired and writes for https://gospelstudy.us. He lives with his wife in Idaho. His strength is being able to take difficult to understand subjects and break them down into understandable parts. He delights in writing about the gospel of Christ. Writing about the gospel is his personal missionary work to the members of the Church and to those of other faiths who are wanting to know more about Christ's gospel and His Church.