I wrote Family Home Evening (FHE). The earlier in the month you do it, the more time your family can reflect on what they're thankful for.
What you'll need: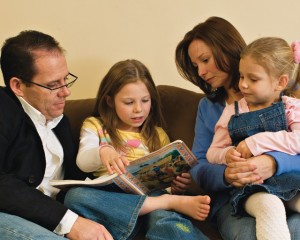 · Construction Paper – if you're using 8 ½ x 11, use two or three brown sheets, depending on how big you want your trunk. Gather autumn colors for the leaves. I recommend green, red, orange, and yellow. One or two of each should be fine.
· Scissors
· Dark marker
· Leaves to trace
First things first: if you're not much of an artist, find some leaves. Just one of each kind to use as a pattern will do. Make sure they're big enough so when you're ready, your paper leaves will have enough room to write on.
Feel free to do the tracing and cutting out beforehand, especially if your kids are smaller and you feel strangely reluctant to place lethal weapons (scissors) in their tiny hands. Use your leaves as a pattern for the first cut, and then feel free to utilize the first paper leaf as a pattern on the rest of your paper. Cut out lots and lots of leaves. The more leaves you make, the more things your family will have to think up.
With the brown paper find the most artistically gifted person in your house. Tape the brown pieces together and try to 'form' a trunk. Seeing as how my abilities to utilize the technical side of the Internet is sorely lacking, I can only encourage you to use nature as an example. Leave it a little wider on the bottom, don't worry about the main part being too straight, and then branch out on top (Get it? 'Branch' out? Oh come on. It was funny!).
Don't worry too much about the top of the tree as most of it will be covered by the leaves. With your marker draw a few curvy lines up and down the trunk to make it look a little more authentic.
Now for the fun part. Take your leaves and have each person take turns naming some one or some thing they are thankful for. Use up as many of your colorful leaves as your brains will allow for. Encourage them to think of family members, teachers, basics like house, food, etc. Don't worry if you have some leaves left over. This gives your family the opportunity to go on thinking about what they're grateful for over the next few weeks.
We love to put our Thankful Tree in the front window. Using clear tape we put up the trunk first, then fill it in with leaves. It's a fun reminder every time we come home, and in a small way we're trying to encourage others who might pass by to think about what they're grateful for.