Special dietary concerns can make the holidays challenging.  If you are trying to lose weight it can be a difficult situation, requiring a good deal of will power to attend holiday parties with others who are eating whatever they want. Maybe you have food allergies or another type of medical condition such as diabetes or celiac disease with very specific food restrictions to deal with.
Regardless of the cause, if you can't eat what everyone else around you is eating life can seem very unfair. It may seem easier to avoid social gatherings such as church, family, or corporate holiday parties. But that doesn't fix the problem, and anyone who really cares about you will be only too happy to help you to be a part of the fun. If you are concerned about causing extra work for your host, offer to bring something when you come, that might help take the edge off of it.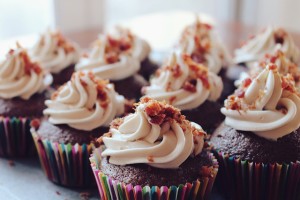 Be patient with others, what may seem obvious to you and I may not be something the average person would even think of. The fact is that the average person in this country has little if any knowledge of special diets and healthy eating, particularly when holiday foods are on the menu. But if they are made aware of your needs they will probably be anxious to do what they can to accommodate you.
In the past people with these conditions simply had to stand back and watch others enjoying the foods they could not have, but things are changing. Even as recently as 3 years ago, when my son's gluten and oat allergies were diagnosed, it was difficult to find much of a variety of gluten free foods, and what was available often didn't taste very good and was very expensive, but there are so many more options available now, and it all started with consumers making their needs known to food manufacturers and their local grocery store managers.
I am not usually a fan of prepackaged foods, but admittedly it does take some practice to learn to bake gluten free. So if you don't have the time, but want to have special foods available for the holidays, you can now find a good variety of special food options at health food stores as well as some groceries. It will depend on where you live, but in recent years grocery stores have begun to understand the increased demand for foods that cater to special needs.
Shop around and find out which stores in your area carry the foods you want, and don't be afraid to speak up. I have found that one of our local grocery stores is very open to suggestions. Others have been slower to get on the band wagon, but once they realize their customers are going elsewhere it doesn't take them long to figure it out and start following suit.
Remember, food corporations, and grocery stores are in business to make money. They will sell what people want, because if they don't they will go out of business.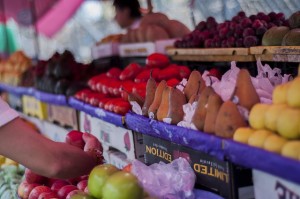 For years the American populace has been sadly uneducated in good nutrition. Clever advertising has convinced us that the busy American family was well served with prepackaged, over processed foods, but what has it gotten us? Today we have epidemic levels of obesity, and diseases of the mind and body.
We can alter those statistics however by making small, but significant changes in our lifestyles. Rome wasn't built in a day however so just take it one step at a time, that way you won't get overwhelmed.
When I first began my journey to healthier living I began small. I had young children so I started purchasing organic milk. Once I had adjusted my expectations and accepted the added expense I added organic eggs to my list. I also stopped buying our vitamin supplements at the grocery and switched to whole food vitamins from a local health food store.
It took several years, and some adjustments to our budget but I now have an entirely different approach to food shopping and preparation than I had before, and the benefits have been amazing!
But back to holiday foods
You can always stay on the safe side fixing fruits and veggies, but it is nice to be able to offer a few decadent treats as well.  We have several family favorites that fit perfectly into my older son's gluten free diet, and they are delicious.
I do not have a problem with natural occurring fat, and we love bacon at my house, but I only use uncured bacon. This avoids the exposure to sodium nitrate and sodium nitrite, preservatives that trigger migraines in one of my other children. It also helps me avoid meats with artificial fillers, antibiotics, or growth hormones as I do not believe those to be healthy for anyone.
Yes, it is expensive, but we only eat this on special occasions so I don't mind the cost, and each person can decide for themselves how extreme to go when purchasing their ingredients.
Bacon Things
1 lb uncured bacon          Water Chestnuts cut in half            1 Cup organic Ketchup                                                     1/8 Cup organic cane sugar or a natural sugar substitute like Stevia
Cut bacon strips in half. Wrap around ½ a chestnut and place on a baking sheet that has raised edges.
Bake in oven for 20 mins. At 350 degrees F   ~~~~~~      Cool for about 20 mins.
Mix ketchup and sugar in a bowl, and coat the bacon things in ketchup mixture returning them to a clean baking pan. Bake for 10 mins. At 350 degrees F
Arrange on a platter with a toothpick in each one for easy eating.  Enjoy!
          ~~~~~~~~~~~~~~~~~~~~~~~~~~~~~~~~~~~~~~~~~~~~~~~~~~~~~~~~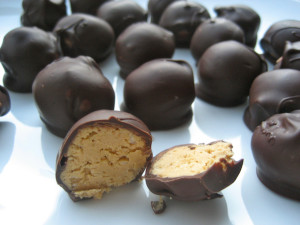 We also make a sweet treat, which is gluten free, called
Chocolate Peanut Butter Balls
These are easy to make and a true crowd pleaser
        2 Cups creamy peanut butter                               ½ Cup salted butter (softened)
        3 ¾ Cups powdered sugar                                           2 pkgs 1lb each Chocolate
                                                                                                         Candy Coating
Mix the peanut butter, and butter together in a large bowl until blended.
Add powdered sugar, a little bit at a time, until the mixture holds together
as one giant ball in the bowl.
Cover and refrigerate for about 20 mins.
Shape dough into 1 inch balls. Cover and refrigerate again for 20 mins.
Melt the chocolate according to pkg directions, being careful not to overcook.
Dip the peanut butter balls one at a time into the chocolate and place on waxed paper. Allow them to harden before storing in a covered container until ready to use.
Note: If at any time in the chocolate dipping process the balls begin to soften, place back in refrigeration until they have hardened. This will make the dipping process easier.
Read your labels carefully, many brands of peanut butter use fats and sugars that a health conscious consumer may wish to avoid. You can purchase natural peanut butters, or brands like Smart Balance that use cane sugar syrups and healthy oils.
    ~~~~~~~~~~~~~~~~~~~~~~~~~~~~~~~~~~~~~~~~~~~~~~~~~~~~~~~~~~~~
These recipes are from my kitchen and have been adapted to accommodate a gluten free diet, but for anyone who needs to restrict sugar from their diet, there are natural sugars that can be used with good results in most of your holiday recipes. Speak to your Dr. about alternatives like Stevia and see if that is an option in your situation. It is more expensive and used to be difficult to find outside of health food stores, but I can now find it in my local grocery store thanks to myself and other shoppers speaking up and making our needs known.
It is the principal of supply and demand in action. If more people insist on it, the retailers will make it available, and the more they need to supply, the lower the price will be because they will order it in bulk instead of only a few at a time.
So check out some of the much improved gluten free mixes that are available  for cakes, pie crust, cookies and a host of other goodies. I have even found one brand that makes a premium cherry pie filling that is gluten free and high fructose corn syrup free. Yea!!
Read labels, go on line and search out websites that have information on your particular situation, and check out your local health food stores. They can be a very good place to start on your journey to healthy, delicious eating.
Bon Appetit!               
**While the word of wisdom gives us basic guidelines for health, it leaves the interpretation of those guideline up to the individual members. This blog is not intended to replace your medical professional or the divine revelation of the Word of Wisdom, but rather it is practical knowledge that I have accumulated over the years in my own pursuit of a healthier lifestyle which I am passing along in the hopes that it will benefit others.**
About Denise Mastrocola
Denise is a Michigander turned Pennsylvanian, who has been writing stories since Elementary School. Denise won an award at the annual Lansing Youth Talent Show, when she was in 10th grade, for a short story entitled Procrastination is Fatal, but didn't decide on writing as a career until she was 28 years old. While homeschooling her older children she spent 4 years working through a course from The Institute of Children's Literature. Through the years Denise's children have had a variety of health issues, many of which have been linked to various sensitives; having spent more than 20 years researching and trying different things Denise has a boots on the ground view on healthier living. Denise currently writes for 2 blogs and has several books in different stages of completion. She is planning to break ground in e publishing, and hopes to have her first Historical Fantasy book which is set during the renaissance, "Lisa, My Lisa?" ready by the first of the year.
Twitter •