As we approach this last week before Christmas, the energy in the air is unmistakable—family is at the center of our minds. "Do I have the right present for my husband? Did I get my Christmas packages for my brother's family to the post office on time? Will my children be happy with what they find under the tree? Are there more people I could have written Christmas cards to, thanking them for their service to me and my family?" If we could read the thoughts of our neighbors and friends, no doubt they'd have the common thread—have I done enough for my family this Christmas? Putting aside the stress this may cause, ponder the deeper meaning—the Christmas season is a transformative time for those who believe. It takes us out of our own self-centered world and opens our eyes to what matters most—family. And families are forever.
Christ set the pattern of the eternal nature of life.
Where did this level of love begin? We lived with our Heavenly Father before we were born. He loved us as His children—all of us, equally—and it was His original intention for us to be a family forever. God knew that for us to progress intellectually, spiritually, and emotionally, we had to follow a plan. The pattern was as such: our soul would receive a body through birth. Through this body we would be able to think and feel, and thus learn how to deal with choices and situations we encounter. We would be given opportunities daily to progress toward goodness.
But the trials we'd experience would blemish our spirit, and therefore make us unable to return to a perfect heaven above. Christ was the solution to this problem. He was born to take on the infirmities and iniquities of mankind. So, while we live and learn and grow, He volunteered to be "the fall guy" for us. He overcame sin and death. By overcoming sin, he made it possible for us to be clean. By overcoming death, he made it possible for us to be immortal. Jesus Christ is the only religious figure who had the ability to do this, because he was the only begotten Son of God.
He was wounded for our transgressions, he was bruised for our iniquities; the chastisement of our peace was upon him; and with his stripes we are healed.( Isaiah 53:1)
Prophets of old foretold of Christ's mission, but many people rejected their words
.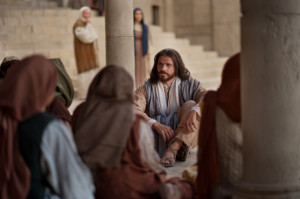 Others misunderstood them and lost their understanding of the eternal nature of our Lord. But regardless of whether or not people have been taught or if they reject His teachings, His promise is sure for all mankind. He is bound by what He did, and we are the recipients of this gift. Our nature is eternal. It all began in the council in heaven before we were born. It then played out in His humble birth and flawless life, culminating in his Atonement—his suffering in the Garden of Gethsemane, His crucifixion, and His resurrection three days later. It's still applicable today, for all of his children. Everyone will be granted a second chance. And the promises don't end there. Everyone also has a chance to have eternal life, to live with Him again in eternal families, if they would follow His commandments and believe on His word.
Christmas is a reminder that families can be together forever
.
In The Church of Jesus Christ of Latter-day Saints, a beloved hymn called Families Can Be Together Forever, by Ruth M. Gardner and Vanja Y. Watkins, is one of our standing favorites. The lyrics speak of a how cherished our family is here on earth, and reminds us that family life was meant to go on beyond this life. This is a principle of doctrine that many people have never considered because it's not practiced in their faith. "Till death do us part" is a phrase that has no meaning in the LDS community, for we believe our relationships as well as our lives continue beyond this earth life. Indeed, family is the basic unit of God and eternity. We are so beloved by our Father in Heaven, he sent His only begotten son, Jesus Christ, to be born, to live a perfect life, and to atone for sin and death, so that we too could live forever—in families.
Christ was born into a family
.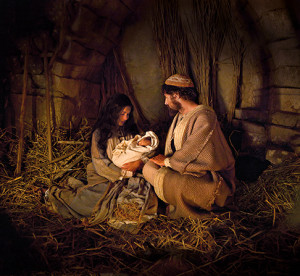 Heavenly Father did not expect Mary to raise Jesus on her own. Joseph was her espoused husband, and together they raised the Christ child to be the Savior and Redeemer of the world. This was by design. God was showing us a pattern that guarantees eternal progression in this life and in the life to come. No matter what circumstance a person is born into, whether it be one of neglect and grief or security and love, God's pattern of family is promised for all, because of the eternal nature set forth before we were born.
Untimely deaths are not the end for families
.
There is nothing more heart-wrenching than the loss of a loved one, especially a child or a spouse. It rips the heart out of a person, leaving a gaping hole of loneliness and emptiness that never quite goes away. We weep when a young mother loses her child to accidental death, or when a teenage son is the victim of a horrible mishap, or when a woman is suddenly a widow with no children to comfort her in her loss. But as painful as these circumstances are, that pain is temporary to our earth life, for once we pass to the other side we will be reunited with our loved ones again. Those who have lost children will be able to raise them on the other side. Those who have lost parents and siblings will be united as families again. Spouses will be able to continue as husband and wife, and the ability to have an increase of children is promised to those who could have none during their time on earth. All these eternal promises are made possible through Jesus Christ and his atoning grace.
Families can be together forever through Heavenly Father's plan. I always want to be with my own family and the Lord has shown me how I can. The Lord has shown me how I can. (Hymn 300, Families Can Be Together Forever.)
This Christmas, as you make your last minute preparations for the family, take a moment to remember the grace of our Savior and Redeemer, Jesus Christ, and the eternal nature of His mission. He did it all for you, to keep your family together— forever.
About Nanette ONeal
Nanette O'Neal loves the gospel and is very happy to share her testimony on LDS Blogs. She is a convert to the church and still feels the spirit burn strong within her heart. She graduated from Mason Gross School of the Arts with a degree in music education and has taught children and adults in the private and public sphere for over twenty years. Nanette continues to study the gospel and the art of writing. She writes weekly inspirational articles on her blog and is currently working on an LDS fantasy novel series, A Doorway Back to Forever. You can find her at NanetteONeal.blogspot.com. Nanette has a wonderful husband, talented son, and three beautiful dogs.