Christmas was a wonderful day this year, full of family phone calls, text messages, visits—and most importantly, no reminders of the troubles current events. How is it that my Facebook friends who tear into each other every other day of the year can put aside their differences for one day and agree on anything? Christmas does that every year, and how grateful I am to celebrate it!
I envy those who have holidays that last longer than a day, and so I resolved early on in life to make Christmas a week long event—indeed the week between Christmas and New Year's Day is "The Christmas Week" for me when it comes to keeping the spirit alive in my heart.
The week between Christmas and New Year's Day is also a transition week—a sort of buffering zone for the heart. It is a safe place to rest, regroup, to revitalize thoughts and make positive plans for the upcoming year. You begin the week fresh with the spirit of Christmas resounding in your heart and mind. This becomes a stable foundation, perfect setting for rethinking life's choices. It is a clear perspective based on light—we love again, forgive more deeply, and we are willing to look upon others with understanding in our hearts and acceptance in our minds. We are more inclined to give a second chance to the ones who have hurt us, because we are reminded of the second chance we are given through the Savior, Jesus Christ.
With that foundation, we can rebuild our character in the manner more acceptable to His design. No doubt, this is the pattern we have come to love—the pattern of heaven—shown more clearly during this glorious time known as Christmas. It is our true nature, unburdened by prejudice, pride, envy, or pain. It is the only foundation that will survive the storms of life and last into eternity. What better place is there to begin?
I am reminded this time of year of the hymn, Onward, Christian Soldiers, by Sabine Baring-Gould. While it uses words of battle like marching, war, battle, etc., these words are also symbolic of the inner struggle we have with our nature—battling the temptations Satan places before us, challenging our faith, daring us to let our guard down and give up the fight for good. I take strength in the positive nature of this hymn, especially now when Christianity is under fire, both here at home and around the world.
Onward Christian soldiers! Marching off to war, with the cross of Jesus going on before. Christ the royal master leads against the foe. Forward into battle see his banner go!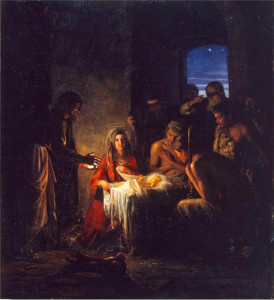 This first verse tells us clearly who our master is. I saw more memes on Christmas day centered on Jesus Christ, more nativity scenes on display all month, more concerts advertising Handel's Messiah than I have in year's past. Truly, My Christian family members in Egypt celebrated with great fervor and seal, and with the current conditions of persecution of Christians going on in that region of the world, they have reason to hide their faith. But instead they proclaim it with steadfast dedication to the Lord. They are strengthened by the strength of others who believe as they do. Their faith can never be taken from them. Their salvation is secure, and they have no reason to be ashamed of what they believe. We too, have no reason to hide who we are and what we believe. We take up our cross daily, the cross of Jesus, when we resolve to forgive those who persecute us, love those who torment us, and act in the manner that Christ taught.
At the sign of triumph Satan's host doth flee. On then, Christian soldiers, on to victory. Hell's foundation quiver at the shout of praise. Brothers, lift your voices, loud your anthems raise.
This verse, again speaks of the victory we already have, due to Christ's sacrifice and atonement. We need not fear losing the battle against Satan, for Christ has already won. Our part is to have faith, repent of our sins, never abandon Him, and to keep His commandments that we may always have his spirit to be with us. This is the simple pattern of victory. While the fire burns around us, we are protected from the flames, in a spiritual sense, and we will be blessed by our faith.
Like a might army moves the church of God. Brothers, we are treading where the saints have trod. We are not divided. All one body we. One in hope and doctrine, one in charity.
I have a special love for this verse as I think of my family in the Middle East who may feel alone in their faith, surrounded by those who would have them killed for being Christian. They live in troubling times because of the conditions they face. War is all around them, but their faith is steadfast. Our resolve to proclaim our faith is a strengthening tool for them as well. We are united as followers of Christ—all of us, around the world. We are all brothers, one body of faith. And if we stand in the doctrine—love, faith, and charity—we, as one body, cannot fail.
Onward, then, ye people. Join our happy throng. Blend with ours your voices in the triumph song. Glory, laud, and honor unto Christ the King. This, through countless ages men and angels sing.
This is a beckoning verse for others to join Christ—it is not an ultimatum, but an invitation. That is the way of Christ. Come unto me, all ye that are heavy laden, and I will give ye rest. Come unto Christ and be perfected in him. This is the way of the one true Lord. There is no force, there is no coercion, and there is no violent action against those who disagree. That was never the way of Christ. But there is peace and salvation for those who come unto Him.
Onward Christian soldiers, marching off to war. With the cross of Jesus going on before.
If we remember the battle for salvation is already won, we are strengthened by the power of Jesus Christ. While the burdens of war surround us, physical war for many and spiritual war against Satan for all, we are protected by our faith in Christ. There is no battle He cannot win, and therefore, there is no trial too heavy that we cannot bear with his help and strength to lift us.
Take this time during the "Christmas week" to regroup. Regather your steadfastness in the Lord. Make resolutions to be closer to Him, to worship Him more fully, to come back to Him with a fullness of heart. Imagine the entire Christian family doing the same, and there is no trial we cannot overcome. This is the army the Lord envisioned. This is the loyalty He needs of us. This is the gift we can give back to Him.
About Nanette ONeal
Nanette O'Neal loves the gospel and is very happy to share her testimony on LDS Blogs. She is a convert to the church and still feels the spirit burn strong within her heart. She graduated from Mason Gross School of the Arts with a degree in music education and has taught children and adults in the private and public sphere for over twenty years. Nanette continues to study the gospel and the art of writing. She writes weekly inspirational articles on her blog and is currently working on an LDS fantasy novel series, A Doorway Back to Forever. You can find her at NanetteONeal.blogspot.com. Nanette has a wonderful husband, talented son, and three beautiful dogs.