A few months ago, I sat across the table, finishing lunch with my friend. She was expressing frustration that no one in our congregation had called her or texted her, despite her missing over a month of church. As she shared her hurt, my mind wandered and I was caught by surprise when she said, "… and then they said I had not come in so long—how were they to know that I needed help?"
That was almost exactly what I had been thinking as she began to share her experience! Startled, I probed to find out who she had been referring to—turns out the leadership in our congregation was thinking much along the same lines I had been. This woman comes to church sporadically, so her absence for a month wasn't noticed.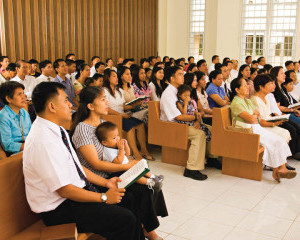 She shared how in the Latino culture, if someone misses church, everyone sends a text or calls to make sure that person is okay. What a wonderful, wonderful thought! To be watched out for. To be taken care of … oh, wait, that's what we're supposed to do for each other as disciples of Christ! These small acts of caretaking are what help us to know when someone is in need—even if all they need is a friendly call.
Knowing that this was something that meant a lot to her, I began to make an effort to text her whenever I noticed her absence. Then I began to do the same for others when I noticed them missing. Not a huge amount of time, just a quick text asking if everything was okay.
It has made a HUGE difference.
Not for them. For myself. I feel a greater sense of community and love for my fellow-congregants. As the person I've reached out to shares a bit of their burdens, I feel cared for … it's completely backwards—when I reach out to show love, I feel loved. Backwards it may be, but it is my experience.
"Each of us, in the journey through mortality, will travel his own Jericho Road. What will be your experience? What will be mine? Will I fail to notice him who has fallen among thieves and requires my help? Will you? Will I be one who sees the injured and hears his plea, yet crosses to the other side? Will you? Or will I be one who sees, who hears, who pauses, and who helps? Will you?" (President Thomas S. Monson, "Your Jericho Road," Ensign, Feb. 1989, 2, 4)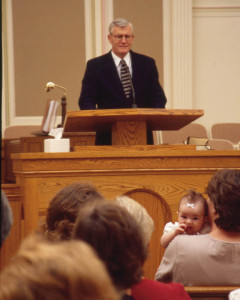 We will fail to notice someone who has fallen among the thieves of the world if we categorize them as not worthy of extra effort. To be bluntly honest, if the leaders of the congregation were unexplainably missing one week, everyone would reach out to make sure they were okay and to offer a helping hand. Those individuals who miss week in and week out are deserving of the same effort … in fact, they are the lost one that the Savior counsels us to leave the ninety and nine to go seek. It hasn't taken a lot of time each week to look around and see who isn't there and to send a quick text, but it has made an immense difference to my experience.
Lord Chesterfield wrote many letters full of advice to his son, Philip. In one letter, he stated, "I recommend to you to take care of the minutes; for hours will take care of themselves. I am very sure, that many people lose two or three hours every day, by not taking care of the minutes. Never think any portion of time whatsoever too short to be employed; something or other may always be done in it."
Never think any portion of time whatsoever too short to be employed; something or other may always be done in it.
Let us look around us and use these seemingly too short spare moments to do good. As we wait for an appointment, set aside Words with Friends and Candy Crush, instead using these moments to text a friend or to call someone you haven't spoken to in awhile. (*I've also been trying to better use these moments to reach out to my husband with quick flirty texts. It has been wonderful to have him respond with a quick, "Babe, that made my day—it's been rough, needed a smile!")
Take care of the minutes; for hours will take care of themselves.
This journey to live more as the Good Samaritan has taken me by surprise with the lessons I've learned. These last couple of weeks, I've learned that by simply using the time I already have available, the minutes are molding me into a better person—someone who is learning, slowly learning, to be more like our Savior. Let each of us make a stronger effort to use our minutes to do good … and then when we stand before Him, may we have minutes that have become hours that have become a lifetime of service devoted to Jesus Christ.
About Emlee Taylor
Growing up all over the world gave Emlee Taylor an opportunity to see the incredible differences the Lord created in humanity; and even better, the passions we all share as members of the human race: love for family, faith, & a desire to make a difference. Emlee lives life with passion—focusing her time now on raising four children and teaching them to recognize truth and to live true to that truth, regardless of others' expectations. Emlee is passionately in love with her bestest friend and husband of more than 20 years. 
Twitter •