This is my kids' favorite time of the year – the beginning of the holiday season. With just a few weeks left until Halloween, I thought some of you out there might enjoy these crafty ideas.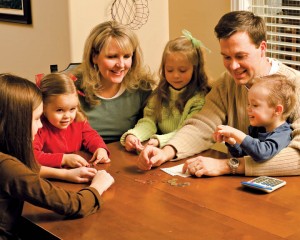 be hung in a window or from a tree. The third is a colorful addition to those fake spider webs.
Ghosts
All you need:
Some white construction paper, or white foam sheet
Scissors
Black marker
A piece of string
Some kids with feet
Trace your child's feet on the construction paper, though if you're going to hang them up outside I recommend using the foam as it'll stay good even through bad weather. Cut the footprints out. Turn the footprints upside down, so the toes are on the bottom (the bottom of the ghost) and the heel is on top (the head). Take your marker and draw in eyes and a spooky mouth. You can punch a little hole in the top (or tape a piece of string to the back) and hang it in your window.
Bats
All you need:
Black construction paper, or black craft foam sheet
Glue
Scissors
Wiggle eyes
A piece of string
Some kids with hands
Trace your child's hands on the black paper, spreading the fingers out as far as possible. Again, if you plan on hanging these up outside I recommend using the foam. After this trace a black circle as well 2-3 inches across, depending on the size of the handprints. Cut everything out. Glue the handprints to the back of the circle, pinkie finger at the top and thumbs on the bottom. Glue the wiggle eyes to the circle. Attach the string and hang up in the window.
Spiders
All you need:
Pom Poms (a variety pack works best)
Chenille Stems (colored pipe cleaner is what I've always called them)
Hot glue gun
Wiggle eyes
Take two chenille stems, same color, glue in the middle to make an 'X'. This makes the spider's legs. If you want eight legs, use four stems. Glue a large colored pom pom to the top for the body. Bend the chenille stems to look like legs. Glue eyes to the front.
These are really fun to attach to the fake spider webs spread across trees, bushes, or your house. Make sure the legs are stuck in well so they don't fall out. You could also put some of the tiny pom poms on the ends of the feet, then hang them from a tree or your front porch.
Once Halloween is over with, both the ghosts and bats are great to stick in a scrapbook or memory box as a reminder of how big their feet and hands were that year.