Why is it important to be in 'good standing' with God? And can our own light really shine forth in the darkness to make a difference? Let's go on a bit of a journey to north-east France, to a town called Domremy in 1412 to find out.
But first, a short side-journey to General Conference.
OUT OF THE MOUTH OF PROPHETS
In an October 2002 General Conference, Elder M. Russell Ballard gave a talk entitled The Greatest Generation of Missionaries. In it he discussed the need to "raise the bar" for all future missionaries.
"…what we need…is the greatest generation of missionaries in the history of the Church. We need worthy, qualified, spiritually energized missionaries…

…We need your whole heart and soul. We need vibrant, thinking, passionate missionaries who know how to listen to and respond to the whisperings of the Holy Spirit."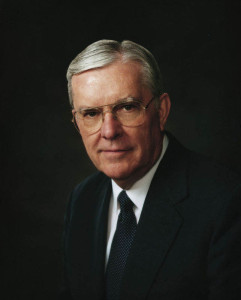 In an April 2015 General Conference, Elder Ballard revisited this idea of "raising the bar" 13 years later. Instead of focusing his remarks on just future missionaries, he declared his words for all:
"missionaries now serving, future missionaries, returned missionaries, and all young adult men and women in the Church."

(The Greatest Generation of Young Adults, April 2015 General Conference)
In this talk, he gives nine significant questions that each of us can ask ourselves to determine on what ground we stand with God.
Do you search the scriptures regularly?

Do you kneel in prayer to talk with your Heavenly Father each morning and each night?

Do you fast and donate a fast offering each month–even if you are a poor, struggling student who can't afford to donate much?

Do you think deeply about the Savior and His atoning sacrifice for you when you…prepare, bless, pass, or partake of the sacrament?

Do you attend your meetings and strive to keep the Sabbath day holy?

Are you honest at home, school, church, and work?

Are you mentally and spiritually clean?

Are you careful with your time?

Is there anything in your life that you need to change and fix, beginning now?
In the fast paced world in which we live, it might seem like some of these questions are difficult to answer. Or perhaps, we might feel like they are mere distractions on our quest to achieve our goals. We might even feel like social pressures are too strong to even consider changing some of our habits.
But the truth is, whether we live in this current time, or in one of old, there is always room for considering our standing with God.
And so, our journey begins.
Let me take you back a few hundred years to a time when the entire world was not accessible from our fingertips. In fact, it was a time that many of us consider the dark ages.
I GIVE YOU FRANCE!
Domremy, France is not much of a place to visit if you are looking for grand castles or great food. But it is the home of one of the most heralded figures in all of history. Joan of Arc was born in this north-eastern French village in 1412. She was the daughter of a peasant farmer and his wife.
They were simple folk with not much to their name. They lived in a time when France was in the midst of the Hundred Years' war, that began in 1337 as an inheritance dispute between the kings of England and France. The French countryside had been destroyed by the English and their "scorched earth" battle tactics of lighting fire to anything and everything considered useful to the enemy and everyday life. That meant that food was scarce and safety was at a minimum.
Many of the French leaders had given up the fight and sided with England, but Domremy stood firm–a tiny French island in the midst of English control. Into this volatile environment Joan was born and raised in the simple life.
Of her daughter, Joan's mother Isabelle shares these significant details:
"I had a daughter born in lawful wedlock who grew up amid the fields and pastures. I had her baptized and confirmed and brought her up in the fear of God. I taught her respect for the traditions of the Church as much as I was able to do given her age and simplicity of her condition. I succeeded so well that she spent much of her time in church and after having gone to confession she received the sacrament of the Eucharist every month. Because the people suffered so much, she had a great compassion for them in her heart and despite her youth she would fast and pray for them with great devotion and fervor."
As Latter-day Saints, Joan's life does not seem very different from our own. At an early age, we are taught the gospel as it pertains to The Church of Jesus Christ of Latter-day Saints. We attend church and partake of the sacrament weekly. We do our best to serve others, and to fast and pray for guidance in how to best meet our own needs, as well as the needs of others.
The only difference between her life and ours might be that a very real and bloody war was being waged right on her front doorstep. But despite the fact that mortal danger was a real danger, Joan was determined to follow when she was called.
It is clear that Joan was living a life of preparation. But for what?!
MISSION CALL
At the age of 13, she received her first visitation from what she believed were the holy saints Saint Michael, Saint Catherine, and Saint Margaret. They were believed to be patron saints of France. Joan testified later in life that they told her that her mission was to help drive the English out of France, and to bring the Dauphin Charles VII to Reims to be rightfully crowned king.
In a talk entitled Your Light–A Standard to All Nations, James E. Faust spoke to the young women of the Church. He gave the charge:
"Arise and shine forth, that thy light may be a standard for the nations."

(Faust, 2006)
Likewise, he promised that if we live a consecrated life, the Spirit will be a guide for us.
"I will also be your light…and I will prepare the way before you, if it so be that ye shall keep my commandments…ye shall know that it is by me that ye are led."

(Faust, 2006)
In this talk, President Faust talks of Joan of Arc as a shining example to others around her. He said that Joan of Arc was able to bring the French into the light directly because of her choices and her refusal to believe what others thought about her. She was focused on what she had to do, and on God.
One example of Joan's determination to fulfill her mission comes from the very beginning of her adventures. It was not common for young women to remain unmarried. However, Joan realized that if she was to follow God's plan for her, she would need to remain virtuous and chaste. She took it upon herself to forgo marriage, and to do as God asked instead. At a time when girls were marrying well before their 20's this was unheard of.
Another example of her faith is her unwillingness to not give up. Before Joan could even get an audience with the Dauphin, she would need to find someone to take her to his palace at Chinon. For two years she tried in vain to set up an audience with just the man for the job, Robert de Baudricourt. It was to him God had directed her, but he would not allow her into his presence.
Did Joan give up when it seemed like her ambitions were thwarted? No. She returned again and again to finish the job. To Jean de Metz, one of Baudricourt's soldiers, she is to have said:
"I must be at the King's side … there will be no help (for the kingdom) if not from me. Although I would rather have remained spinning [wool] at my mother's side … yet must I go and must I do this thing, for my Lord wills that I do so."

(Pernoud, Regine. Joan of Arc By Herself and Her Witnesses, p. 35.)
This girl knew that what she must do was no small thing. And she had utter faith in her calling and in God.
A girl's got to do what a girl's got to do, am I right?!
AND SO IT BEGINS
And so it was here that her mission truly started. It was here that she made the decision that would ultimately lead to her doom–that of taking on the disguise as a male soldier. But do it, she must.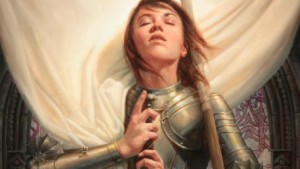 After traveling through 60 miles of hostile enemy territory, she finally made it to the Dauphin's side. In a crowd full of people, the Dauphin had taken upon him the guise of an everyday person of the court, hoping to trick Joan. But, with the Almighty lighting the way, she was able to walk directly up to Charles VII and bowed herself before him, declaring him the future king of France.
From here, Joan's story goes on. Amidst strife and turmoil, she remained true to her faith and to her cause and was able to realize the fulfillment of her mission. At least part of it. On the 17th of July, 1429, Charles VII was crowned the rightful king of France, due in no small part to Joan's efforts on the battlefield and in organizing and managing the french army.
But Joan would not live to see the English ousted from France. She would die two years later on the 30th of May, 1431 by fire. At the very end, after an entirely unjust trial, she was asked to recant her testimony of her visitations and mission given to her by God, but she would not. The only evidence they could drum up against her was that of wearing men's clothing. This was grounds for heresy, and for that she would be put to death. Her faith held firm, and she uttered "Jesus, Jesus, Jesus" to the very end.
Joan believed in what centuries later, President Faust declared to us:
"I will also be your light…and I will prepare the way before you, if it so be that ye shall keep my commandments…ye shall know that it is by me that ye are led."
IN THE END
At the beginning of this article, I discussed nine questions Elder Ballard shared with us to determine what path we are on in our spiritual mission. For are we not all on a mission just like Joan of Arc? Yes, she was asked to route the enemy from the kingdom and to restore a rightful ruler to his throne, but isn't that the same quest we have been charged with?
Are we not all heirs to our Father's kingdom if we hold firm and true? We are promised all that He has if we can but remain faithful in this life. If Joan could withstand the very real and painful physical trials of her day, cannot we not make the time and effort to allow Christ into our lives in our day and age?
And if we do, we too can be assured, just as Joan was, that God will light our path and and prepare our way before us. If we can answer each one of Elder Ballard's nine questions with an honest heart, nothing wavering, we too can be a light shining in the darkness.
And who knows, it is possible that we will be the light someone else needs to face their own battles as well, just like Joan and Charles VII.
It was 22 more years before the rightful king of France was able to declare France free from English tyranny. Even though Joan was long since dead, you can be sure that it was in no small part due to her spirit and example that inspired a nation to do what they did not believe could be done.
On the 16th of May, 1920, Joan was canonized a saint by Pope Benedict XV. This year on May 16th, my brother and his family will be in Domremy to celebrate St. Joan's day. In my heart, I will be with them, celebrating, too, the life of a woman who gave her life to God, King, and country.
To view the BYUtv documentary entitled Joan of Arc, click here.
About Jessica Clark
Jessica Clark is a wife, mom, writer, runner, knitter, and proud Canadian. She graduated from Brigham Young University with a degree in Anthropology, and has been a student of people and cultures ever since. Right now she is busy studying the behavior and cultures of the people of Texas.
Twitter •