The parable of the Good Samaritan is about living as a Christian every day of our lives. Being a follower of Christ is more than just attending our various churches and fulfilling our duties. It is about seeing opportunities to minister all around us, every day, wherever we are.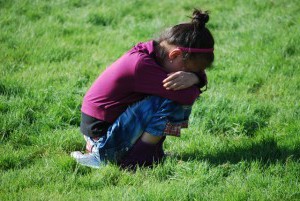 As I've been doing this challenge to really enmesh the teachings of this parable into my life this year—I've learned the value of sharing kindness, of giving a simple compliment—even if it's to a stranger. Life is hard. Sometimes people are mean, even those who are supposedly our family and our friends. Sometimes we are hurting so badly that simply going through our day is all that we can do.
My life is good, very good. Yet, every once in a while, I will get a gut-check—an emotional punch in the stomach that forces me to my knees. This morning, as I showered after a workout, the song by Christina Perri I'm Only Human, had me curled in a ball and sobbing as I thought about family relationships that despite my very best efforts for years are simply broken … and there is NOTHING I can do, other than keep moving forward.
After drying my tears and getting ready for the day, I prayed for the strength to keep moving forward …
A man I greatly admire, President Gordon B. Hinckley said,
"I plead with you to control your tempers, to put a smile upon your faces, which will erase anger; speak out with words of love and peace, appreciation, and respect. If you will do this, your lives will be without regret. Your marriages and family relationships will be preserved. You will be much happier. You will do greater good. You will feel a sense of peace that will be wonderful. May the Lord bless you and inspire you to walk without anger, without bitterness of any kind, but to reach out to others with expressions of friendship, appreciation, and love."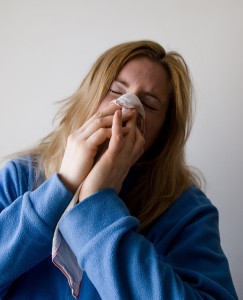 Monday, I lay on the couch, suffering from a bout of the stomach flu—I received a FB message from a member of our congregation asking me to come and give her husband a haircut. (No, I'm not a hairstylist. I am frugal, which means that early in our marriage, I learned how to cut men's hair so that we could save money. Now that my husband is so very busy, it's a huge blessing as most of his haircuts are extremely early in the morning or very late at night, when a trip to the barber would be impossible!)
Much as I would love to deny this, my first reaction was one of, "Seriously? I am sick! Bother someone else!" … followed by much self-justification for why I was perfectly right to feel that she was imposing upon my time. Who did she think she was, anyway? I'm not 'assigned' to help her out! What right does she have to ask me for help?
Then I remembered that I am a follower of Christ and this woman is someone I have promised HIM that I would love and serve. I cannot be a Christian and not help those along the Road to Jericho.
So I put a smile on my face and drove over to cut her husband's hair as soon as I was fully recovered from the stomach virus.
It was an effort. It was a choice to go with a loving attitude and a cheerful countenance. But, I chose to control my feelings and I did it. Because that's what I've promised my Savior I would do—serve when given the opportunity. Use my talents and skills to bless the lives of those around me. He has given me ALL, the very least I can do, in gratitude, is to kindly help someone when I am given the opportunity.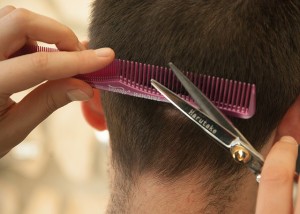 As I cut her husband's hair out on their back porch, soaking in the early spring warmth, I watched as they cheerfully greeted everyone who walked by. I watched as this man, who lost his leg in a drunk-driving accident years ago, gave his wife a quick kiss before limping down their yard to get the dumpster with a, "I've got it, Angel. You relax." I witnessed the sweet, simple love they share and my heart was lightened.
They haven't had an easy life. Yet they are joyful in each other. It reminded me to count my own blessings—to be grateful for a husband who adores me and for my children who are my friends, as well as my darlings.
As I drove away from their home, I was lighter in my own heart. I had forced myself to feign cheerfulness, which became genuine as I served.
Karma is real—put positivity out there and it will come back to you.
This morning, after I had dried my tears and gotten ready for the day, I booted up my computer. There, a message was waiting, "Thank you so much for cutting Mike's hair!"
It wasn't a lot, but it was enough to know that someone cared, someone was glad that I existed, and that in a small way, the world is a better place because I am here. We don't know how heavy someone's heart may be—be the person to lighten their load with a smile or a compliment. You won't just impact their day, you will impact your own as well.
About Emlee Taylor
Growing up all over the world gave Emlee Taylor an opportunity to see the incredible differences the Lord created in humanity; and even better, the passions we all share as members of the human race: love for family, faith, & a desire to make a difference. Emlee lives life with passion—focusing her time now on raising four children and teaching them to recognize truth and to live true to that truth, regardless of others' expectations. Emlee is passionately in love with her bestest friend and husband of more than 20 years. 
Twitter •